Five Guys Glasgow - Bringing the American Burger Back
BY: Laura Pearson Smith |
27 Jan 2015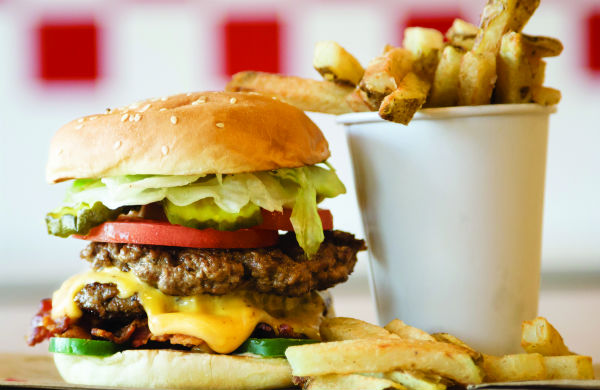 If you like burgers, you must have heard of top US burger chain Five Guys. They have opened their first Scottish branch in Glasgow, to bring us a true American burger experience. I spoke to Five Guys CEO John Eckbert, who told me what makes them unique and why there is such a hype around this fast food brand.
Describe the concept of Five Guys? What makes it unique?
Five Guys is a family owned burger restaurant founded in 1986 by the Murrell family in Arlington, Virginia that went on to become the fastest growing casual dining concept in America with over 1,200 sites from California to Maine & Florida. The menu is simple: just burgers & fries – prepared fresh each day using the finest ingredients. Fresh ingredients are at the heart of what we do - our signature rolls are freshly baked, the beef is rolled stamped prime fresh beef, the chips are cut on site and everything is cooked by hand, with no timers and not a single freezer in any restaurant. Customers like Five Guys because it is the type of burger you would make at home, if you were trying to impress all of your friends - fresh ingredients, lovingly prepared.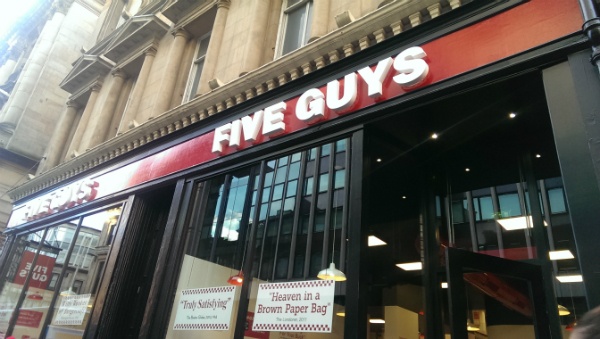 What are the most popular menu items?
There are over 250,000 possible ways to order a burger, but the most popular choice is a bacon cheeseburger! The key is to order your burger exactly the way you want it. We have 15 free toppings to choose from.
Where do you source your produce from?
We take great care in sourcing each ingredient, choosing only the best in class and fit for purpose. For example, our potatoes have to be grown above the 42 degree parallel as the potato grows denser in the colder weather and a hearty potato handles better through our on-site preparation. We source ingredients as locally as we can – we use British beef from grain-fed cattle and our buns are baked in the UK through a bakery partnership.
What do you think Five Guys will add to the Glasgow burger scene?
Five Guys stays focused on doing just a few things and doing them just right. We obsess over the quality of the meat and cheese, where the bacon and potatoes come from, the brand of ketchup, cooking methods, oil types and temperatures. We are unique in that we offer a simple, no frills menu, but one that is 100% customisable with over 250,000 possible ways to order a burger by choosing from a selection of fresh toppings – all of which are uniquely available at no extra cost.
How did Five Guys start as a company?
Five Guys has been a Washington, DC area favourite since 1986 when Jerry and Janie Murrell offered sage advice to the four young Murrell brothers: "Start a business or go to college." The business route won and the Murrell family opened a carryout burger joint in Alexandria, Virginia. Under the guidance of Jerry and Janie, the Murrell family served only hand-formed burgers cooked to perfection along with fresh-cut fries cooked in pure peanut oil. The little burger joint quickly developed a cult-like following! We launched in the UK in Covent Garden in July 2013 and the opening in Glasgow is our seventeenth restaurant in the UK and the first in Scotland.
Related Reads
Burger Meats Bun Meets Good Times
Fish and Chips in Glasgow - The Best (and Something Different!)
____
Find a deal for restaurants in Glasgow.
BY: Laura Pearson Smith
Laura Pearson-Smith is from Glasgow's Southside. She is a lover of luxury, yummy food and all things pretty. She founded, and is editor of luxury travel online magazine Stylecation, and blogs at her own lifestyle blog A Life With Frills. She has written countless fashion, beauty and travel articles for various publications including The Huffington Post. If you want to know the best Chinese restaurant in Glasgow, where to get a vintage Chanel handbag or the city's best facial, she's your girl.