Where to Find the Best Onion Rings in London
BY: Nick Andrews |
5 Aug 2014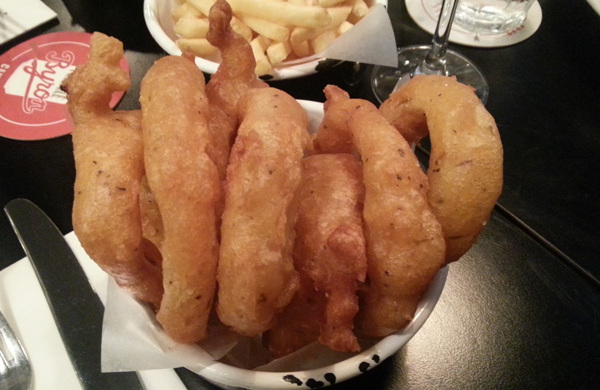 One of my favourite side orders when I'm eating out in London is a portion of hot, crunchy, deep-fried onion rings. There's very little that comes close to being as satisfying as biting through the savoury outer crust into a soft, sweet ring of onion, so here's a roundup of five of the best onion rings to be found on London's dining scene.
Byron
London's posh burger joint, Byron, serves up an array of more than just proper hamburgers - mac 'n' cheese, courgette fries, and wedge salad are all on the menu, but it's the onion rings that stand out for me. For £3.25 you get a bowl of massive, lightly battered rings. They're crisp on the outside and the generous ring of onion in the centre is impressive.
Psychic Burger
Based out in Dalston, from the kitchen of bar and club Birthdays is Psychic Burger. It's a concept born from in vogue American-style comfort food – but don't let that put you off. The onion rings here are super-sized golden rings of joy, and you even get one included when you order a burger!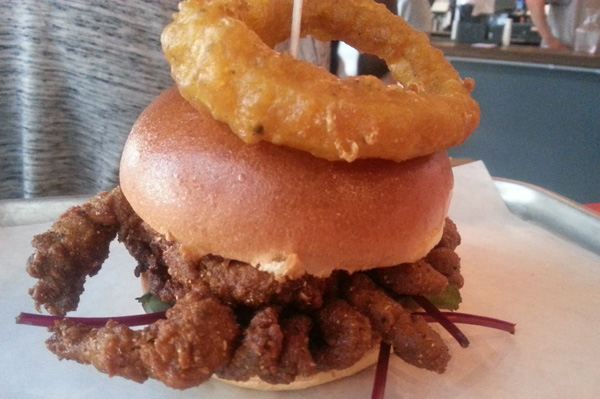 Dirty Burger
In addition to slinging out their eponymous burgers, Dirty Burger have two side dishes to shout about - crinkle cut fries and onion fries. While the latter are not strictly rings, they are nonetheless a brilliant example of deep-fried, battered onion, and one of my favourite sides in London. The onion fries are essentially big chunks of onion fried in a salt and pepper batter and garnished with sea salt and black pepper, served in a chip shop paper bag. They're £3 and it's money very well spent. Dirty Burger is part of the Soho House Group, has two restaurants in Kentish Town and Vauxhall.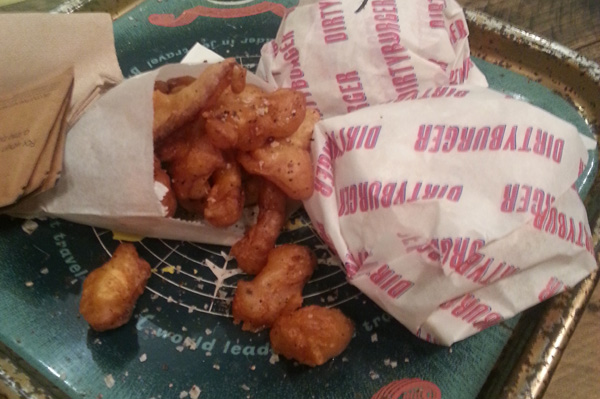 Juicy B*stard Burger Craft
The burger food concept formerly known as Juicy B*stard has been rebranded Burger Craft, but don't let that distract you from the frankly excellent thin and crispy onion rings. These spicy battered red onion rings come with a great buffalo hot sauce for dipping, and the portion is pretty generous too, with 10+ rings for £3.50. Juicy B*stard are based near Paddington station.
MEATLiquor
For £3 in MEATLiquor, London's superlative dive bar, you're served a portion of huge, fluffy battered onion rings on their trademark silver tray topped with patterned greaseproof paper. If you haven't experienced the MEATLiquor vibe, make sure you do, and whatever you order, don't forget the onion rings.
Where do you think are the best onion rings in London? Tweet us! @Groupon_UK #grouponguide
Related Reads
The Best Hangover Cures in The Smoke
Lord of the Wings - Four London Joints Selling Chicken Wings To Rule Them All
Doing it Well - Four Burger Chains Who Will Blow Your Socks off
____
Hungry now? Find a deal for restaurants in London.
BY: Nick Andrews
Nick is Hamburger Me and he likes burgers. Actually, it goes a bit deeper than that. Nick is, in fact, London's pre-eminent burger blogger, and the author of www.hamburger-me.com where, since 2010, he's been posting about and reviewing London's best burgers. He's a keen collector of burger memorabilia (check out his burger phone!) and he even has his own line in burger cufflinks...