The Best Glasgow Parks for Summer Sunbathing
BY: Laura Pearson Smith |
23 Jun 2014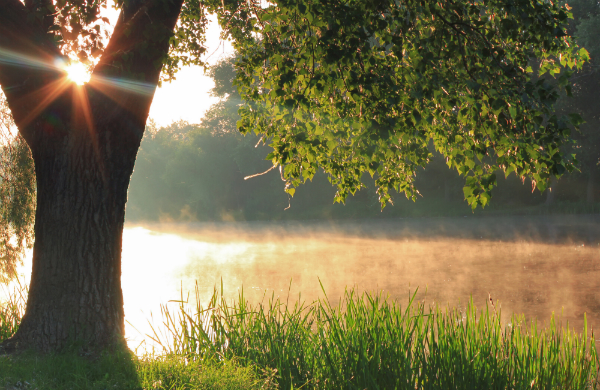 When the sun is out, there is nothing better than being outdoors enjoying the warm rays and getting your dose of Vitamin D. Glasgow has many parks, and is not referred to as 'Dear Green Place' for no reason. Some of these Glasgow parks- such as Glasgow Green and Queen's Park aren't the safest, but others are perfect for that enjoyable sunbathing and picnic time. This is a guide to my favourite parks in Glasgow for outdoor relaxation.
Rouken Glen
Rouken Glen
 is a quiet park in the affluent Giffnock area of Glasgow's southside. Families spend time here at the weekend, and children learning to ride bikes or roller skate is a common sight, as are weekday runners winding down after work. There is a large green space right in the centre that is perfect for enjoying the sun, plus plenty of trees to provide a shady spot if desired. At weekends, right next to this sunbathing and picnic hotspot in the park is an ice cream van to help you cool down. At Rouken Glen, there are plenty of other ways to occupy yourself outdoors on a sunny day- pottery painting runs at weekends, the boating pond lets you take a rowing boat out for a spin. Plus there is a stunning woodland waterfall to gaze at, and two excellent cafes to enjoy- one in the garden centre, and one at the boating pond. A children's gated play area will keep them busy too. Rouken Glen Park, Rouken Glen Rd, Giffnock, Glasgow, G46 7JL
Kelvingrove Park
Over in the west end is Kelvingrove Park. Situated right next to Glasgow University, this is popular with students taking a break from their books, and is also a main home of the annual
Summer West End Festival
 - their parade through the park is a particular highlight of this. Kelvingrove Park sits on the bank of the River Kelvin, making for some tranquil riverside spots amongst the wildlife. There is also an excellent heritage trail with 35 points of interest to explore. If you get bored just sitting in the sun, there are also bowling and croquet greens to enjoy, and a children's play area to keep the little ones amused. Kelvingrove Park, Otago St, Glasgow, G3 6BY
Strathclyde Park
Not far outside Glasgow, and still within the Strathclyde region, is Strathclyde Park. Here is the closest you will find to a beach without driving quite a distance to west coast towns such as Largs. The sandy beach at Strathclyde Park is bordered on one side by a grassy picnic and barbeque area, and on the other by it's vast man-made lake (on which you can also canoe and boat). It's the perfect place for skimming stones or watching the swans as you soak up the heat. Just don't let the kids see Strathclyde Park's M&D's Theme Park or you can kiss your sunbathing goodbye! Strathclyde Park, 366 Hamilton Rd, Motherwell ML1 3ED Where do you go in Glasgow for some sun worshiping? Tweet us!
@Groupon_UK
#grouponguide
____ Check out our deals for things
to do in Glasgow
.
BY: Laura Pearson Smith
Laura Pearson-Smith is from Glasgow's Southside. She is a lover of luxury, yummy food and all things pretty. She founded, and is editor of luxury travel online magazine Stylecation, and blogs at her own lifestyle blog A Life With Frills. She has written countless fashion, beauty and travel articles for various publications including The Huffington Post. If you want to know the best Chinese restaurant in Glasgow, where to get a vintage Chanel handbag or the city's best facial, she's your girl.