Guide To Shopping The Glasgow Boxing Day Sales
BY: Laura Pearson Smith |
18 Dec 2014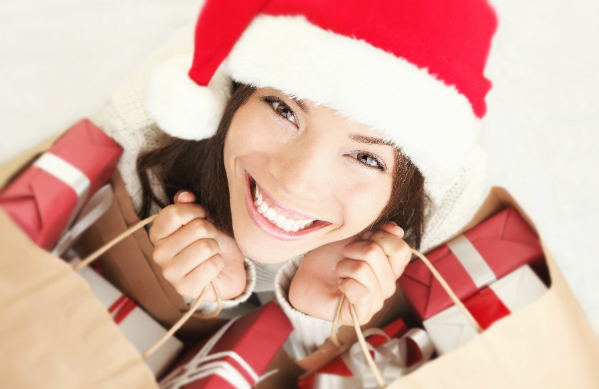 The most important date of the year for shopaholics is 26th December, as that means it's sale time. Shops across Glasgow have great sales every year, and you can pick up some amazing bargains; so take that Christmas cash, and hit my top picks- they'll make you feel you're in retail heaven.
Dower & Hall
Luxury jewellery store Dower & Hall in Glasgow's Princes Square always have great sale deals. This is the perfect example of when to wait for your Christmas present until after the big day, as you'll get it a lot cheaper- they offer discounts of up to 75% off in their Boxing Day sale. I have a preview for you of a couple of items that will be in this year's sale line-up- a cute silver Daisy Ring will be reduced from £85 to £59, and a delicate gold Honey Bee Charm Necklace will be £98 reduced from £140.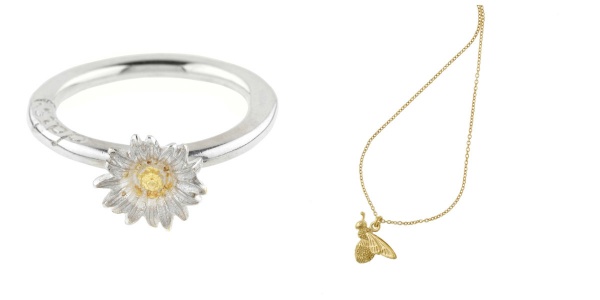 Dower & Hall, Princes Sq, 48 Buchanan St, Glasgow G1 3JN
St Enoch Centre
Another great location to visit in Glasgow for sale bargains is the shopping mall St.Enoch Centre. Lots of the retailers there, such as Debenhams, Topshop and Fossil have great discounts starting on Boxing Day, and last year 100,000 shoppers visited St.Enoch Centre on this day. I spoke to the centre manager Anne Ledgerwood for her advice on shopping the sales here. She said "Most of our retailers start their sales on Boxing Day and Debenhams as our flagship department store always does particularly well. Some of the best bargains I've snapped up at St. Enoch Centre have been from Game where I've found fabulous deals on games for my two sons. If I want to treat myself I head to Folli Follie and Moriconi as they always have some lovely pieces in their sales".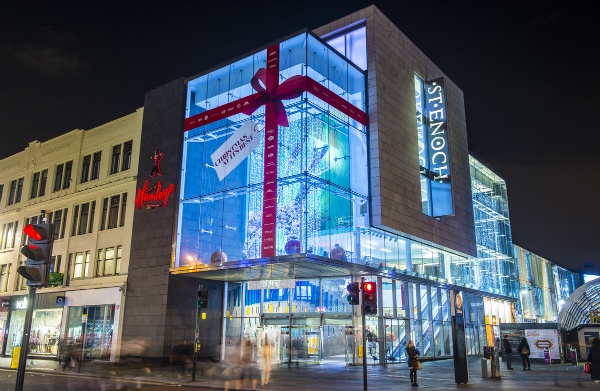 (Read more about St Enoch Centre at Christmas in Shop in Style at Glasgow Shopping Centre St Enoch)
St.Enoch Centre, 55 St. Enoch Sq, Glasgow, G1 4BW
Debenhams
Debenhams is, in fact, one of the best places to nab Boxing Day sale bargains in Glasgow. They open their doors on the day at 7am- you have to get in there early to nab the best items. It's a great opportunity to pick up some great wardrobe staples.
Buchanan Galleriers
Another great Glasgow shopping centre to hit on is Buchanan Galleries. It's flagship store John Lewis's sales doesn't begin until 27th December; but it will be discount heaven across its many departments such as fashion and homeware. The John Lewis sale opens earlier online, at 5pm on Christmas Eve, so if there is something you are particularly desperate to get your hands on, check their website out first, before digging into that turkey.
Buchanan Galleries, Glasgow G1 2GF
Related Reads
Glasgow Loves Christmas in George Square
Glasgow Royal Concert Hall at Christmas
Find inspiration in our Christmas Gift Shop.
BY: Laura Pearson Smith
Laura Pearson-Smith is from Glasgow's Southside. She is a lover of luxury, yummy food and all things pretty. She founded, and is editor of luxury travel online magazine Stylecation, and blogs at her own lifestyle blog A Life With Frills. She has written countless fashion, beauty and travel articles for various publications including The Huffington Post. If you want to know the best Chinese restaurant in Glasgow, where to get a vintage Chanel handbag or the city's best facial, she's your girl.