Homeware Heaven - A Photo Tour of London's West Elm Store
BY: Jen Riley |
28 Feb 2014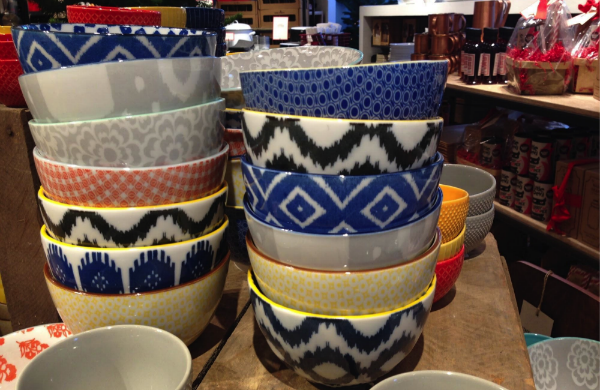 For as long as I can remember, Tottenham Court Road has been a bit of a hub for homeware and furniture stores. The latest addition to the street's interiors offering is West Elm - a store that was founded in Brooklyn, New York and is hugely popular across the pond. I for one, have been extremely excited to see it hit our shores as it's packed with stylish, expensive-looking but reasonably priced, home-design products.
Rather than just tell you what makes West Elm special, it's better to show you the store and some of their products.
It's a sort of back-to-front place to start, but the first part of the store I'd like to talk about is the West Elm Market. This is located at the back of the ground floor - furthest away from the Tottenham Court Road - but it's the best part of the store to start from. It's filled with the smaller bits and bobs for the home - from rainbow towers of crockery, to professional-grade cookware. It also has foodstuffs and beauty products, and it's all topped off with a coffee bar area where you can grab one of the tastiest hot chocolates I've tried.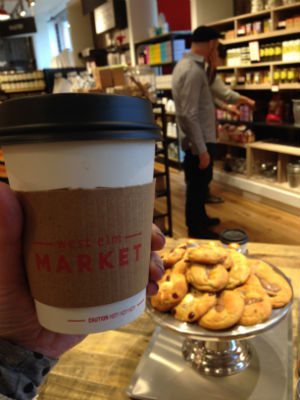 The foodstuffs in the West Elm Market are all unique to that store and sourced locally, so the pickles and spreads you find in the London store can't be found in the aisles of the shop in Brooklyn - just one of the special touches that make a West Elm store more than just another home chain. I can recommend the Boozy Dark Breakfast spread - delicious.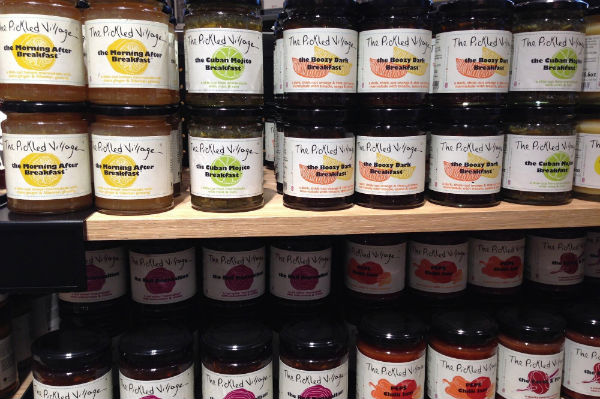 Along with food bits, there's also a selection of quirky and gift-worthy beauty items available here - like this 'Mr Natty Silver Label Shave Soap'. There's lots of gorgeous smelling candles and other bath and body products too that could be the finishing touch to your home make-over.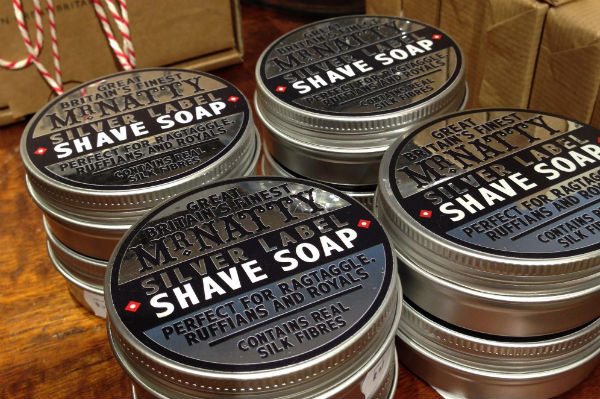 Moving beyond the West Elm Market area, you enter the main store. Each area of the store is divided up so you can see the products on sale 'in action'. This helps you to visualise them in your home and give you some inspiration on how you might want to decorate. It doesn't feel like a showroom in the same way other stores do - the displays and the products are all seamlessly placed alongside each other. The set-ups will change seasonally with the stock, so it's worth popping in regularly to keep feeling inspired by the designs. Personally, as a bit of a dog-obsessive, I love the dog print pictures on the wall in this section, I just wish they had a Sausage Dog print too.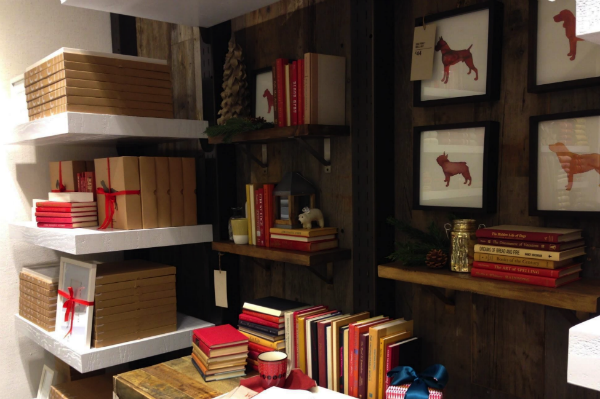 Towards the front of the store you can find a combination of larger and smaller 'gift' items. You can get everything from pretty snowglobes to a king size bed at West Elm.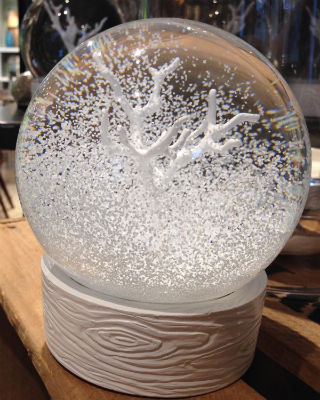 Throughout the store, the smaller items are all arranged in their own little displays - so you can see items paired with complimentary pieces to give you ideas on how to pick things out so they work together. Striking items like the grey and cream plates (below) are unlike anything I've seen in other home or department stores in the UK.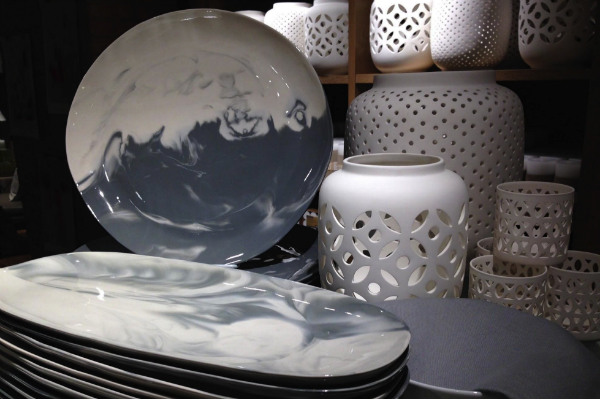 All the items in store are displayed according to both the area of the home they are targeted at, and also in complementary colour palettes. Like with the smaller items on display, this can help give you inspiration as you browse - or just draw you instantly towards the colours that catch your eye. Turquoise has always been a weakness for me - the combination of this with the gold gives me ideas for ways to mix it up and move away from the all too easy one colour and neutrals interior option.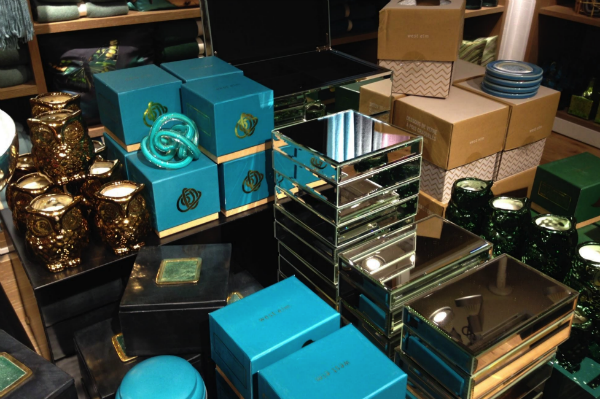 Downstairs, past the living wall display with thousands of living plants spelling out the store name, is the most inviting area of the store - the bedrooms section. Cosy looking beds, piled high with gorgeous pillows and snuggly quilts. On a cold day, it takes a lot to not climb in and have a nap.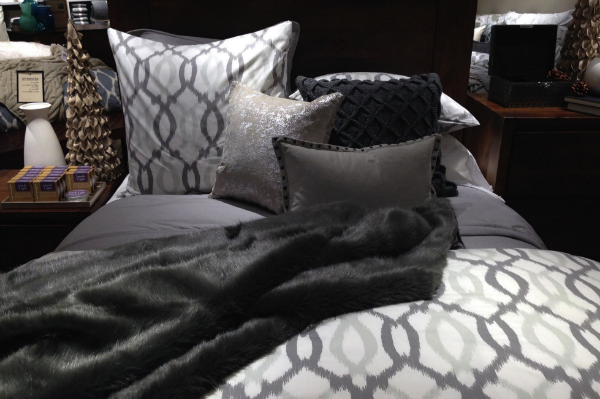 The graphic and ikat prints for the home are a big theme in textiles and are available on some of the larger furniture items in West Elm. This is the sort of design you can find all over Pinterest or on interior design blogs, but is only just starting to creep its way off the internet and into shops on the UK high street. I can't think of anywhere else I've seen something as unique as the zig-zag design chest of drawers!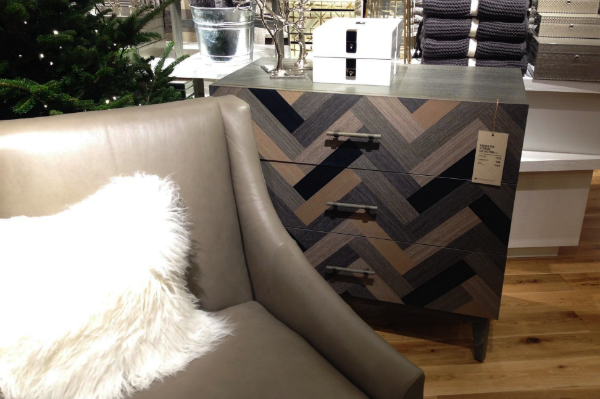 The internet-inspiration to shop-floor thing is something West Elm really specialises in - they even have an area of the store (downstairs, towards the back) dedicated to local artists who sell on Etsy. So you can pop into the store to see and buy London-themed items that are normally only available to discover and buy online - it's things like this that give West Elm the edge.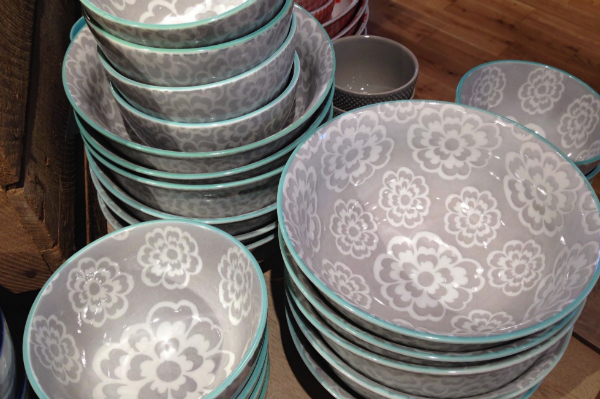 The 'organised by colour theme' set up continues throughout the store, with different displays sitting happily alongside each other. You could easily take a mustard pillow off one area and try it in another to see how it all works - making for a really interactive shopping experience.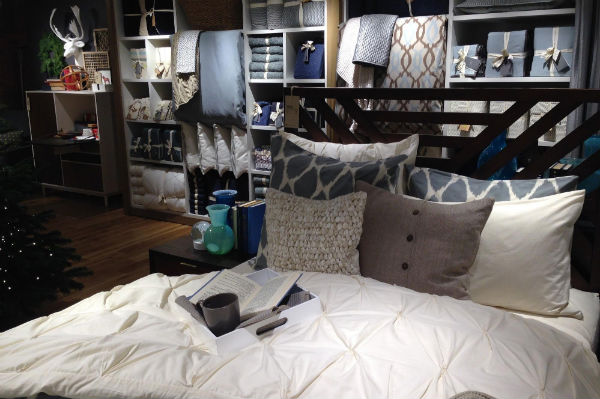 The staff are happy to help too as they're all trained to give customers interiors advice. There's an area on the lower ground floor that's dedicated to interior design creation - with work spaces and computers where you can sit and work through ideas for your home with West Elm staff. Alternatively you could bring your interior designer with you and use this dedicated design space to work out how the items you love could fit in to your own living room or bedroom.
Hopefully this picture-tour of the new West Elm London store has inspired you to check it out. I for one have these grey and turquoise floral bowls on the top of my list… I have no idea where I'll put them but they're so pretty I can't resist.
Happy shopping!
For more information, visit West Elm UK Website
Join the conversation! @Groupon_UK #grouponguide
____
Check out our deals for shopping in London.
BY: Jen Riley
Jen is the writer behind the London-based beauty blog, A Beauty Junkie in London. The blog was started back in 2009 and is exactly what it says - all about a beauty junkie who can't get enough of all things girly...and lives and works in London. Jen is equally as enthusiastic about many other things in life - including macaroni cheese, her two house rabbits, finding the perfect striped top or pair of ankle boots...and other slightly less shallow pursuits. Jen can also be found on Twitter and Instagram @beautyjunkieldn where she mainly shares insightful tweets or photos about lipgloss or what she had for lunch.