Honesty is the Best (Burger) Policy - Review of Honest Burgers
BY: Nick Andrews |
12 May 2014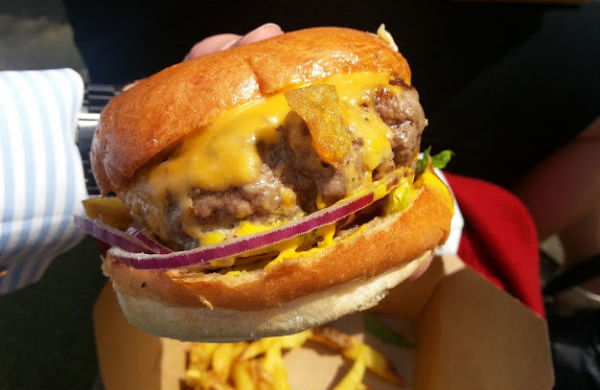 Honest Burgers is a beacon of excellence on the British burger scene. Launched in a 15-seater unit in Brixton Village Market in 2011, they have since opened three more restaurants in Soho, Camden, and Portobello. Honest Burgers serve from a simple menu, with a choice of a free range chicken burger, three Ginger Pig beef burgers and a vegetarian fritter burger.
The Burger
Let me give you a brief overview of the awesome, eponymous Honest Burger.
I'll start with the beef, as the backbone to the burger – it's a beefy, unctuous dry-aged, coarsely minced beef patty. And, as you'd expect being sourced from one of London's premier butchers, The Ginger Pig*, it's a really tasty piece of meat.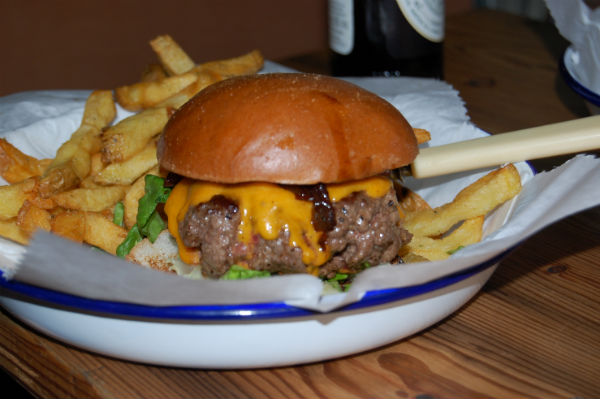 The beef is cooked pink in the middle as standard (very much like steak) which allows it to really show off its credentials, however the chefs will cook your burger to order if you do like it more well done.
The burger is topped with rashers of crisp, streaky bacon, melted mature cheddar, house onion relish, sliced pickles and lettuce. The bacon is perfectly crispy and salty in equal measure – the benefit of crispy bacon in a burger being you can bite through it easily without pulling out all the toppings. The mature cheddar is a very British twist on the American cheese that's used in many other places in London, and combines well with the bacon and beef without overwhelming it. It's finished off with a big dollop of mellow onion relish which adds another complementary layer to the burger, building the whole sandwich up into a huge, well rounded flavour hit.
The bun is a glazed, toasted brioche style that wraps neatly around its cargo. They even have a gluten-free burger bun option, so burger lovers with gluten intolerances can also get their fix!
Also available are their incredibly moreish, wildly popular rosemary salted fries.
In short it's a stunning burger. It's built by the British, for the British, and it's blooming lovely. Just don't expect to keep a stiff upper lip whilst stuffing it in your gob. From the queues that form outside the restaurants at lunchtimes and in the evening, they're testimony to one of London's favourite burgers.
The Price
Burger with fries - £8.00
Cheeseburger with fries - £8.50
Honest Burger with fries - £9.50
Fries - £2.50
The Location
You can find Honest Burgers in the following locations:
Unit 12, Brixton Village,
London SW9 8PR
+44 (0)20 7733 7963
4a Meard Street,
London W1F 0EF
+44 (0)20 3609 9524
Unit 34a, 54-56 Camden Lock Pl,
London NW1 8AF
+44 (0)20 8617 3949
189 Portobello Road,
London W11 2ED
+44 (0)20 7229 4978
More Information
Join the conversation! @Groupon_UK #grouponguide
____
Check out our deals for restaurants in London.
BY: Nick Andrews
Nick is Hamburger Me and he likes burgers. Actually, it goes a bit deeper than that. Nick is, in fact, London's pre-eminent burger blogger, and the author of www.hamburger-me.com where, since 2010, he's been posting about and reviewing London's best burgers. He's a keen collector of burger memorabilia (check out his burger phone!) and he even has his own line in burger cufflinks...