How to Get a Place in the London Marathon
BY: Laura Fountain |
26 Sep 2014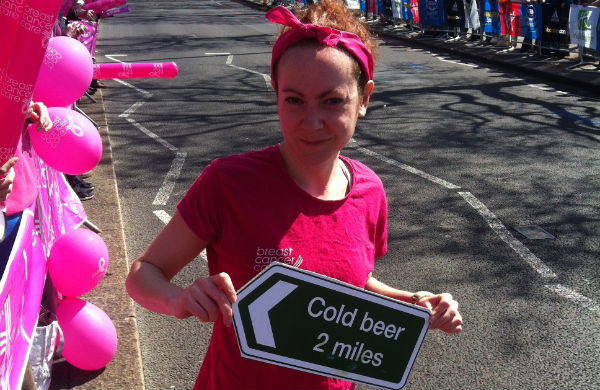 It's as the biggest marathon in the UK with 36,000 runners streaming through the streets of London every April. But despite the number of places in the race, getting a spot to take part in the event can seem as big a challenge as completing the 26.2 mile run.
The main ways to get a coveted London Marathon spot are: through the ballot; a charity 'Gold Bond' place; running a 'Good for Age' time; or getting in via your running club. It can seem confusing, and although there's more than a year until the 2015 event, if you want a place you'll have to move fast.
London Marathon Entry Ballot
The ballot for the next London Marathon usually opens a week or so after the race has taken place. The UK ballot system closes once it reaches its cap of around 125,000 applicants which in recent years has taken just a few days. If you want to run in 2015, check the London Marathon website in early April to find out exactly when the ballot opens.
If you manage to get into the ballot, you'll have to wait until October to find out if you've got a place. You'll receive either a 'Congratulations' or 'Commiserations' magazine to tell you if you're successful or not. The odds of getting a spot this way are quite low and if you're accepted, you'd better start training - you've got six months! You just have to pay your £35 registration fee and you're off.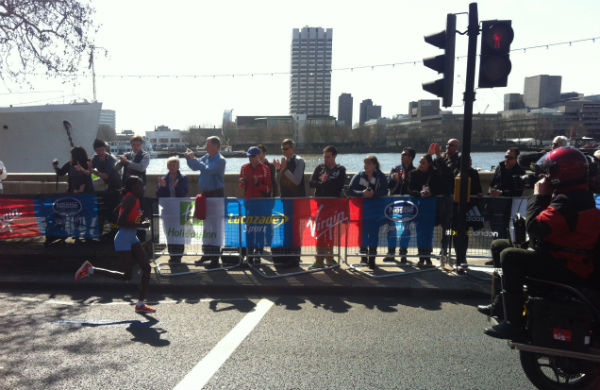 Charity 'Gold Bond' Places
If you're not successful in the ballot you can still get a place through a charity. Some charities are allocated 'Gold Bond' places by the London Marathon - but this is still no easy way to ensure a place. You generally have to pledge to raise around £2,000, and competition for places to run with some charities can be as stiff as you'll see on race day. So if you want to run in April 2015, get on the phone to the charities that matter to you now to register your interest in running for them.
Good for Age
If you've already done a bit of running, you might be able to run fast enough to get a 'Good for Age' place. To bag yourself one of these, and the bragging rights that comes with them, you need to have recently run a full marathon in a particularly fast time for your age and be able to prove it. For the 2014 race, men aged 18-40 had to have run a marathon faster than 3:05, and for women aged 18-40 had to run under 3:45.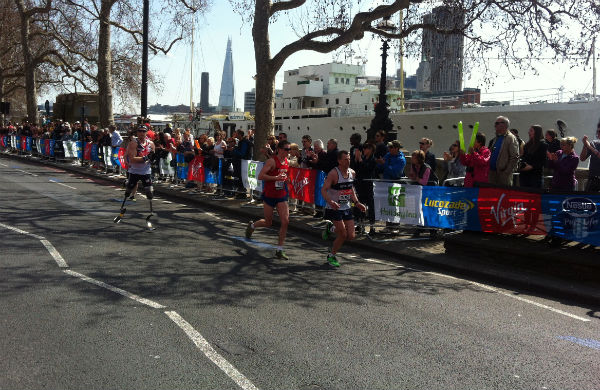 Club Places
If you're a member of a running club, the chances are they'll have been allocated a few London Marathon places for their runners. Athletics clubs associated with UK Athletics (UKA) can apply for club entries into the Virgin London Marathon. The number of entries given to each club is based on the number of 'first claim' registered members over the age of 18 the club has.
How the club decides which runners get to run is up to them. Many hold a lottery of their own or use them to reward runners who have helped out with the organisation of the club such as marshalling at races.
It's too late to get a place in the 2014 race, so why not get out on race day to support those who are running. Cheering is thirsty work so here's some watering holes along the route to help you stay hydrated:
Mile 6 – The Gipsy Moth
Halfway – The Draft House
Mile 14 – The Narrow
Mile 24 – The Black Friar
More Running Articles
How to Start Running: A Guide for Londoners
Top London Races - From 5k to Ultra-Marathon
London's Best Parks For Running
___
Get fit for the London Marathon.
BY: Laura Fountain
Laura Fountain is a writer and running coach living in London. She's run 15 marathons, a couple of ultra marathons and a few triathlons, but not that long ago she couldn't run 400 meters. She's the author of two books 'The Lazy Runner' and 'Tricurious', and the blog Lazy Girl Running. Laura is a qualified running coach and personal trainer, and uses her experience to help beginner runners work towards their goals.