How to Shine in the Mud - 7 Festival Make-up Tips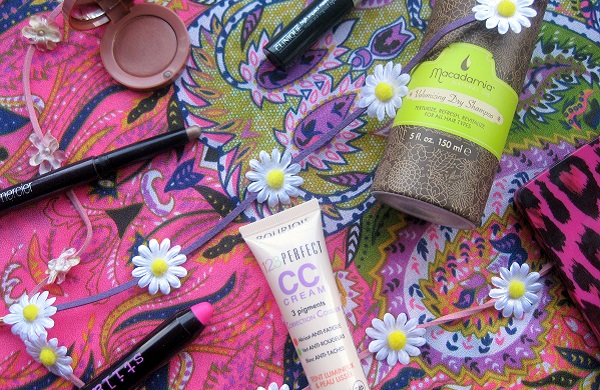 Festival beauty tends to swing one of two ways: neon brights, glitter, faux tattoos and cutesy flowers, or the 'I-woke-up-like-dis' bare-faced look. My approach falls somewhere in the middle: a little bit of pretty, but pared back and natural. Here's the lowdown on festival make-up to keep you looking good with minimal maintenance!
1. Prep before you go
If you're mega organised, a lash and brow tint and a self-tan application before you go away will keep you looking well groomed even when you're not.
2. Be a minimalist
No-one wants to cart a truckload of beauty products to a festival - or risk losing their favourites - so keep it simple. Opt for travel-sized products and stock up on samples of your favourite foundation and perfume to keep things light and avoid breakage.
3. Choose multi-use products
Multi-use products like crayon formulas or lip and cheek tints help reduce bulk, time and most importantly, effort.
Base - My base of choice is something light and glowy: Bourjois CC Cream with SPF warmed up with Bourjois Cream Blush Sun (tiny mirror on this - bonus!).
Eyes - For eyes, I've chosen a mini Clinique mascara (you could go waterproof but removal via wipes is likely to be an issue) and Laura Mercier Caviar Stick in Sandglow. This liner-come-eyeshadow crayon goes on smooth as butter and does.not.budge until you choose to remove it.
Lips - With everything else pretty neutral, I've added a pop of colour with a long-lasting, matte finish Stila lip crayon in Electric Pink. You could of course opt for more colour on the eyes with a long-wear bright pencil - Urban Decay 24/7 or Bourjois Contour Clubbing Waterproof are both great options. (All products available at Boots, Debenhams or Space NK)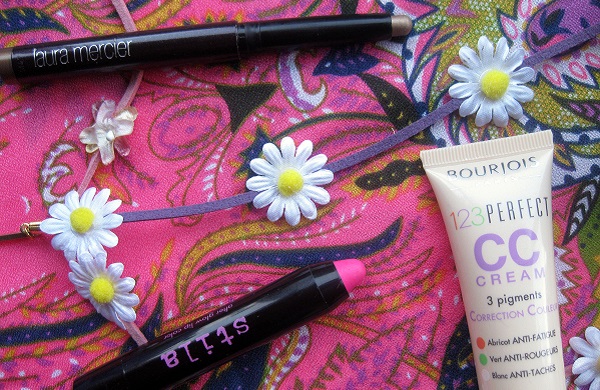 4. Bring the essentials
SPF - even if it's cloudy. Ultrasun is a great option as you only need one application to last all day (regular SPF needs topping up every two hours)
Spritz - pack a refreshing water-based spritz to help keep you feeling cool and hydrated. I love the mini thermal water one by Avene.
Sanitiser - hand sanitiser is an absolute essential at festivals. EcoHydra is the best I've tried - way more protective that your average formula and alcohol-free, so won't dry out your skin no matter how often you apply (lots!).
Shampoo - dry formulas all the way! I love the Macadamia but Batiste or any of the usual suspects will do the trick! (Don't forget hair ties and clips)
5. Remember: Cleanliness is next to godliness
Keeping it clean is something of a challenge at festivals, so be prepared with wipes, dry shampoo and deodorant in your stash. Number 1 rule: Remove make-up before bed. Your skin will thank you in the morning. I'm not a lover of cleansing wipes, so a mini bottle of micellar water and cotton pads is my preference. Being realistic, not everyone will bother with that, so if you do go down the wipes route, try the 'Yes To' range or Boots' own cucumber.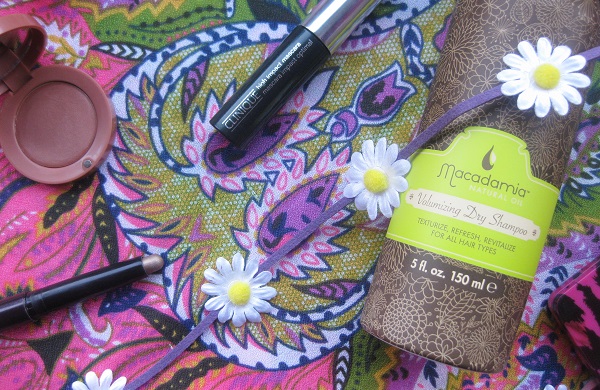 6. Get your beauty sleep
Actually go to bed. Sitting up all night may seem a good idea at the time, but you ain't gonna look (or feel) good the next day if you don't catch some Zs.
7. Post-festival TLC
Once you've caught up on sleep and are feeling human again, show your neglected self some TLC. Run a soothing bath and get masking. Pur Minerals Mud Mask (M&S) is the deepest cleansing face mask I've tried, though the more affordable Good Things Manuka Honey Radiance Face Mask is also lovely. I like to follow this with a hydrating mask such as Hydraluron Moisture Boosting Mask.
____
Get festival ready with a spray tan.
BY: Nic
Nic is a Belfast beauty blogger, freelance writer and mum, with a penchant for Chanel lipstick, shopping & strong coffee. As editor of Strawberry Blonde Beauty, she helps steer women through the beautysphere with reviews, tips and the lowdown on the latest releases. Nic loves exploring Belfast's thriving cultural scene and agrees with Dorothy that there's no place like home.