I Scream You Scream! Best Ice Cream in Glasgow
BY: Laura Pearson Smith |
11 Aug 2014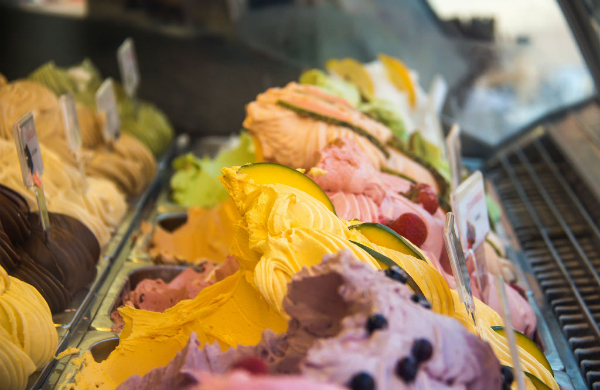 Sun or snow, young or old, ice-cream is a much-loved treat for all seasons and all ages. Glasgow has lots of amazing ice-cream outlets, offering a huge variety of flavours and toppings. I wanted to share my favourite places with you, so you know where to go when you want to experience the best ice-cream in Glasgow.
Good Ice Cream Should Be...
Let's all take a moment to appreciate what great ice-cream is. It should be thick and creamy and packed with flavour - whether that's just the simple vanilla bean or something more extravagant. You should feel you are eating something silky and luxurious; not cheap, watery or full of ice-crystals. All of my favourite places make delicious ice-cream, and offer some brilliant flavours.
Joe Deluccis
Joe Delucci's is a UK chain of authentic Italian gelato stands. In Glasgow, you can find them at both Silverburn and Braehead shopping centres. Gelato is Italian ice-cream - it's served at a slightly warmer temperature than 'regular' ice-cream and is lower in fat (though tastes just as creamy). The Beckham family are fans, and they serve a diverse variety of flavours from Mascarpone to Coconut. I adore their Pistachio gelato. It is the best and most naturally flavoured pistachio ice-cream i've ever had. You can get your gelato to take out at Joe Delucci's, or eat it at the stand on one of their Vespa scooter seats.
Joe Delucci's, Braehead Shopping Centre, King's Inch Rd, G51 4BN or Silverburn Shopping Centre, Barrhead Rd, G53 6QR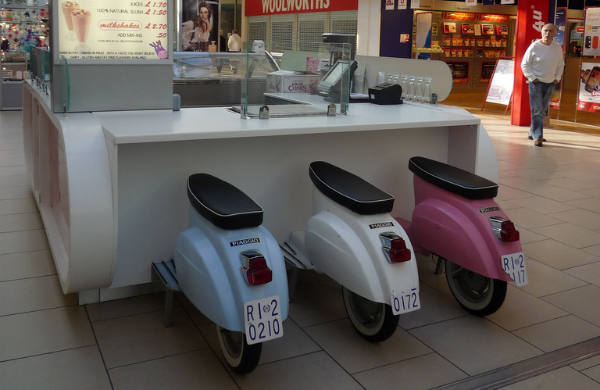 Valentinis
On the southside of Glasgow in Giffnock, Valentini's is an ice-cream institution. Living locally, I've had ice-cream from here for as long as I can remember. This old-fashioned family run shop sells their own homemade ice-cream, and all the confectionery brands you can imagine.
You can go for one of their Scottish-themed ice-cream flavours such as Iru Bru, or try their traditional creamy Raspberry Ripple - which is my favourite.
Valentini's, 190 Fenwick Rd, Giffnock, G46 6UE
The Derby Cafe
Not far from Valentini's is The Derby Cafe in Netherlee. This art deco-style cafe has been selling its own ice-cream for decades. It too is a family run business. You can have sundaes or ice-cream floats to sit in with, or tubs and cones to take away. They have lots of fun toppings such as sprinkles and mini marshmallows, and delicious chocolate sauce. A small tub of their classic vanilla, covered in these extra treats, is the perfect summer dessert for me.
The Derby Cafe, 677 Clarkston Rd, Netherlee, G44 3SE
Equis
Over in the city centre, popular Scottish ice-cream brand Equis (which is sold in fast food takeaways across Glasgow and Lanarkshire) has its own ice-cream parlour on High Street. This Scottish-Italian family company has been serving ice-cream for 90 years, made to their own recipes and packed full of Scottish milk and double cream. Their Nutella ice-cream is simply heavenly, as is their Dime Bar Crunch. Their High Street cafe also serves food, such as traditional fish and chips. Can you think of a better way to spend a Saturday?
Equi's Parlour, 81 High Street, G1 1NB
Related Reads
Stylish and Sweet - Best Cupcakes in Glasgow
Once Upon a Tart: A Tale of Tempting Treats in Magical Surroundings
Buckfast Ice-Cream and Bloc-Rocking Pizzas at BLOC+ Bar
Find a deal for desserts in Glasgow.
BY: Laura Pearson Smith
Laura Pearson-Smith is from Glasgow's Southside. She is a lover of luxury, yummy food and all things pretty. She founded, and is editor of luxury travel online magazine Stylecation, and blogs at her own lifestyle blog A Life With Frills. She has written countless fashion, beauty and travel articles for various publications including The Huffington Post. If you want to know the best Chinese restaurant in Glasgow, where to get a vintage Chanel handbag or the city's best facial, she's your girl.