Is This the Best Chicken Burger in London?
BY: Nick Andrews |
3 Nov 2014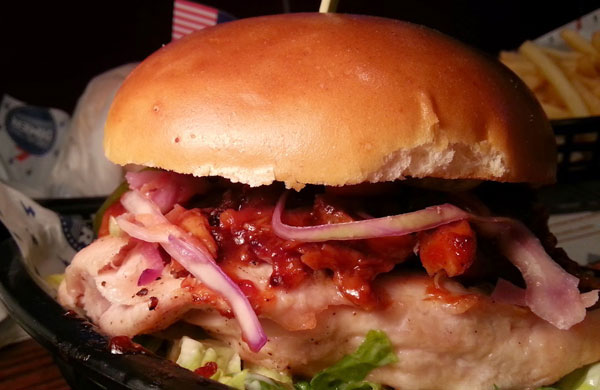 Advising on the best burger in London is a bit of a subjective thing. Everyone has their favourites and the argument about who serves the best can be heated. So I'm going to tell you about a chicken burger, not created by one of the usual suspects, which could lay claim to the best chicken burger in all of London town…
Let me tell you a little bit about the chicken burger in question before I reveal the purveyor.
The Burger
First of all, this is not your usual boring chicken/mayo/lettuce combination, it's a super-charged version that importantly has DOUBLE CHICKEN. The core is a fillet of chicken breast that's been marinated in buttermilk for 12 hours before being slapped onto the chargrill – giving a fantastic combination of char and savoury/sour buttermilk to the juicy chicken breast. The knock-out blow is the heaped pile of braised barbecue chicken thighs that are added on top of the grilled breast in a rich, juicy, sweet, savoury medley. The two together work brilliantly – the fillet giving firm resistance and yielding it's tangy breast meat, and the earthier tones of chicken thigh coupled with its BBQ braising adding a further dimension. It's an excellent combination.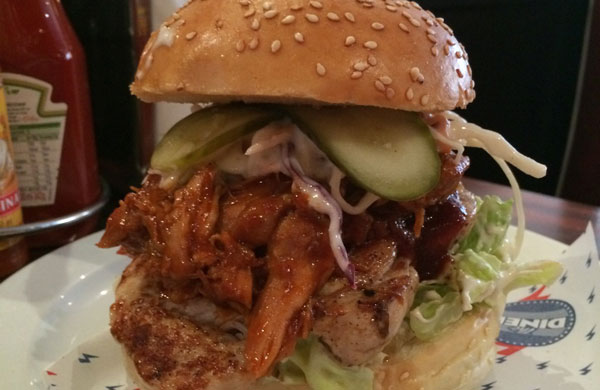 Amidst all the juiciness, there is also structure, delivered through a number of Kos lettuce leaves under the grilled chicken fillet which are interspersed with dollops of mayonnaise. There's a great crunch to these balancing the soft chicken meat. Add to this a thick-cut, rustic cabbage 'slaw, sprinkled on top of the braised bbq thighs, which add a touch of acidity to the burger and nicely offsets the juicy, rich braised thigh.
And what about the bun, yeah, it's pretty darn good. A custom-made, glazed white bun from jewish bakery Rinkoff's. They're a bakery in North London with some serious pedigree, serving restaurants and the public a selection of baked goods, including cronuts (remember them?) and the devilishly bad for you oxtail doughnuts.
All in, it's the best chicken burger I've tasted in London. And while there may be better ones lurking, and I admit I don't often opt for the chicken, I haven't found a better one yet.
And where can you get arguably the best chicken burger in London?
It's available at The Diner, a chain of U.S.-styled American diners across London. The burger is the BBQ Chicken Burger, and is available in all their restaurants across London.
If it sounds good to you, check out where you can get this awesome chicken burger on The Diner's website.
Related Reads
The Best Burgers in London - Hamburger Me's Best Bits
Five Places to Get Awesome American Barbecue in London
Lord of the Wings - Four London Joints Selling Chicken Wings To Rule Them All
Hungry? Find a deal for restaurants in London.