It's All About Meat
BY: Emma Mykytyn |
3 Jul 2014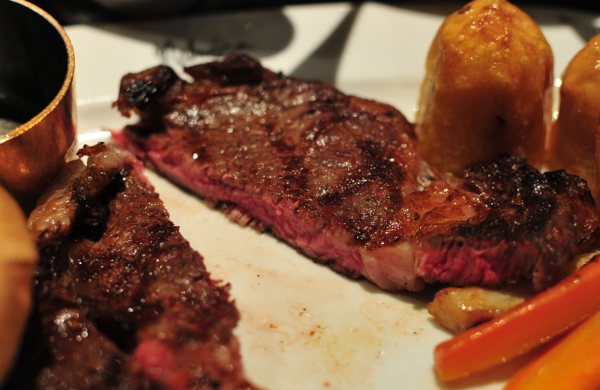 Who doesn't like to channel their inner caveman/woman at times and sink their teeth into a juicy steak. Here is my guide for the best restaurants in Glasgow for a meat fix, vegetarians, avert your eyes now!
The Grill on the Corner
The Grill on the Corner is best known for its steaks, however did you know that in the 'special steak section' the supplier is changed each month? Last month the meat came from Greenville farm, Wigton, Cumbria. With everything from steak frites to Wagyu fillet on offer, there is something for every taste. The rump steak here is a particular favourite (£17.75) it is cooked to your liking (medium, if you're asking!).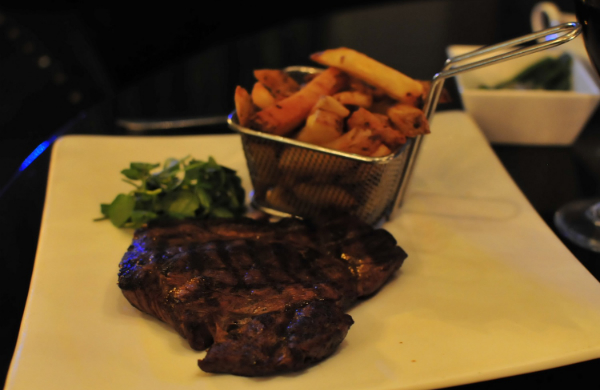 The Living Room
As well as steaks, the duck in The Living Room is of note. Their Gressingham duck with pear, buttered kale, duck fat chips and red wine sauce for £17.95 is a sure winner - Nicely cooked meaty duck that's perfectly pink inside. It's served with gorgeous fluffy potatoes (well, very ,very thickly cut chips!) with a crisp duck fat exterior, tender kale and a poached pear. Delicious.
150 St Vincent St Glasgow, Tel: 0141 229 0607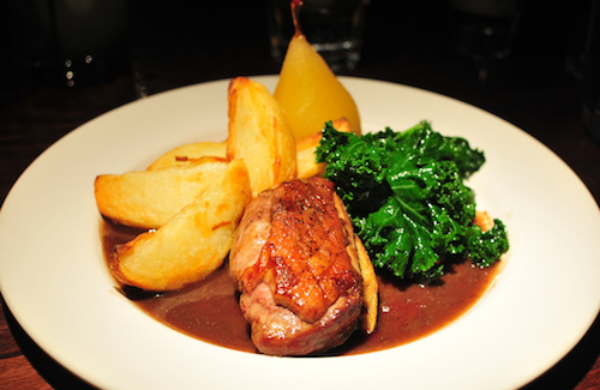 The Grill Room on the Square
In the centre of town on the majestic Royal Exchange Square lies No 29 and upstairs, The Grill Room. With butchery illustrations on the walls which enable you to make the correct choice of steak, you get the feeling this place knows what it's doing, and is doing it right!
For their daily lunch/pre theatre menu you can upgrade to sirloin, fillet or rib eye, however their roast chicken is also worth a mention. Served with winter vegetables and a strong jus, the chicken is moist and has the crispiest skin ever tasted. For a price of £15.50, the two course and coffee deal here is well worth it.
21-25 Bothwell St, Glasgow G2 6NL Tel: 0141 248 6262
Meat Bar
From duck prosciutto to grinder burgers via some meatojito cocktails this distinctive bar will have you begging to come back for more.
The outside of Meat Bar looks completely different from the usual polished exteriors of the area. It has stripped back paintwork, a glorious red neon sign and an underground entrance into another world. The shabby look continues inside with booths, low ceilings and lighting that hints at a tucked-away speakeasy.
All manners of meat are on the menu. Sliders, slow cooked smoked items, steak sandwiches as well as grinders. The grinders are what make this place special. Pink cooked burgers packed with ground beef mince. If you don't like your burger pink - ask as pink is the standard.
The meat theme even runs to the cocktails with the 'meatojito' - a twist on the classic cocktail featuring pork-rib infused rum with mint, brown sugar, apple juice and a caramelised pork-rib garnish on top. How could you resist that?
142 West Regent Street Glasgow, G2 2RQ Tel 0141 204 3605
Malmaison
For £19.95 at Malmaison you can experience their All You Can Eat Sunday Brunch menu. With a chef's table groaning under the weight of items such as a leg of Iberico ham, seafood, fresh vegetables, salads and freshly made waffles - it is hard to remind yourself that you have a starter, main and dessert still to find space for!
There are a large selection of menu items on offer for the brunch at Malmaison, including buttermilk fried chicken and steak frites, however the roast beef is worth a specific mention. It comes with carrots, parsnips, roast potatoes (crisp on the outside but very fluffy inside) and a Yorkshire pudding with gravy. Also available are horseradish and mustard, which were both piquant and make for a lively brunch. The beef is cooked rare, or to your liking.
278 W George St Glasgow, Tel: 0141 572 1000
Where do you get your caveman/woman on in Glasgow? Tweet us! @Groupon_UK #grouponguide
Check out our deals for restaurants in Glasgow.
BY: Emma Mykytyn
Emma is a freelance writer living in Glasgow. Loving all things food, she started her own blog, Food and Drink Glasgow, to record her dining experiences in and around Glasgow. The blog showcases the best of Glasgow as well as Edinburgh and some choice picks of Europe. With the top spot on Urbanspoon for Glasgow as well as a BBC Good Food Show Blogger spell under her belt, there's not much she hasn't tasted.