Brunch London - 6 Belter Brunches
BY: Niamh Shields |
19 Dec 2019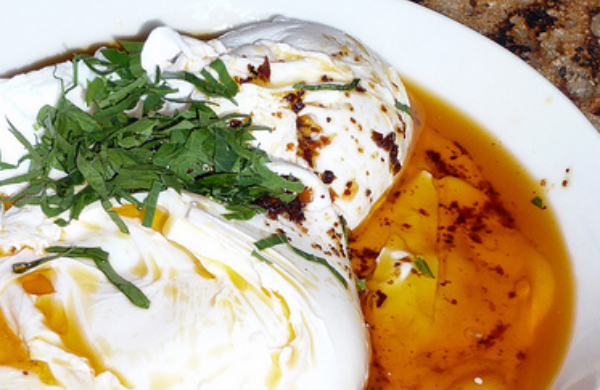 Brunch is the most important meal of the most important part of the week - the weekend. Lazing and grazing is the only way for some weekend mornings or to kickstart a slow weekday. Right now, London loves brunch. And there are so many options, from super meaty to Antipodean (and lets be honest, they do lead the way). New Yorkers say we don't do brunch properly, but really it's just that we don't do it like them. Brunch for us is more breakfast style; you'll never see pasta on a brunch menu. And that seems right to me.
Hawksmoor Guildhall
Gargantuan meaty feasts are the order of the day here, served with some of the best cocktails in London. Get the enormous Hawksmoor Breakfast for two to share, consisting of 11 different items. If that's too intimidating, or you are dining alone, try the Hawksmoor take on the McMuffin (the sausage and egg HK Muffin), the bacon sandwich, lobster benedict or bacon and eggs. Brilliant cocktails are served alongside - Shaky Pete's Ginger Brew and Marmalade Cocktails are classics - and they take their coffee seriously too, serving locally roasted Climpson's coffee brewed in chemex, and teas from the Rare Tea Company. The sole downside is that the restaurant is only open Monday to Friday. But make it happen - it's worth it.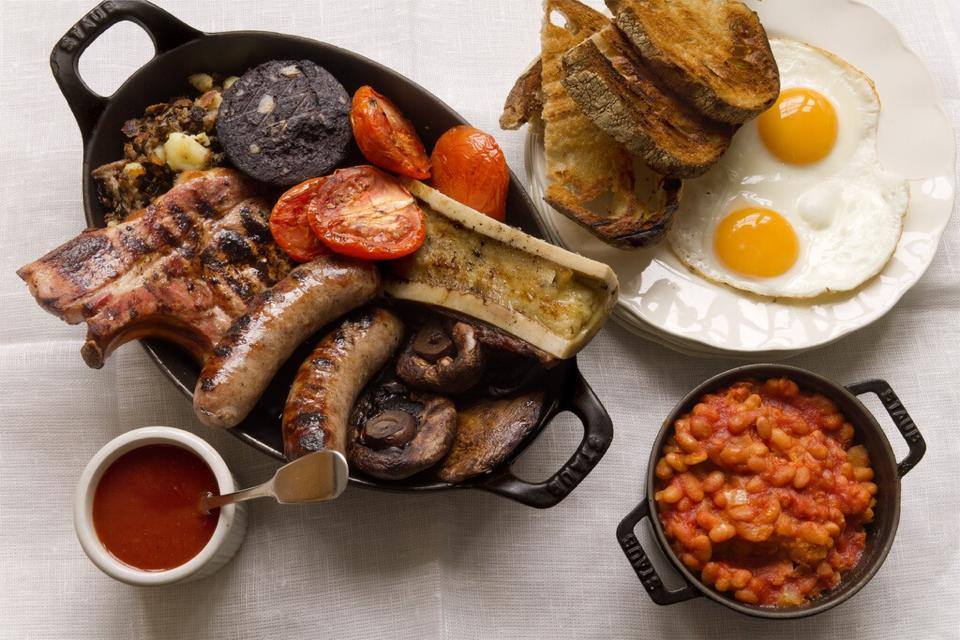 Image Credit: Hawksmoor Guildhall
Caravan
Exmouth Market and King's Cross Caravan get brunch. Not only do they get brunch, they know coffee. They started roasting their own coffee in the basement of their Exmouth Market restaurant and now have a large roasting operation at the back of their impressive Kings Cross grain store location. The food has international influence: coconut bread, lemon curd cream cheese, rhubarb and corn & morcilla fritters, avocado, paprika crème fraiche are just a sample of their offering. There are also brunch drinks, if a breakfast Martini, served with marmalade toast or a white peach bellini take your fancy.
The Providores and Kopapa
I include both in one recommendation here, as they are from the same team and have a similar offering but in different locations. Peter Gordon's well-travelled brunch has queues out the door at weekends at the Providores in Marylebone, and now also at Kopapa in Covent Garden. Try the Turkish Eggs (poached eggs on thick yogurt with hot chilli butter), soft shell crab burger, soft-boiled eggs with vegemite soldiers, French toast stuffed with banana and pecans with grilled smoked streaky bacon and vanilla verjus syrup. They also serve their take on fry-ups, including a veggie offering, fresh juices, smoothies and very good cocktails too.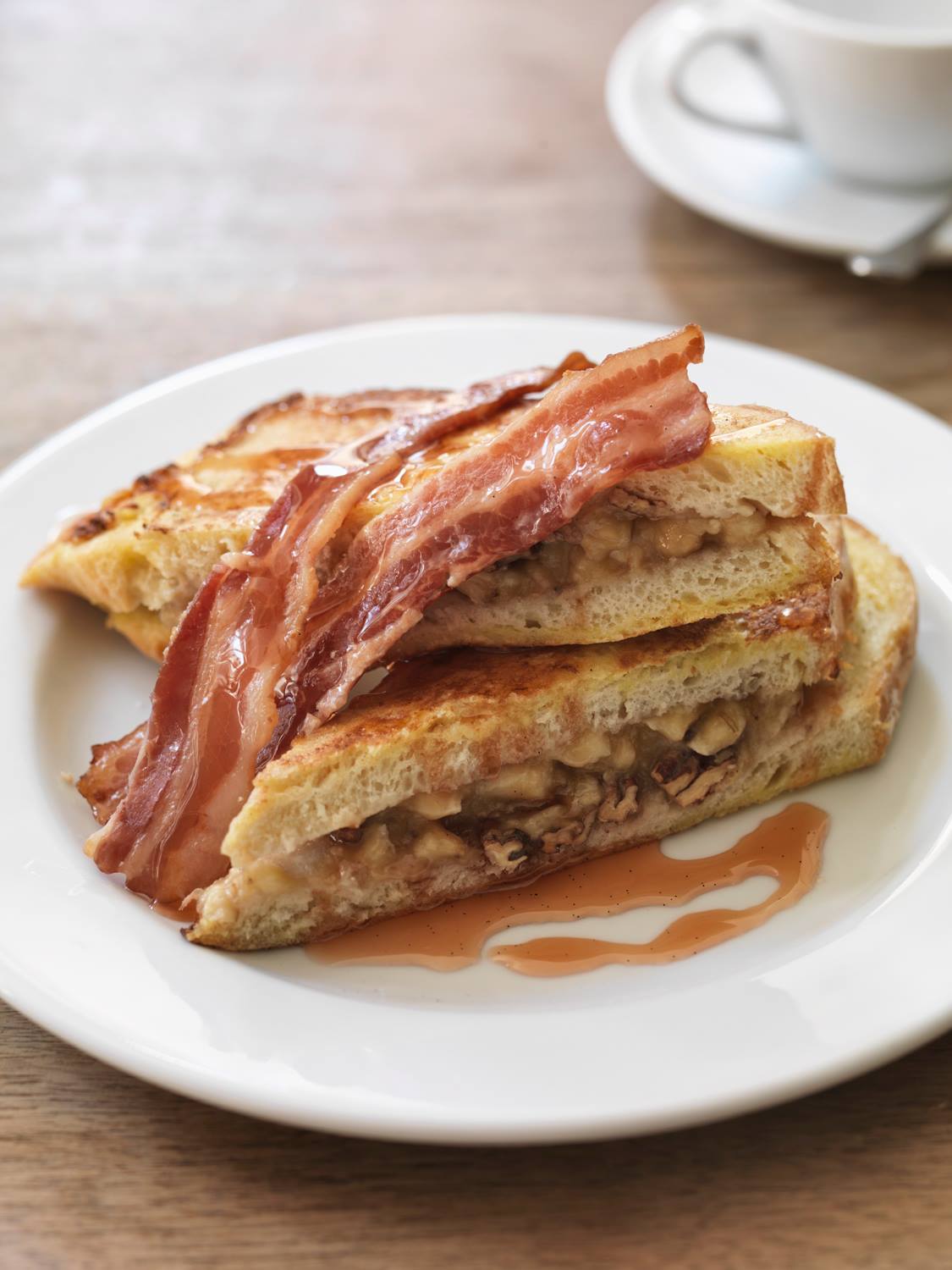 Image Credit: The Providores
St Johns Restaurant, Smithfield
St John's is not strictly known for brunch. I include it here because I believe one of the best things that you can do with a £20 note in London is head to the bar at this Smithfield restaurant and indulge in London's best bacon butty and a glass of house champagne. If a perfect bacon butty doesn't take your fancy (and I would have to ask 'what is wrong with you?' if that's the case), get your teeth into their fabulous Welsh rarebit; again, one of the best in London and utterly fabulous.
Koya Bar
Head to Koya Bar for the bacon and egg udon noodles (in soup: it works, I promise!), the fabulous kedgeree or the Japanese fish breakfast. With sake if you must, but when I go here for breakfast or brunch, it is not because I need soothing, but because I want to feel healthy, so I have tea. A new brunch in London... and brilliant; it won't be long before there are queues outside, so go there now and you can claim that you were one of the first to discover it.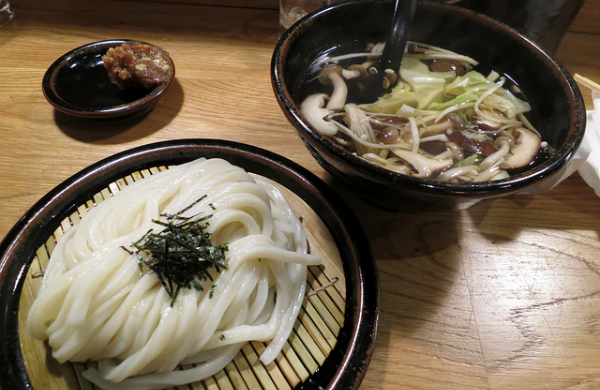 The Wolesely
The Wolesely is a classic - somewhere that you must go just once and revel in the glamour, the brilliant service and the lovely breakfast. Imagine yourself a gentleman or lady from days gone by and get yourself an omelette Arnold Bennett, a full and proper English breakfast, a bacon roll or a sausage sandwich. It only seems right to have it with tea, but if you must, there are some alcoholic coffees for your perusal.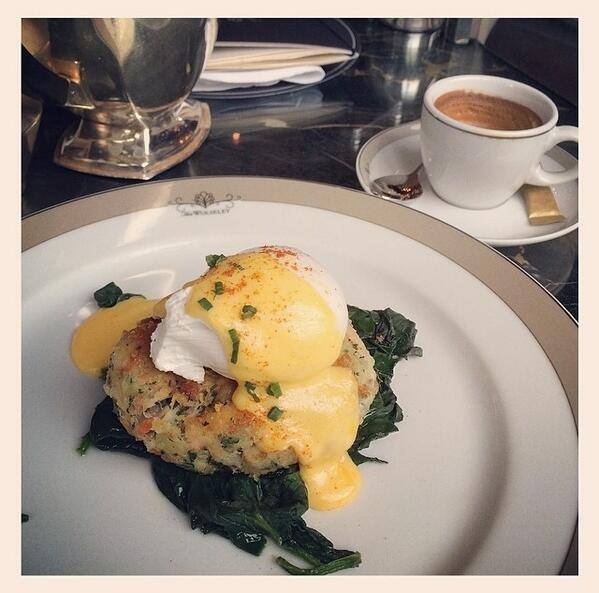 Image Credit: The Wolesely
Where do you brunch in #London? Tweet us! @GrouponGuide_UK #grouponguide
____
Related Reads
The Best Breakfasts in London Town
London's Recently Opened Restaurants
Top 5 Picks For London's Weekend Brunches
Check out our deals for brunch in London.
BY: Niamh Shields
Niamh Shields loves to eat, cook, travel and drink wine, and she happily gets to do all of this full time now as a London based food blogger. She gets distressed if people go to London and eat badly, so she wants to make sure that you know of the best places. You can read more of Niamh's adventures, recipes and recommendations on her blog.