London's Top 5 Breakfast Sandwiches
BY: Helen Graves |
10 Apr 2015
The British love a breakfast sandwich, and there are many good examples to be found around town, which has made it very hard indeed to narrow down this selection, hence the 'more than one filling' theme. Bacon sandwiches will need a separate list, you see, as will BLTs, as will sausage sandwiches. For now, it's all about the 'more than one breakfast item in a bun', and since there are so many of those, I've kicked things off with the meaty numbers. So many sandwiches, so little time…
1. Brekkie Muffin at Original Fry Up Material
These guys are serious about their breakfast and as a result, this is one of the best breakfast sandwiches to be found anywhere in London. OFM fashion their own sausage patty from Blythburgh farms pork shoulder, then ease it onto a toasted muffin, before topping with the crispest, streakiest bacon, a wibbly wobbly fried egg and a slap of American cheese. There's some of their special 'brekkie sauce' to finish. The really impressive thing about this sandwich is the layering - there's so much in it, yet it all stays together, every time - 'wich craft.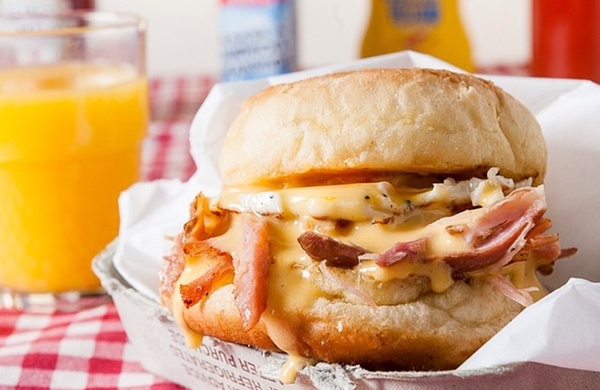 Photo Credit: Original Fry Up Material
2. Bacon and Scallop Roll from What the Dickens!
This ballsy beaut was based on a traders' favourite from the early morning caffs of Billingsgate fish market, where the scallops are prised from their shells, fried immediately then slung into a bap with salty bacon. What the Dickens! is three guys with a passion for linking to these great British traditions and having tasted both original Billingsgate sandwich and their homage, and I can tell you they're doing a fantastic job of it. Seriously good surf 'n turf.
3. Honest Muffin at Honest Burgers
Honest Burgers have started doing lovely squishy breakfast muffins at their Liverpool Street branch and very good they are too. Plant your pearlies into a mighty stack of sausage and sage patty, runny fried egg, an unnervingly perfect circle of fried black pudding and a slice of cheese covered in ketchup. It's a gooey protein bomb. You're going to need a snooze afterwards.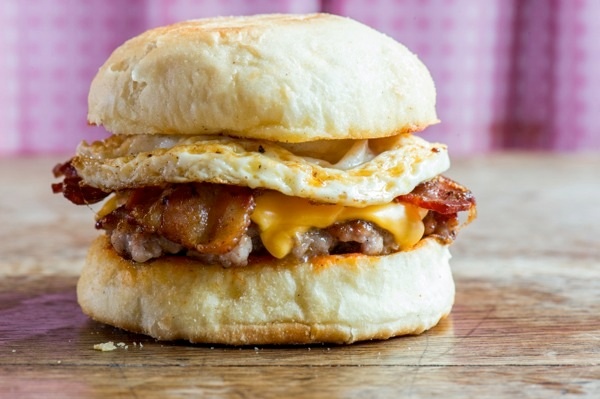 4. Breakfast Burrito at Luardo's
I have never been a fan of the breakfast burrito, but I'll make an exception here because Luardo's always get it right. These guys have been rolling burritos and topping tacos so long they're a London institution. This beast is available at Brockley Market on Saturday mornings - a 12 inch hulk rammed with Monterey Jack cheese, rice, black beans, chorizo, fried egg, rancheros sauce, coriander, pico de gallo, guacamole and sour cream. Phew.
5. Breakfast Burger at Foxlow
The Hawksmoor group just do so well with their sandwiches, and they usually justify the hefty price tag. This beast from their Foxlow restaurant contains - and it makes me sleepy just thinking about it - crisp bacon, a grilled tomato slice, sausage patty (cooked on a charcoal grill for extra smoky flavour), drippy fried egg, a whopping great mushroom and some cheese. Okay I'm full
More Sandwich Articles
London's Top 5 Fish Finger Sandwiches
Top 5 Mushroom Sandwiches in London
Top 5 Healthy Sandwiches in London
____
Browse our deals for restaurants in London.
BY: Helen Graves
Helen is a food and travel writer based in Peckham, South East London. She is the author of the book 101 Sandwiches and the blogs Food Stories, and The London Review of Sandwiches. She has written for The Guardian, The Times, The Evening Standard, Sainsbury's Magazine and various other publications. Her writing and recipes are inspired by the diversity of London and her travels and she is a sandwich and jerk chicken addict. She spent six years perfecting her recipe for jerk marinade, which is available to buy via her blog and in various shops in London. She won the fresh faces in food writing award at the Young British Foodie Awards in 2013 where judge Ottolenghi praised her 'jaw droppingly foul mouth'. She is also studying for a PhD in psychological medicine. Follow Helen on Twitter @FoodStories.'