Looking for a Turkish Restaurant in Glasgow?
BY: Emma Mykytyn |
12 May 2015
Turkish food is just all about kebabs isn't it? Most of us think this but these Turkish restaurants in Glasgow will give you a different view. The mix of culture and cuisine at these restaurants will open your eyes to a different view of Turkish cooking. There's charcoal grilled sea bass, pizza as well as scallops served with mini kofte – its not just meat on skewers!
Anatolia
Set in an impressive building on the corner of St. Vincent Street and Hope Street is Anatolia. Watch out when visiting here as the bread is addictive! If you can pull yourself away from the bread, the menu is wide ranging. I was surprised to see that there is a large selection of vegetarian dishes, especially starters. Both hot and cold mezze platters are on offer as well, for those of us who are useless at picking out just one starter! Meat courses such as lamb shish, Ottoman chicken and kofte jostle alongside charcoal grilled sea bass and Turkish pizzas (lahmacun) with its minced meat, onions, peppers and tomato topping.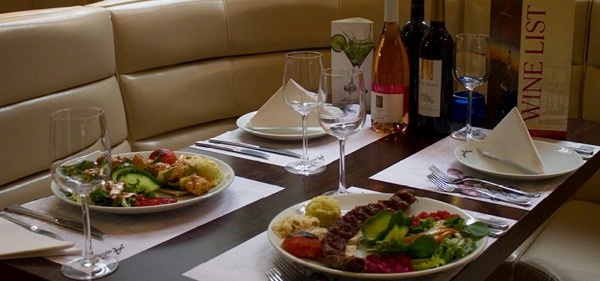 If you can tear yourself away from the menu, you will see your dinner being cooked in the open kitchen at the rear of the dining area. Watch the charcoal grill do its work on your shish.
Belly dancers entertain at the weekends with free Wi-Fi, children's portions and halal options available. Lunch, pre-theatre, early bird and tapas menus are available.
Heading up to Sauchiehall Street, you will find Alla Turka, handy for a pre-theatre before The Kings Theatre or a concert at the ABC.
Anatolia, 140 St. Vincent Street, Glasgow, G2 5LA
Alla Turka
Exotic lanterns hang from the ceiling and Turkish music plays melodically in the background transporting you to a different culture. It certainly is a different culture at Alla Turca with a blend of Turkish and Scottish cuisine. Scottish Scallops, mini kofte and lemon butter as well as Scottish fillet beef carpaccio sit beside classic mezze dishes of humus, falafel and stuffed vine leaves. The mezze is definitely worth a visit.
Dishes such as swordfish and duck make it onto the shish menu, the duck served with roast chestnut – chestnuts aren't just for Christmas! The vegetarian stuffed aubergine with feta cheese, dill and pine nuts served with rice and salad sounds like something even the most avid meat lover could be tempted to try.
The staff are friendly and helpful to guide you through the menu. Music is occasionally played live on a Saz, which is similar to a lute. Lunch, pre-theatre, set menu and a la carte are available.
Alla Turka, 192 Pitt Street, Glasgow, G2 4DY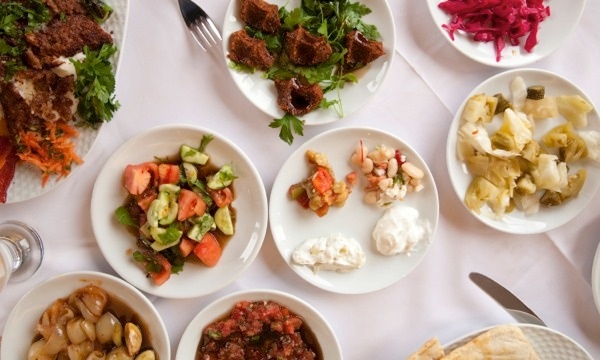 Kervan Palace
For that authentic Turkish café/restaurant experience why not try Kervan Palace? Located just outside the city centre, this restaurant is a bit of a secret to most Glaswegians but is popular with Glasgow's Turkish community - it's the one you've probably wondered about as you whizzed past in a car or bus (all the buses heading south via Eglinton Toll pass here). From the outside it looks quite small but behind the café wall is a rather large restaurant, and when seated in the café area it certainly feels like you're in Turkey as it's a Turkish channel playing on the TV - mostly Turkish football, and for big games they may even wheel in a second telly! They sell borek (a filled filo pastry), sarbeni (Turkish pizza) and kebabs etc and drinks-wise you can have various Turkish teas. Open for lunch, dinner and if you're passing after a night out clubbing they'll still be open selling kebabs. They have regular nights with belly dancers and next door they also have a Turkish cake shop selling reasonably priced baklava, cakes and Turkish coffee.
Kervan Palace, 61 Bridge Street, Glasgow, G5 9JB
Related Reads
Koolba - Glasgow's Favourite for Curry
Top 5 Mexican Restaurants in Glasgow
____
Browse our deals for restaurants in Glasgow.
BY: Emma Mykytyn
Emma is a freelance writer living in Glasgow. Loving all things food, she started her own blog, Food and Drink Glasgow, to record her dining experiences in and around Glasgow. The blog showcases the best of Glasgow as well as Edinburgh and some choice picks of Europe. With the top spot on Urbanspoon for Glasgow as well as a BBC Good Food Show Blogger spell under her belt, there's not much she hasn't tasted.