Lucky Chip Burger - A Complete Overview
BY: Nick Andrews |
7 Jul 2015
East London's popular burger joint Lucky Chip is the equivalent of celebrated surfer Kelly Slater, 11-time ASP World Tour Champion. Like Kelly, when Lucky Chip hit the scene (that's London's burger scene) in 2011 with a boombox pumping burger van in Netil Market the burgers were hyped, supercharged creations that wowed and caused queues around the block. Three years later, and they've now mellowed into a solid fixture on the burger circuit with a more mature, yet still phenomenally creative, menu.
The reason for the simile? Well, Lucky Chip's burgers all take on the characteristics of their celebrity namesakes. The 'slebs include: The Daryl Hannah – a fillet of fish burger doffing it's cap to her stint in the film 'Splash'; The Danny Trejo – a fiery Mexican burger with jalapeños, chipotle and tequila salsa representing the handlebar moustachioed actor starring in From Dust Til Dawn; The Tom Selleck – a burger featuring a massive pineapple ring, Hawaiin-style; and The Kevin Bacon – a bacon cheeseburger.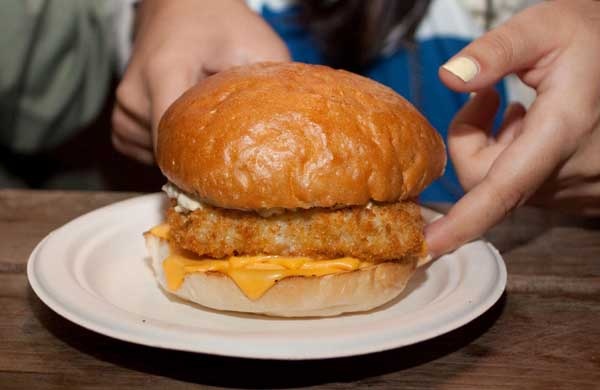 As one of my favourite burgers joints in London, here's an overview of where you can find them and what to expect:
Lucky Chip at Netil Market
The burger van in Netil Market was where it all began, and the team are there at weekends cooking up their burgers, with prices starting from £6.50 for the best bacon cheeseburger you'll ever eat. The burgers are grilled on a flat-top and come well-seasoned in their celebrity style wrappers. You can also order truffle fries which are awesome.
Netil Market, 11-25 Westgate Street, London E8 3RL. Open Thurs/Fri/Sat 12pm – 5pm.
Lucky Chip in the Seabright Arms
This is Lucky Chip's home, taking a residency in the kitchen at the Seabright Arms that's now been going on for more than 2 years. It's here you'll find the team slinging all the burgers available at the van in Netil Market, as well as some slightly more creative efforts.
Most notable is the Breaking Bad themed menu, which features a collection of character-themed burgers. Some of my favourites are the Heisenburger, a combination of aged beef, blue cheese, bacon, and onion rings with a methylamine hot sauce. Or how about taking down the Jesse Pinkerman – combining a beef patty with stacks of bacon and chilli accessorised with peanut butter and jam as condiments – an acquired taste, but one that works surprisingly well. For sides, why not try the Mexican Cousins tater tots with coriander and jalapeño mayo, or Flynn's School Snack fries with hot sauce. It's a laugh a minute, but these are seriously good burgers.
Seabright Arms, 31-35 Coate Street, London E2 9AG. Open 6pm Mon – Sat,and from 1pm on Sunday.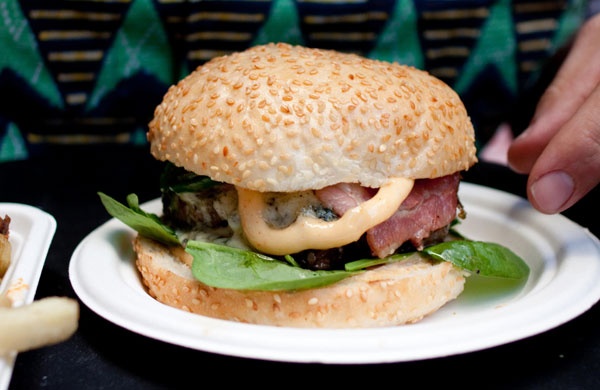 Lucky Chicken
Not so long ago, Lucky Chip also tried their hand at chicken – popping up for a short stint at a pub and creating a not-quite-KFC branded Lucky Fried Chicken shop menu. Buckets of chicken, gravy, slaw, and beans all served Sanders-style, but made from top notch free range chicken and other ingredients. Keep an eye on their twitter feed for more creative tomfoolery @lucky_chip
Related Reads
The Best Burgers for a 1st Date in London
Understated and Underestimated - The Elliot's Cafe Burger
____
Browse our deals for restaurants in London.
BY: Nick Andrews
Nick is Hamburger Me and he likes burgers. Actually, it goes a bit deeper than that. Nick is, in fact, London's pre-eminent burger blogger, and the author of www.hamburger-me.com where, since 2010, he's been posting about and reviewing London's best burgers. He's a keen collector of burger memorabilia (check out his burger phone!) and he even has his own line in burger cufflinks...