Best Malaysian Restaurant London Has to Offer
BY: Edward Smith |
26 Jan 2015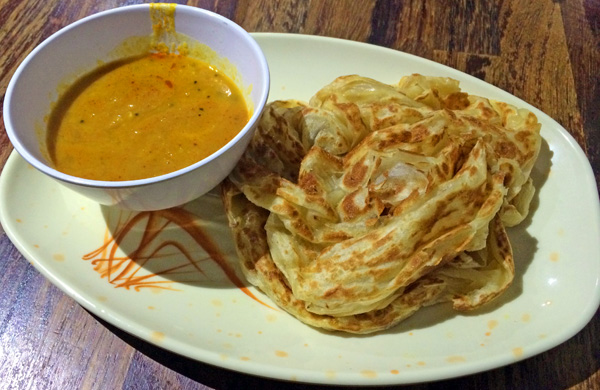 So I'm sitting with an ethereally light, obviously buttery but remarkably grease free, flakey, soft roti.
There were two to begin with. But there's only one left, and that's not going to last much longer as I hurriedly, greedily, dip the bread into a curried dal soup and scoop up what I can. The spicing is good - savoury, rounded and with a slow burn, rather than a lasting fire. I'm sad when both the roti and dal are finished.
Next up, a plate with upturned bowl shaped coconut rice, deep fried anchovies, a sweet, fruity, spicy sambal, half an egg, peanuts, a few slices of cucumber and niblets of curry spice marinated chicken thigh. Again, I rush through. Whilst aesthetically this dish (nasi lemak) looks disjointed, everything serves a purpose. The spice from the sambal doing that whole 'this is slightly painful but I must eat more quickly' thing. The crispy fish are pure, moreish umami, the peanuts not far behind. Cold egg and chilling cucumber refresh the palette and liven the flavours. The rice is the perfect foil.
To finish, a roti pisang - one of those breads again, this time filled with caramalised banana then chopped into squares. I'm definitely full already, but speed eating to trick the stomach. It's awesome, sticky, sweet, and obviously totally healthy because the banana means it counts as one of your five a day, right?
This was all at a little back street, basement, no frills place in Euston called Roti King - which I'm told is Malaysian. I've no real experience of Malaysian food, but I'm hooked. The next day, another nasi lemak at a place called Sedap near Old Street. A little different (fried mackerel not anchovy), but still decent enough.
Why not more Malaysian restaurants?
Malaysian food seems to be an under represented cuisine in London - just a handful of simple cafés dotted around central London. Nothing grand or modern. Why not? I was intrigued, so I got in touch with two Malaysian's who run a supper club called Mondsey to find out more.
JP and Karen are a husband and wife team. They're both from Kuala Lumpur, but came to London about 15 years ago. They also both have full time jobs (JP is an engineer, Karen a fund manager), but took to the supper club scene about six months ago after Karen took a year out to train in patisserie at the Cordon Bleu cookery school.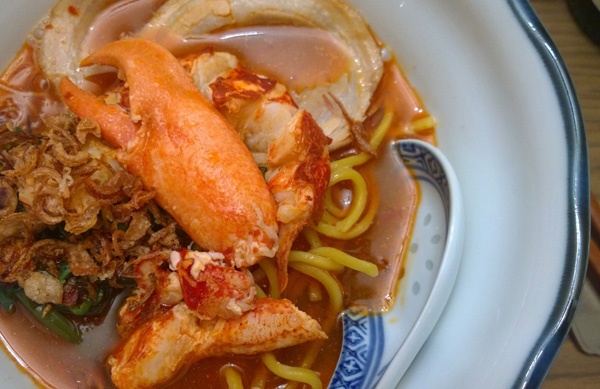 I've seen their food on Twitter, and notice that it seems to be a slightly updated version of Malaysian café classics: mackerel paté style otak otak with brioche; full on lobster noodle soup; milk tea ('teh tarik') served as a panna cotta with Horlicks crunch.
Malaysian Cuisine = lots and varied
A helpful starting point for me (a white country bred English boy) is an explanation from JP about Malaysian cuisine, which effectively breaks down into three or four parts: indigenous Malay, which is things like satay; Indian Malaysian's (those roti and curries); Chinese Malaysian (noodle dishes similar to mainland Chinese food); and (arguably) a bit of Peranakan (descendants of Malaysian and Chinese immigrants on Peninsular Malaysia and Singapore) or 'Nonya' cooking which seems to combine Chinese and Malay and end up in a host of spicy, tangy dishes such as laksa.
Bottom line 'Malaysian cuisine' = lots and varied.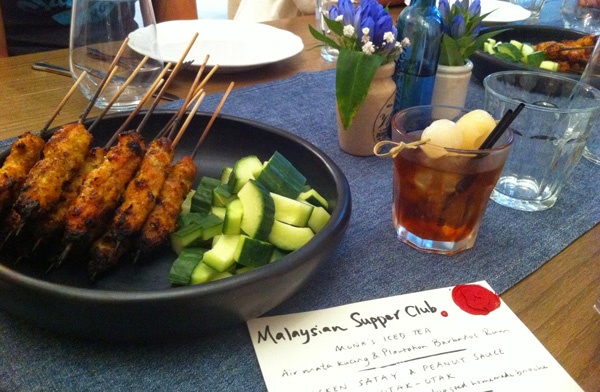 Much more to come
Interestingly, Karen and JP confirm my belief that there's much more to come from Malaysian food in London. In part because there just aren't that many places out there at the moment (see their recommendations below), so surely we could take more. But also because there are very few taking a more modern approach to the cuisine to the city. They noted this year's UK Masterchef Ping Coombes won the series cooking her classy version of Malaysian favourites, and I keep looking at pictures of their own supper club and want to get involved.
It can't be long until someone opens a new style Malaysian influenced restaurant, serving the kind of dishes you can find at a few backstreet low key cafés, but perhaps presenting it in more of a modern London way or environment. In the meantime, check out Mondsey's monthly supperclubs via edibleexperince and grubclub for authentic Malaysian home cooking with a touch of modern style. Also head to: Roti King; Sedap; CNR Soho, Satay House, KL Café and Malaysia Hall Canteen in Bayswater.
Related Reads
Five of the Best Sushi Restaurants in London
5 Places in London to Get An Authentic Indian Meal
Thai Restaurants London - 4 of the Best
____
Find a deal for restaurants in London.
BY: Edward Smith
Click here to see more articles by Ed...Ed Smith used to be a lawyer but retrained as a chef and now cooks and writes for a living. Based in London, Ed writes for various publications, including his blog, Rocket and Squash, and was shortlisted in the 'Best Online Food Writer' category of the 2013 Fortnum and Mason food awards. Ed eats too much. Click here to see more articles by Ed...