GROUPON GUIDE TO MANCHESTER
The Manchester Jazz Festival
BY: Fiona Barnes |
1 Jul 2015
The Manchester Jazz festival is unlike any other event on the jazz circuit. It features 10 days of contemporary jazz from not only the North West and the rest of the UK but also welcomes acts from all over the world, with many original pieces and international debuts taking place.
Manchester Jazz Festival does however champion its regional artists with a focus on musical innovation with concerts round the clock, indoors and out which are accessible to all with many shows having free entry.
400 Musicians over 10 Days
The festival runs for a period of 10 days and typically plays host to over 400 musicians, with 80 events being held within 7-10 venues including The Midland Hotel, Band on The Wall, Soup Kitchen and of course the main Festival Pavilion site in Albert Square - which alone attracted over 60,000 visitors in 2014.
Albert Square is the perfect place for this kind of event, the festival pavilion stage is where jazz bands of all genres play for a small ticket price. There are also plenty of food stalls selling a wide range of high quality food, along with a reasonably well stocked bar and lots of seating in the form of wooden benches for those wanting to relax and take a break from the music.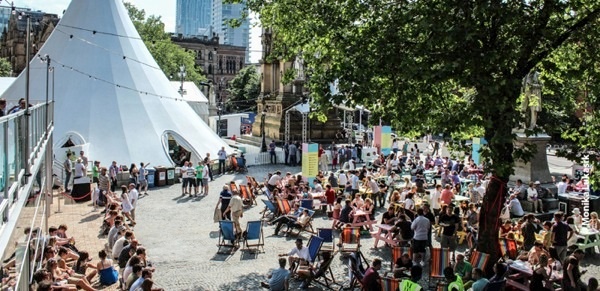 Some people might hold the view that all jazz is the same but they should be prepared to be proved wrong. This festival encourages multiple genres of contemporary jazz to try break down musical boundaries and change people's view of their beloved culture.
The organisers also recommission new work from talented regional artists with their 'originals' and 'introduces' schemes as their way of giving back to the jazz community and helping to ensure that the music stays alive and well for the years to come.
Teaming up with the Manchester Literature Festival
2015 will be the 20th Manchester Jazz festival. In celebration of this they are joining forces with the Manchester Literature Festival to launch a new initiative which provides an opportunity for jazz composers and authors or poets to collaborate on new work for presentation at both the jazz festival and literature festival - which is held in October and this year will also mark the 10th anniversary of their own festival. This combining of the two arts is sure to make it the best event yet!
Manchester Jazz Festival provides a platform to demonstrate the great range of jazz that can be found across the world. With many tickets priced at £5 or less, including many free of charge, this is a great event to come and discover a variety of new music as well as to enjoy some of your favourite jazz acts.
Cover Image Credit: Manchester Jazz Festival
____
Browse our deals for things to do in Manchester.
BY: Fiona Barnes
I'm a music magpie - I like to collect music. New music, old music doesn't really matter. Even when I don't seem to be listening to music I am - there's always a song in my head. I am one of the talentless many without a musical bone in body. But I can string a sentence together so I write about music on TheGigBlog.co.uk