Top 5 Nail Bars in Glasgow
BY: Laura Pearson Smith |
13 Aug 2015
Elaborate nail art, gel nails and acrylics are everywhere; but don't underestimate the chicness of just a simple file and polish with a pretty nail varnish colour. It's simple and affordable, and a great way to freshen up your look. The Glasgow nail salons in this guide are good value for money, have beautiful surroundings and use great quality nail polish brands that we all love.
Revival Retreat
The Revival Retreat salon on Renfield Street (right in the middle of the city centre) use OPI nail polishes for manicures. These are excellent quality nail varnishes, and at just £14 for a file and polish (file shaping, base coat, two colour coats of your choice and a top coat), it makes for a great budget treat for your nails before a night out.
38 Renfield Street, Glasgow, G2 1LU
Rainbow Room International
Hair salon chain Rainbow Room International offer a great express manicure at the Royal Exchange Square salon. They use the luxurious Jessica nail polishes; which, in my opinion, cannot be rivalled for quality. Their Express Manicure is £20; but it is worth it for the care they give your nails and for the fact that the nail polish is so long-lasting. Once you've tried the Jessica brand, you won't want anything else.
(Read more about Rainbow Room International in Rainbow Room Glasgow - Interview and Tips)
24 Royal Exchange Square, Glasgow, G1 3AB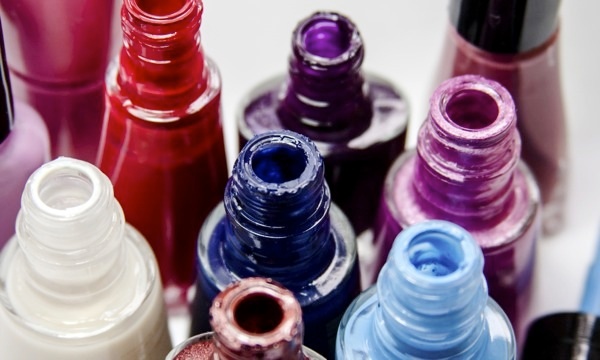 Pure Spa
It's not just your hands that need some polish action; your toes do too. Pure Spa on West Nile Street in the city centre do a fantastic pedicure file and polish with Leighton Denny varnishes. Their Mini Pedicure is £19, and they'll have your feet looking fabulous in no time. Leighton Denny nail polishes are very chip-resistant and have an incredible glossy finish.
114 West Nile Street, Glasgow, G1 2QA
Nail Zone
Away from the city centre, Nail Zone in Queen Street offer a great Express Manicure for just £14, using another much-loved nail polish brand Essie. Essie polishes come in the prettiest of colours, and Nail Zone run regular special offers (such as 2 For 1 Tuesday); so it's worth checking their Facebook page before you book.
53 Queen St, Glasgow G1 3EN
Savannah Beauty
Over in the West End, Savannah Beauty on Crow Road in Jordanhill is the place to head to. Like Rainbow Room International, they also use the superior Jessica brand of nail polishes. A basic file and polish there costs just £12.50 - if I lived in this area of Glasgow I'd be there every week.
482 Crow Road, Jordanhill, G11 7DR
It is important to look after your nails. Regular filing is essential to promote growth and keep them in a neat and manageable shape. If you aren't keen on looking after your nails yourself, heading to one of these Glasgow nail salons will allow you to keep them looking good for less than £20 a time. Why not go wild and try a colour you wouldn't normally wear too!
Related Reads
Laser Hair Removal and More, Glasgow
____
Browse our deals for nail bars in Glasgow.
BY: Laura Pearson Smith
Laura Pearson-Smith is from Glasgow's Southside. She is a lover of luxury, yummy food and all things pretty. She founded, and is editor of luxury travel online magazine Stylecation, and blogs at her own lifestyle blog A Life With Frills. She has written countless fashion, beauty and travel articles for various publications including The Huffington Post. If you want to know the best Chinese restaurant in Glasgow, where to get a vintage Chanel handbag or the city's best facial, she's your girl.