GROUPON GUIDE TO MANCHESTER
New Restaurants Manchester - Fresh Places to Try!
BY: Shaun Barnes |
1 Sep 2014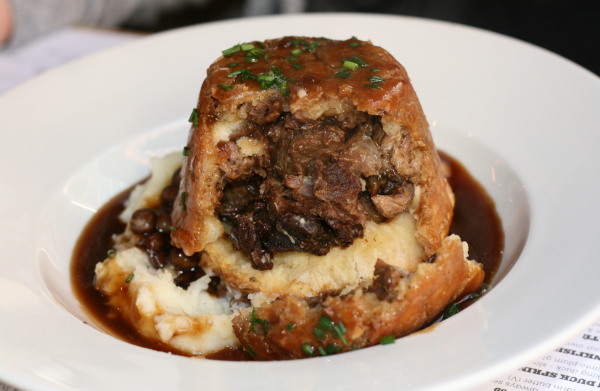 It seemed 2013 was the year of the restaurant opening in Manchester with new places appearing on a monthly basis. London burger chain Byron (read more about Byron in Doing it Well - Four Burger Chains Who Will Blow Your Socks off) arrived along with popular BBQ joint Red's True Barbecue and Mexican restaurant Lucha Libre amongst many others. The most high profile were Living Ventures' Michelin star chasing Manchester House and Simon Rogan's Mr Coopers House & Garden along with his revamping of The French in the Midland Hotel. (Read more about Manchester House and Mr Coopers in Chasing Stars: Who Will Win Manchester's First Michelin Star For 30 Years?
The trend has not only continued but increased further in 2014 with an average of over two new restaurants a month opening during the first half of the year. The newcomers are catering for a wide variety of tastes including:
Beef & Pudding
This urban gastro-pub Beef & Pudding is former TV chef Dave Mooney's fifth venture, but his first in Manchester city centre. They offer traditional British food and pub classics along with more exotic dishes, all made using the best local ingredients.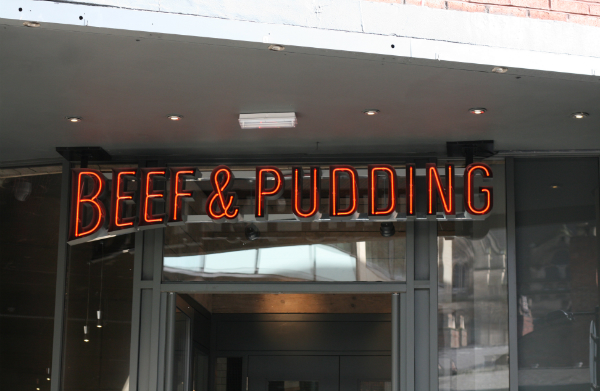 Superstore
Superstore is bizarrely situated above a Northern Quarter convenience store. The excellent value menu focuses on small plates, served smorgasbord style on large wooden breadboards.
Five Guys
An American fast food favourite, after successfully opening in London last year Five Guy's have now arrived in Manchester at The Trafford Centre. Not a rival to the gourmet burger places in town but a huge step up from the mainstream fast food chains.
Lusitano
Lusitano is a family run Portuguese restaurant in Chorlton. Serving traditional dishes with a light, modern twist. With a wide range of dishes from small tapas to slow roasted suckling pig.
Miller & Carter
The specialist steakhouse Miller & Carter recently opened in the former Lloyds Bank on King Street, a beautiful building. Serving premium grade beef, matured for a minimum of 28 days.
The Splendid Sausage Company
The Splendid Sausage Company – Selling gourmet hot dogs made using quality, locally produced British sausages piled high with intriguing combinations of toppings.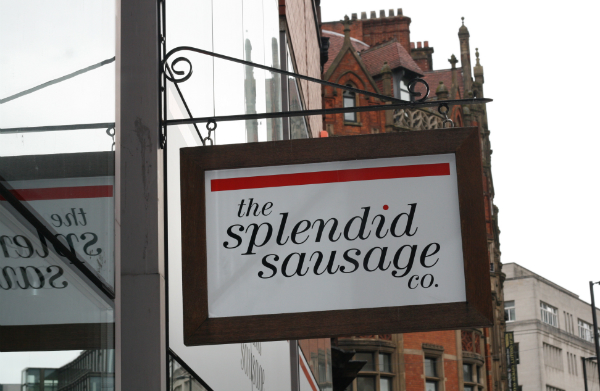 Côte
Côte – An excellent value French style brassiere with a varied menu and fantastic service.
More New Restaurants Worth Mentioning
Other notable openings include Wood, a wine bar and deli in the Northern Quarter and Volta in the leafy suburb of Didsbury where Prince was recently spotted before his Manchester gigs.
More to Come...
The rapid rate of openings shows no signs of slowing down either. Living Ventures are bringing their high end Italian concept 'Gusto' to Manchester city centre at the end of summer in the Grade II listed Elliot House on Deansgate.
Other new eateries confirmed for later in the year include Caribbean restaurant Turtle Bay on Deansgate, contemporary British Chalk Bar & Grill and SoLita's first venture outside of the city centre, both in Didsbury. Perhaps the most interesting is Wahu, set to open in Spinningfields in the summer who promise to let you 'design your own meal'.
Tweet us with your mini reviews of these new restaurants! @GrouponGuide_UK are there any that we missed?
Related Reads
Chasing Stars: Who Will Win Manchester's First Michelin Star For 30 Years?
Cash, Cheque, Credit Card – Small Plates
Manchester: Fancy a Slice of Food With Your Fashion?
____
Find a deal for restaurants in Manchester.
BY: Shaun Barnes
Shaun is a self-confessed food geek. He thinks about food most of the day and may be addicted to dining out. In the couple of years that he's been writing about his experiences he's reviewed over 150 restaurants, the majority of which are in Manchester and the North West area. But his ever growing list of places to visit is just as long.