On a Wing and a Pizza: Review of Little Wing Pizzeria
BY: John Ferris |
18 Apr 2014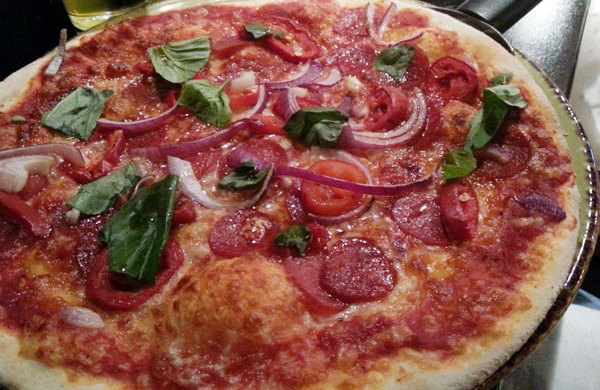 There's something about the interior of Little Wing Pizzeria that always reminds me of the past. Standing in the Lisburn Road branch, I can't help but be transported back in time to old school places like Forte's in Castle Street where my dad used to take me for a burger and milkshake. Opened in early 2010, Little Wing now has three venues in Belfast and one in Bangor. With what has to be some of the most expensive pizza ovens in the country (there's not much change from £50k for one) the restaurants are able to keep food flowing at a fast pace. A pizza can be in and out of the oven in around three minutes. I arrive with two kids in tow and they're instantly kept happy by not just the menu to draw on but the toys and books available at the front of the restaurant. They begin with dough sticks and garlic butter that do the job of replacing crayons admirably. We start with bruschetta and a caesar salad - the latter a lightly tossed pile of lettuce with thin slices of chicken breast and a good crunch from well-cooked pancetta and crispy croutons.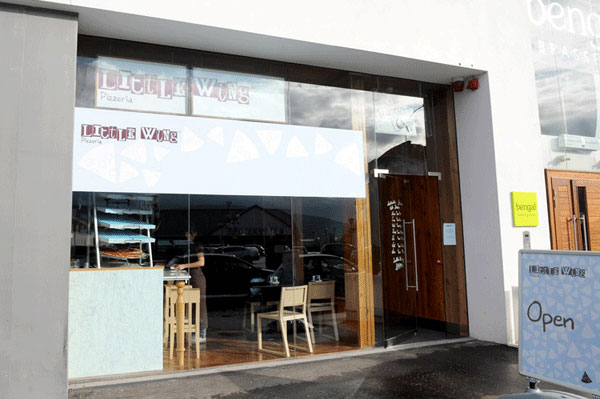 No prisoners are taken with the garlic levels in the bruschetta. The super fresh tomatoes, delicate pesto and red onions match it blow for blow. The portion size is generous featuring two sizable pieces of ciabatta. As a restaurant, Little Wing knows its market and children are well catered for. The children's menu brings its own uniqueness ending the meal with an ice cream cone and a mini hot chocolate. But it's with the Little Wingers workshops that it comes into its own. Children from 4-11 can get their aprons on and learn how to make their own pizza (though you will need to book this in advance). On one side of the table there was a pepperoni pizza, on my side a piccante. The kids decide on pizza and pasta for mains and the simple tomato sauce based pasta is a lifesaver for fussy eaters. The pizzas, thanks to the state-of-the-art ovens that cook the base to perfection, are crispy with just enough sauce and cheese. The pepperoni is just the right side of hot. On the piccante the red jalapenos give it a potent kick that's calmed somewhat by the torn basil leaves. At £5.95 for the children's menu and £11.95 for two courses and a drink for adults, it's excellent value. The same goes for takeaways with the monstrous 24-inch (eat your heart out Adam Richman) pizza, which Little Wing claims is the largest in Ireland, starting at just £16. Our only let down on the day was a sad little chocolate dessert cup that seemed to be in no mans land and didn't know what it was. Neither did I if truth were told after eating it. But it was all made better by the waffle-like ice cream cones. Little Wing is the perfect venue for an old-fashioned family dinner to make your own memories… and it certainly won't break the bank!
Find Little Wing Pizzeria on 10 Ann Street, 322 Lisburn Road and 201 Upper Newtownards Road, Belfast. Tel: (028) 9066 6000
Have you been here? Let us know what you think!
@Groupon_UK
#grouponguide
#Belfast ___ Click to see our
Belfast pizza
deals.
BY: John Ferris
John was a journalist for over 15 years and previously the editor of a Belfast-based newspaper. Co-founder of one of Ireland's most influential food and drinks websites, Forked.ie, he's a long-time judge of various food and drink awards in Ireland and writes primarily for Forked.ie. He also occasionally writes about food for Hospitality Review NI, Belfast Telegraph, the Guardian and makes the odd appearance on u105's Lunchtime Bistro show with Carolyn Stewart. You'll find him on Twitter @foodbelfast