Ox Restaurant Belfast Brings a Touch of Class to Vegetarian Dishes
BY: John Ferris |
15 Jun 2014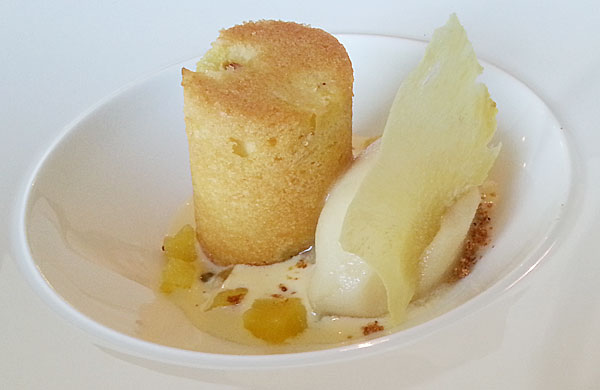 A smile tells much more than any review ever could. Sit in the corner of Ox Restaurant Belfast, a restaurant that opened in early 2013, and you'll see it happening everywhere and not just because Belfast is the 'happiest city in the UK'.* It's hard not to smile when dishes that are astounding in every way keep coming out of the kitchen. Whether it's the elegant plating up that makes every dish look like it could sit in the Ulster Museum or the lightness of touch from owner and chef Stephen Toman, Ox brings pleasure with each look and bite. It's high-end food but with a measure of casualness in the dining room that's testament to the restaurant's other owner and manager Alain Kerloc'h. Staff at the restaurant follow Kerloc'h's lead by making its customers feel at ease with professional service that's friendly too.
With a heavy focus on vegetables I start with a dish of wild earthy mushrooms that sit on top of a broccoli puree and a slow cooked egg. The other side of the table sees thin slices of salted beef whose saltiness is matched by blue cheese and chicory and brought back to earth with some soft, juicy pear. A light drizzle of truffle dressing makes it one of those dishes that work together beautifully.
Our mains include another vegetarian dish with smoky aubergine and deep, earthy beetroot that's been baked in hay. The texture is spot on and if any vegetarian was on the hunt for a place to eat in Belfast there can be no doubting Ox's pedigree.
A perfectly cooked piece of sea trout came with onions, caramelised salsify and a parsley root puree that was so rich and creamy that I heard the distant whimper of an artery giving up with my first forkful.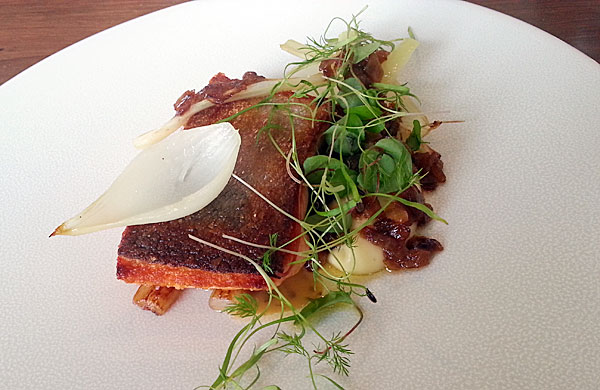 The wine menu at Ox is one of the best in the city and the 'house wines' that come by the glass are of superb quality and value from a superb Pira Luigi to a Campo de Borja Grenache.
We finish off with a hazelnut and blood orange mille feuille that has a massive hit of chocolate running through it with pistachios strewn across the plate. A pineapple sponge is light and comes with an in-your-face cider sorbet and an Ox classic – thyme custard. The desserts come and go and some Suki Tea and an espresso come with interesting parsnip and carrot macaroons.
Ox's arrival on to the Belfast restaurant scene in 2013 made everyone sit up and take notice, and yet the food seems to get better with each passing month. If you haven't made the trip yet, get yourself down there and put a massive grin on your face.
Ox, 1 Oxford Street, Belfast (028) 9031 4121
*Belfast named happiest city in the UK by the Belfast Telegrah
Related Articles
Interview with Paul Rankin - His 3 Favourite Places for Eating Out in Belfast
Coppi This - A Review of Coppi Restaurant in Belfast
The Best Restaurants in Belfast
Have you tried Ox Restaurant Belfast? Tell us what you thought @GrouponGuide_UK #grouponguide
For more reviews of Ox check out Trip Advisor.
____
Check out our Belfast vegetarian restaurant deals.
BY: John Ferris
John was a journalist for over 15 years and previously the editor of a Belfast-based newspaper. Co-founder of one of Ireland's most influential food and drinks websites, Forked.ie, he's a long-time judge of various food and drink awards in Ireland and writes primarily for Forked.ie. He also occasionally writes about food for Hospitality Review NI, Belfast Telegraph, the Guardian and makes the odd appearance on u105's Lunchtime Bistro show with Carolyn Stewart. You'll find him on Twitter @foodbelfast