Best Oyster Bars in London for Native Oysters
BY: Chris Pople |
12 Feb 2015
As the seasons change, a good restaurant knows how to work the availability of ingredients to their advantage and shift the focus of their menu accordingly, rather than rely on foreign imports or (shudder) frozen produce. But with native oysters, there's no room for maneuver - from May to August it's literally against the law to eat these beautiful bivalves, all the more reason to treasure their availability the rest of the year. With an almost crunchy leanness, and a metallic punch of flavour that belies their size (they are generally smaller than the usual rock oysters), they are a salty, mineral package of ocean loveliness. But as they are harder to get hold of, and more expensive to eat, not everywhere specialises. Here are my pick of the best places to eat native oysters.
Bentley's
Richard Corrigan is one of those chefs that seem to perfectly embody everything about generosity and hospitality. His restaurants aren't cheap, but they manage to create the kind of warm atmosphere that makes you want to stay all day. The downstairs bar at Bentley's is a suitably plush environment to enjoy whatever's on the special oyster menu that day, washed down with a Guinness, or a glass of champagne, or – even better – a Black Velvet.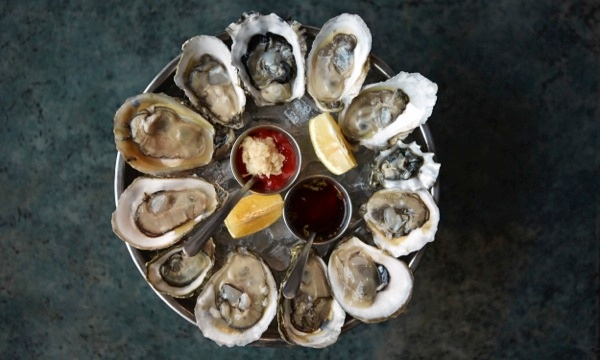 Randall and Aubin
Originally a Victorian butchers shop, these days Randall & Aubin is far more famous for being one of London's most beautiful and intimate seafood restaurants. For those wanting to splash out, the spectacular seafood platter (generally consisting of oysters, crab, shrimp, scallops, cockles, clams and lots more) will set you back around £50/head – not cheap, but still not extortionate by London prices. But when the season is right they're equally happy for you to have half a dozen natives and glass of house fizz. A Soho institution.
Wright Bros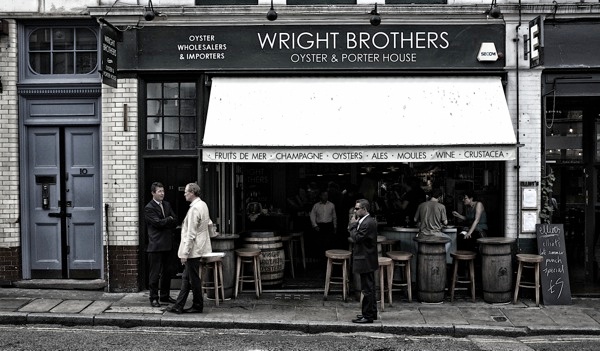 Image credit: Plodicus, flickr
With perhaps London's most comprehensive selection of bivalves (I spotted about ten different kinds on the menu at their Borough Market branch), Wright Bros. are truly our premier oyster experts. And at £3 each for their own Duchy of Cornwall natives, they're probably the best value as well. But that's not the only reason to visit; the rest of the menu is cracking as well, boasting fish pies, potted shrimps, and whole dressed Cornish crab for £18.
Related Reads
An Expert Shares His Tips to the Best Seafood in London
Seafood Restaurants London - 5 Best Value
____
Find a deal for restaurants in London.
BY: Chris Pople
Over the seven years Chris Pople has been writing the Cheese and Biscuits blog, he has written about nearly 500 different restaurants, which is far too many by anyone's standards. During that time he has been lucky enough to be picked as one of the top food blogs in the Times, New Statesman and Esquire magazine, and for the last three years running has been named as one of London's 1000 Most Influential people. He's probably in a restaurant right now, scouring the menu for spelling mistakes and waiting for a martini.