Pre Theatre Dinner London - 5 of the Best
BY: Edward Smith |
10 Nov 2014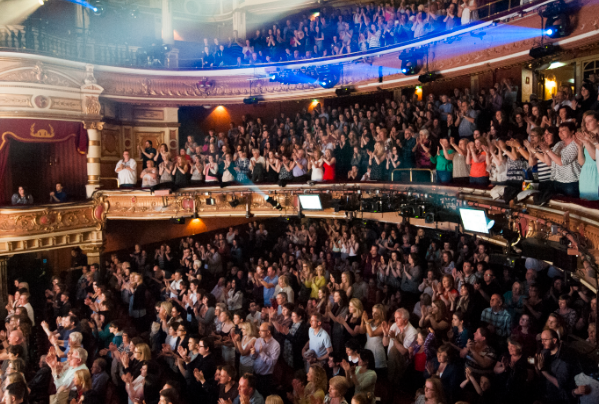 Picture this. You're 'up to London' for the theatre. With your family; on a date; or simply as a regular thing, because you're soooo cultured. You will have a great time. Probably. It'll be a few hours of escapism. Maybe there'll be cheap thrills and belly laughs. Or perhaps what you see will challenge or provoke.
Whatever, whilst the show is the feature event of your evening, you've still got to eat, right?!
That meal needs to be quick if it's before, bookable if after, and well priced in both cases, because your theatre tickets were not cheap.
London's theatre district is well served by restaurants, but not all of them (in fact, surprisingly few) fit the pre/post theatre bill – many are no reservations, almost all will be super busy, only a clutch serve great (and great value) food.
So to avoid ruining an otherwise fun evening, don't leave your meal to chance, don't pay through your nose for a bad meal, and don't find that you can't sit down to eat at all. Here are five pre theatre London dinners to head for some food, before or after a spot of culture.
Arbutus
Arbutus is Michelin star dining in a relatively casual and informal setting. It'll suit you if you're watching a show in one of Soho's theatres. Most significantly, they have a cracking value food. If you visit before your show, try a daily changing three course menu for £20.95. It's always chatty and convivial, and the food is quality. On a recent menu there was: autumn squash velouté with a poached egg and pink grapefruit; pressed confit rabbit; a roast young chicken, chickpeas, cucumber and spices; Cornish cod, mussels, cauliflower and wild mushrooms and a couple of cracking sounding deserts. Such good value. You'll need to book in advance.
63-64 Frith Street, London W1D 3JW
Brasserie Zedel
Zedel is a grand, buzzing, underground room just off Piccadilly. Think Parisian train station restaurant. Think Parisian bistro food. And think cracking value, whatever time of day you eat there. Which means it's perfect for theatres in Soho or off Haymarket. There are prix fixe menus for £8.75 (two courses) and £11.25 (three). But, to be honest, nothing is expensive and service is usually quick. Again, book to ahead to be sure of a seat.
20 Sherwood Street, W1
Green Man French Horn
This is a cozy restaurant that poses as a wine bar, with a niche interest in vin from the Loire. Importantly for this piece, the food is cracking and the room is extremely handy for shows off the Strand and near Leicester Square. There are usually pre theatre two and three course deals for £14.50 and £16.50 respectively. But I'd seriously consider seeing if you can hold off on eating until after your show, then feast from the daily changing a la carte menu. Book in advance (this is becoming a common theme, isn't it …).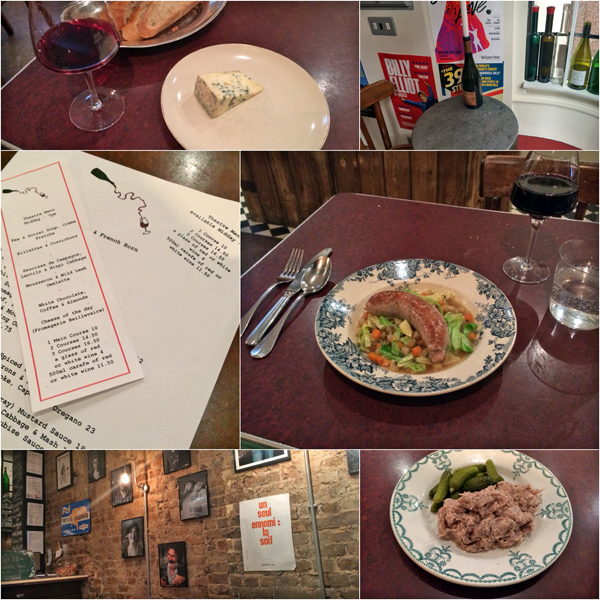 54 St.Martins Lane, WC2N 4EA
Hix, Brewer Street
Back to the Soho back streets. Hix ticks all the boxes you need for pre theatre eating – quick, proficient, decent value, fine grub. Two, seasonal, British, before the culture courses will set you back £19.50. Three, £24.50. It's a buzzing site – you might want to return after the show for a drink in Mark's bar under the restaurant. Cracking cocktails, beautiful people.
66-70, Brewer Street, London
Quo Vadis
Near to Arbutus and just as good a pre-theatre option, is Quo Vadis. This is such a civilised yet enjoyable place you may forget the reason you're in town and end up missing the first act. But if you stick to the original theatrical plan, you'll enjoy two seasonal and lovingly prepared courses for £17.50 or three for £20 if you find you've got the time. Possets and patés, tarts, terrines, grilled meats and fish. A modern classic.
26-29 Dean Street, W1D3LL
Related Reads
5 Great Value French Restaurants in London
Kerb London – Putting the Treat into Street Food
Find a deal for restaurants in London.