Pretty in Pink or Bouncing in Blue, Glasgow Childrenswear to Coo Over
BY: Laura Pearson Smith |
14 Jul 2014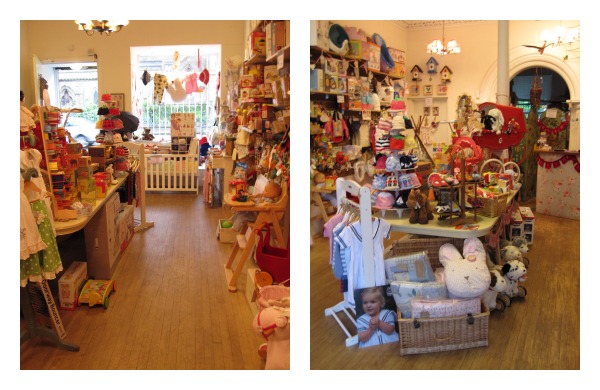 When it comes to dressing our children, we often put more effort in that we do with ourselves - spending more money and taking more time to put together coordinating outfits. Indeed, shopping for baby clothes has become one of the major joys of pregnancy. These are my favourite clothes shops in Glasgow to buy baby clothes for friends, or stylish childrenswear for when their little rascals get bigger.
Strawberry Fields
Strawberry Fields on Great Western Road in the West End has been selling children's clothes for over 35 years. It was set up in 1978 by mother Dany Metzein. The interior and exterior design and architecture are instantly recognisable, and it is a delight to browse in.
The store stocks a vast array of brands, from designer ones such as D&G, Gucci and Burberry to more unknown collections such as Katie Mack's pretty girly dresses and the French-inspired Monnalisa brand. Everything is delightful - you'll just wish they came in adult sizes.
Strawberry Fields, 517 Great Western Road, Glasgow, G12
Petite Pomme
Petite Pomme is a Parisian-themed baby and childrenswear boutique in Giffnock in Glasgow's southside. The owner Fiona Drouet was inspired by the children's boutiques in Paris that she frequents when visiting family in France. They stock a wide range of French and British brands, such as the delicate separates from Lili Goufrette and practical play clothes from Petit Bateau. The cater for girls from newborn to age 14 and for boys up to age 12.
Petite Pomme, 140 Fenwick Road, Giffnock, Glasgow, G46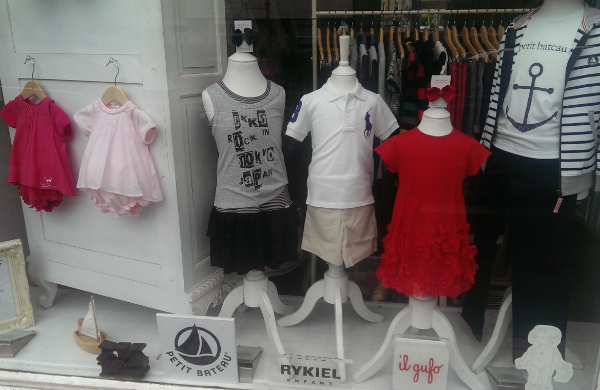 Rosie Cheeks Baby Boutique
Another favourite of mine is Rosie Cheeks Baby Boutique in the west end. It is a beautiful shop that sells not just baby clothes, but unique gifts too. So whether you want a cute romper suit or a stunning rocking horse, they've got you covered. Rosie Cheeks also have a vast toy selection - Christmas and birthdays need never be hard again. What's great and distinguishes it from other stores is that is stocks a lot of products by handmade designers, and products made locally in Scotland; such as handmade 100% cotton tartan bandana bibs (£5.50) and Cabbie Kids handmade baby vest and t-shirts from £13.99
Rosie Cheeks Baby Boutique, 415 Great Western Road, Glasgow, G4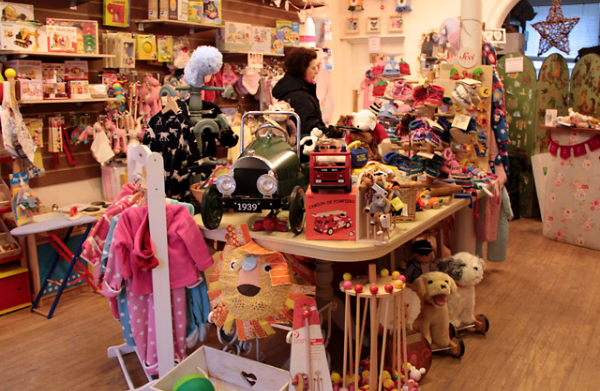 JoJo Maman Bebe
Finally, popular chain brand JoJo Maman Bebe has a store just off of Byres Road, which is also in the west end of Glasgow. The brand was founded in 1993 and has 48 stores nationwide. It has everything you need from maternity wear for yourself, right through to formal occasion dresses for up to 5 year olds. The clothes are high quality but very affordable. It's a great place to go to get all your basic items such as everyday t-shirts (£11) and simple cotton play dresses (£16). They have a lot of multi-buy offers too if you are buying a few things.
JoJo Mamam Bebe, 170-174 Great George Street, Glasgow, G12
There are so many stylish childrenswear shopping options in Glasgow to choose from, and all have a relaxed and friendly atmosphere. You could literally spend a fortune.
Where do you shop for your little darlings in Glasgow? Tweet us! @Groupon_UK #grouponguide
____
Check out our deals for
shopping in Glasgow
.
BY: Laura Pearson Smith
Laura Pearson-Smith is from Glasgow's Southside. She is a lover of luxury, yummy food and all things pretty. She founded, and is editor of luxury travel online magazine Stylecation, and blogs at her own lifestyle blog A Life With Frills. She has written countless fashion, beauty and travel articles for various publications including The Huffington Post. If you want to know the best Chinese restaurant in Glasgow, where to get a vintage Chanel handbag or the city's best facial, she's your girl.