Quirky Restaurants in London
BY: Nick Andrews |
23 Feb 2015
"In London", they say, "there's a restaurant for everyone." In this case it doesn't really matter who 'they' are because as a statement it's absolutely true. There are a phenomenal number of restaurants in London, catering to a huge number of cuisines. For instance there are a swathe of restaurants selling East African food, such as Jambo (Uganda), Mosob (Eritrea), and Queen of Sheba (Ethiopian). But going from the country cuisine to the quirky restaurant, the range becomes even more interesting.
There are four of my favourite quirky restaurants in London:
Dans Le Noir
Simply translated this means 'in the black'. And that's exactly what you get from this seemingly innocuous Clerkenwell restaurant, as once you enter through the thick velvet curtains into the restaurant, your whole dinner is served in absolute darkness. What this does, apart from hiding your poor table etiquette from your date or significant other, is give you a whole new perspective on your food. Things you take for granted, like being able to see what you're eating, are challenged and you find yourself asking questions like "was that chicken?" or "what on earth is the herb in this sauce?". It's all quite a lot of fun…just make sure you enlist some help when you want to go to the toilets.
Dans Le Noir is located on 30-31 Clerkenwell Green, London EC1R 0DU.
Burger Bus Stop
Situated in the London Motor Museum way out in the West of London is a 1960s Leyland bus from Brighton & Hove which just happens to have been kitted out in full American diner livery, including pop-art on the ceilings and diner tables bolted to the floor of the bus. Once seated, diners can order from a menu of burgers, fries and shakes delivered to them in the comfort of their bus seat. I can't guarantee it's comfortable, but it's definitely fun.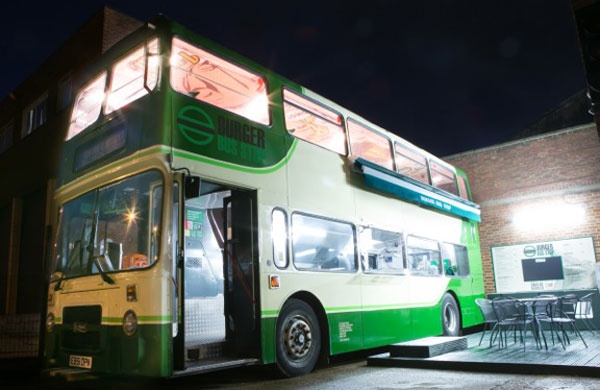 Burger Bus stop is located in the London Motor Museum, 3 Nestles Avenue, Hayes UB3 4SB.
Joe Allen
Joe Allen is a different kind of quirky, in that it seems to be a throwback to a bygone era, complete with retired members of the Cheers cast and theatre memorabilia dotted around the dining room. It's in the heart of theatre land which makes it a favourite refuge of luvvie types in the know, and the menu features a selection of retro classics – eggs benedict, prawn cocktails etc.. They also do a not-so-secret burger that you won't see on the menu, but you can ask your server for when ordering. Recent health and safety madness has resulted in this burger being cooked through, so it's lost some of its charm.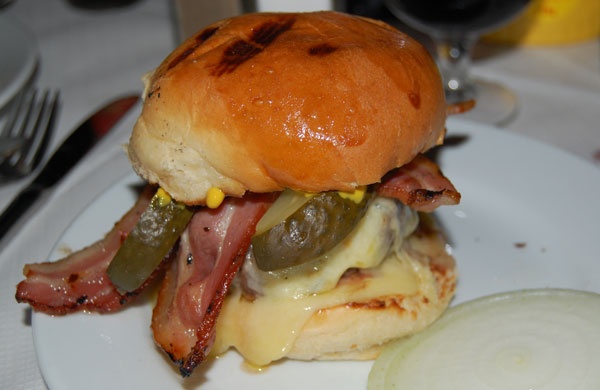 Enter Joe Allen through the hidden door on 13 Exeter Street, London WC2E 7DT.
St John Restaurant and Bakery, Smithfield
St John restaurant, based on St John Street between Clerkenwell Road and Smithfield Market, is quirky but this time for its food rather than the way the restaurant is kitted out, or its theming – this restaurant is the heart and soul of nose to tail eating in London. Staples on the menu include bone marrow, game, snails, and various seasonal meats, all raised to a gastronomic level. Attached to the restaurant is a bakery, from where you can pick up some of the best doughnuts in London, and a range of artisan breads.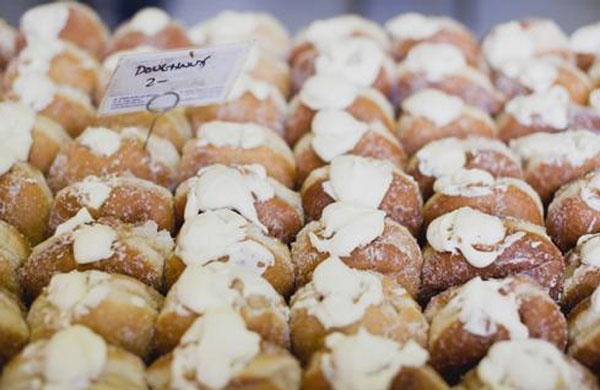 So there's a selection of my favourite, quirky London restaurants. Where's your favourite?
Related Reads
Quirky Bars in London - The 5 Best Pubs
Let Your Freak Flag Fly! - London's Quirkiest Cafes
____
Find a deal for restaurants in London.
BY: Nick Andrews
Nick is Hamburger Me and he likes burgers. Actually, it goes a bit deeper than that. Nick is, in fact, London's pre-eminent burger blogger, and the author of www.hamburger-me.com where, since 2010, he's been posting about and reviewing London's best burgers. He's a keen collector of burger memorabilia (check out his burger phone!) and he even has his own line in burger cufflinks...