Spend a Day at Victoria Square Belfast
BY: Jeff Meredith |
14 Oct 2014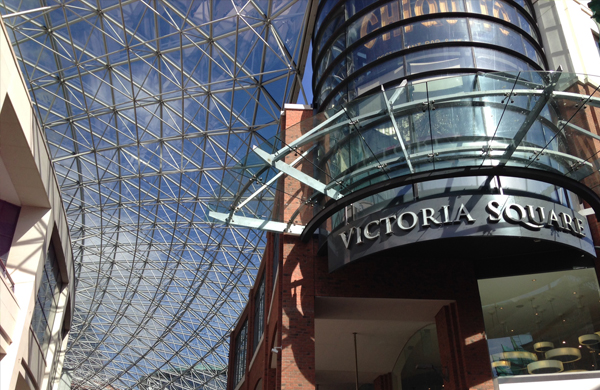 Victoria Square Belfast is Northern Ireland's premier shopping centre and is somewhere you could easily spend a day shopping, eating and relaxing. There is plenty to keep you occupied for the day with lots of top brand shopping, coffee shops and restaurants, a cinema and a viewing gallery in the iconic Dome.
Kick start with breakfast
You could start with a light breakfast in one of the coffee shops and a coffee to kick start your day, or you might like something more substantial in one of the restaurants. Frankie and Benny's have a good value big breakfast if you fancy something more substantial or you could go healthy and have a great breakfast bagel or porridge with almond milk in Slim's Kitchen Express.
Take in the views from The Dome
Once you're fuelled up, take a trip on the lift and go up to the Dome. It's better to do this in the morning before you have too many shopping bags. The Dome is a floating platform with 360 degree views over the city and if you aren't too afraid of heights have a look over the edge at the shoppers below. From the Dome you'll see Belfast Hills, the famous Harland & Wolf cranes and views both into the countryside and out to sea.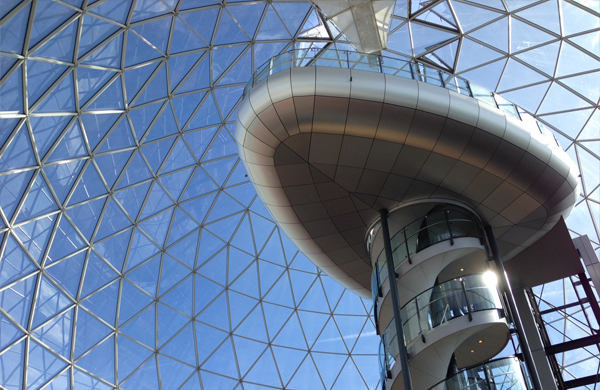 Hit the shops
Next it's time to hit the shops. With plenty of great shops to choose from it can be a challenge, but the shopping centre is laid out into different zones. The lower ground floor is generally where you'll find the high end fashion with Cruise, Guess, Hugo Boss and Lunns the jewellers. On the upper ground floor you'll find Topshop, H&M, Apple Store, River Island and much more. The anchor tenant is House of Fraser - accessible from all floors in Victoria Square, this large department store has everything covered.
Grab some lunch
After that you'll need a break, so where could be more perfect than The Ivory restaurant above House of Fraser for a glass of champagne or even some lunch. If it's a good day, you can sit out on one of their two beautiful balcony areas and relax, surrounded by your shopping bags.
Shop some more
Just outside the mall, but still part of the complex, the Kiehl's store is always worth a visit, if you ask, they might have time to fit you in for a consultation and some free samples.
Catch a movie
You might want to catch a movie and the luxury Odeon cinema is easy to find on the top floor with top blockbuster movies showing all day throughout the week.
Recharge at dinner
After you've finished all your shopping, been up the dome, and recharged with a few coffee breaks, it's dinner time. There are a number of restaurants to choose from including Wagamama, Pizza Express, Prezzo, TGI Friday's and much more.
The shopping centre has a reputation for hosting some great events, from weekend fashion shows to exciting Christmas celebrations. They also host a superb Sunday Fayre most weekends with the best of local handmade arts and crafts.
Keep an eye out on their website for all the events and have a great day in Northern Ireland's premier shopping centre.
More information
www.slimskitchen.com/express.php
More Things to do in Belfast...
3 Belfast Shopping Centres for Out of Town Shopping
5 Venues for a Night Out in the Cathedral Quarter
Fashion and Food on Belfast's Lisburn Road
____
Find a deal for shopping in Belfast.
BY: Jeff Meredith
Jeff Meredith runs popular Belfast blog, BelfastTimes.co.uk. He describes his blog as an online magazine for the city and covers fashion, restaurants, theatre, events and launches in the greater Belfast area. Jeff can be found on his blog, Facebook and Twitter promoting, plugging and reviewing the best things happening in and around the city of Belfast.