St Christopher's Place Shopping Guide
BY: Jen Riley |
18 May 2014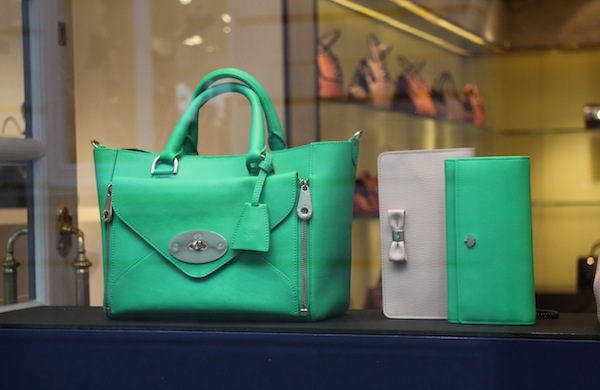 If you're walking along Oxford Street, towards Marble Arch you may have noticed a purple clock and a sign close to Bond Street tube station, next to H&M. If you look to your right you'll see a small passage that maybe doesn't look like anything special, but if you look up you will see a silver globe, topped with a sparkly man, welcoming you to the the lesser-known boutique shopping area of St Christopher's Place.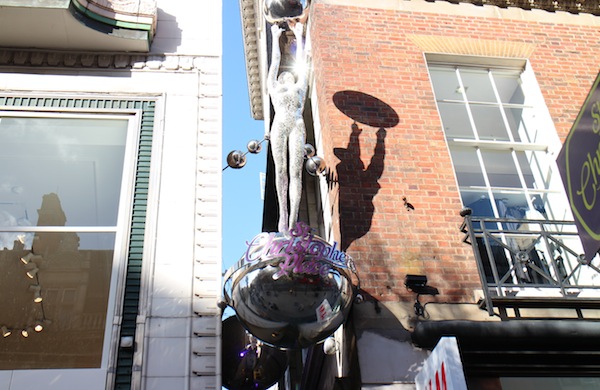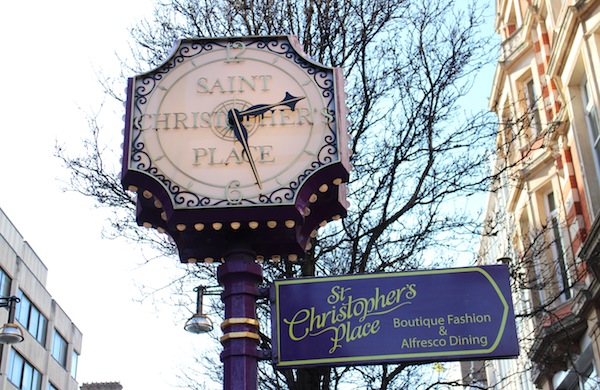 If you venture down this seemingly unassuming alleyway, you will be greeted by a few little treats. The alleyway opens up to a selection of some high-end brand favourites (hello Mulberry) plus a few pampering delights. This is a great place to stop for a pause from the madness of Oxford Street because you feel like you're in a quaint little town rather than in the capital.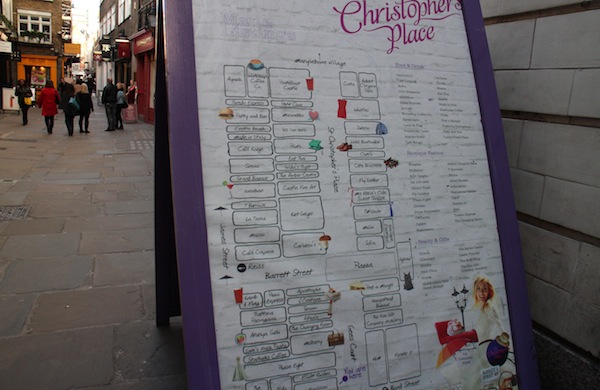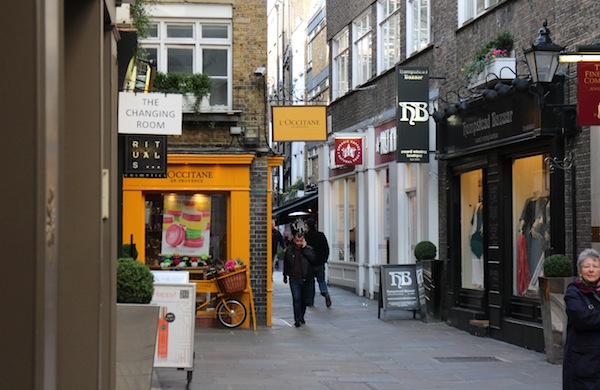 Some of the first stores to greet you are body and beauty related, starting with the dutch brand Rituals. They have lots of amazing products that feel 'premium' but are actually quite affordable. My personal favourites are the Laughing Buddha range (I call it their 'Happy Range' - who doesn't want a little extra happy in their lives? You can never have too much!) plus their hand products. Rituals also do fantastic hand balms and creams, plus the lovely miracle scrub - if you have never used a scrub like this on your hands, you're missing out. You will be left with hands as soft as a baby's bottom!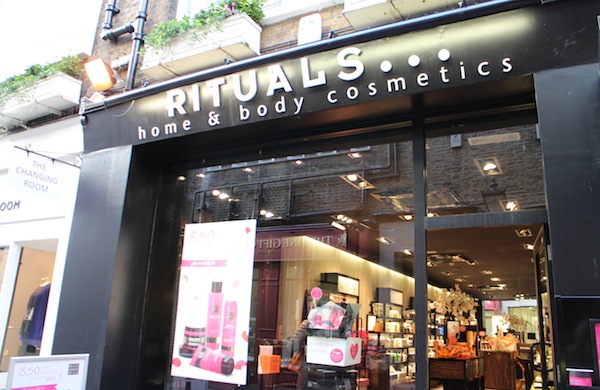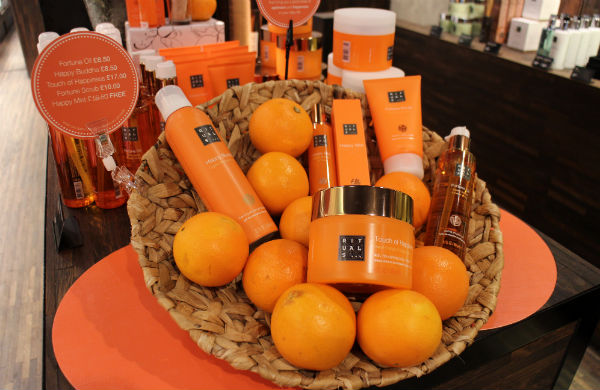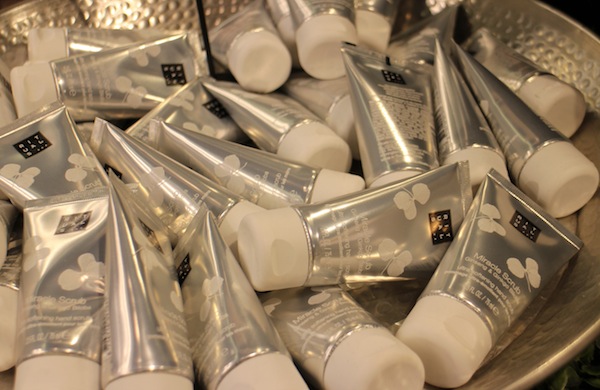 Alongside Rituals is the handbag heaven that is Mulberry. Whilst there are Mulberry stores to be found all over London now (in fact you can find two very close to this one - the Bond Street flagship and Selfridges concession) this one is well worth a visit due to it's size and the fact it's always very quiet and calm. I've found other stores can be much busier, but here you can browse all the gorgeous items in peace. So if you are in the market for a new Mulberry piece of arm candy, the St Christopher's place store is a great one to head to.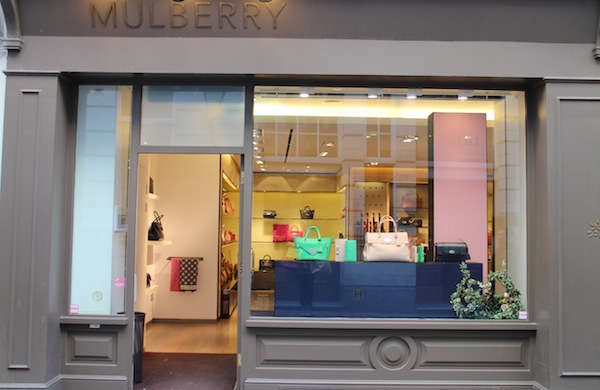 As you walk further down you come to a couple more beauty/pampering destinations such as Groom 'The Beauty Townhouse'. Groom is a convenient spa destination for all the essential beauty maintenance (manicures, pedicures, waxing etc) plus a few other pampering options such as facials and massages. Just next door to Groom is a small L'Occitane store - which on a nice day has the doors open so you can get a waft of it's lovely products as you walk past.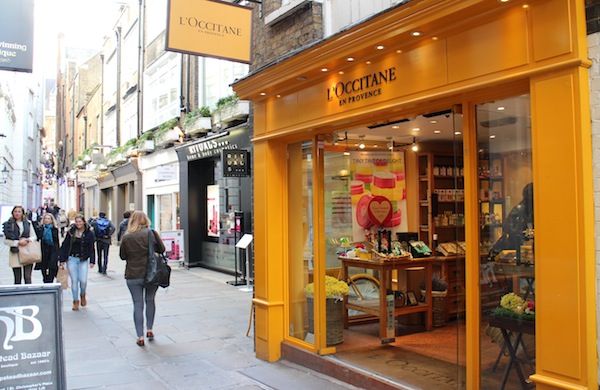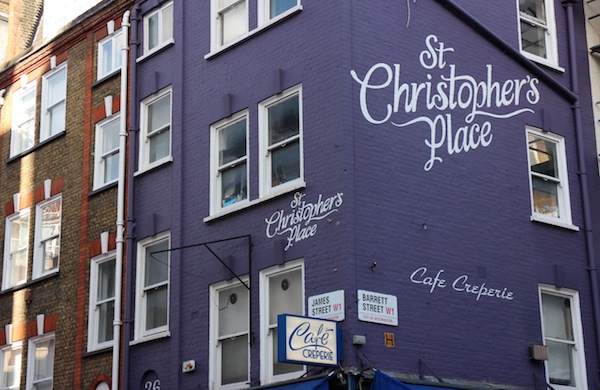 A few more steps and you come to the St Christopher's place square, which is the perfect place for a shopping pause with coffee shops and restaurants galore. Café Creperie has to be my first choice (I love a crepe) but there's also Apostrophe, Pizza Express, Carluccio's, Sofra and many more to choose from - especially if you head to James St to the side of St Christopher's Place where the whole street is lined with places to eat and drink. Plus there's always the Pontefract Castle if you just want a good old fashioned pub for a quick glass of vino mid-shop. If you want a sweet-treat, St Christopher's Place is also home to Mrs Kibbles Olde Sweet Shoppe. The window is filled with pink and white striped candy jars with the treats you will remember from when you were a kid. Try the 'rhubarb and custard' or the bon bons that come in every colour you can imagine. It's hard not to be tempted to pop in and fill up a bag with sugary deliciousness!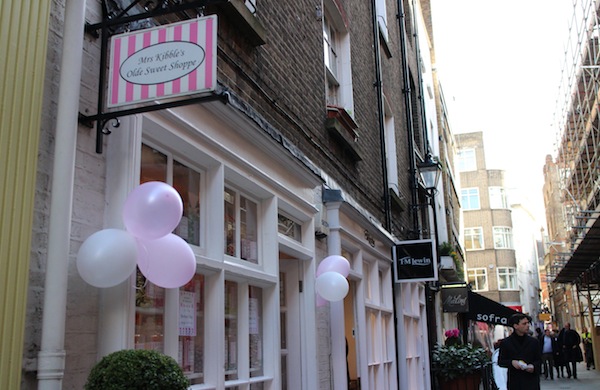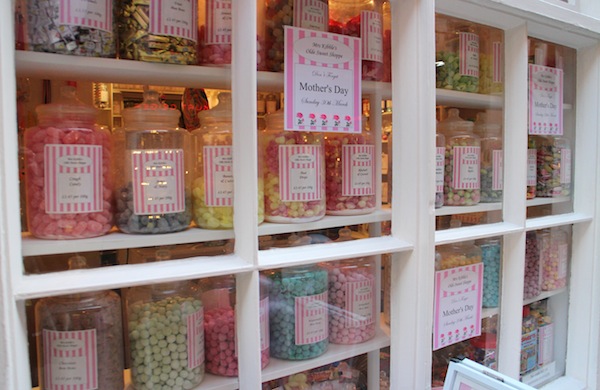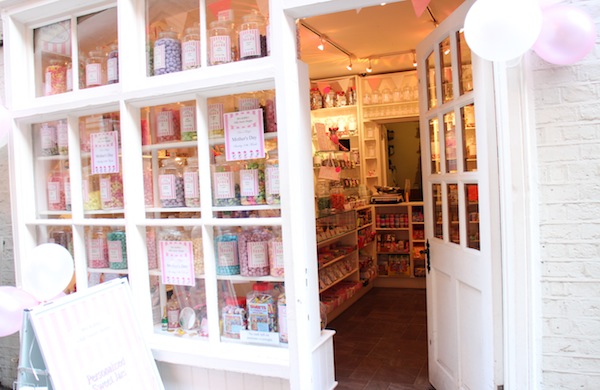 Just across from Mrs Kibbles you can find something exciting on the other end of the scale. Prints, a store based on Swedish design (despite originally opening in Singapore), is filled with all sorts of cards, stationery and organisation kits that you can think of, from ribbons in every colour under the sun, to cards for any occasion - all with a sleek, quirky twist. So if you want something a bit cooler than your usual greeting card, this is the place to head to.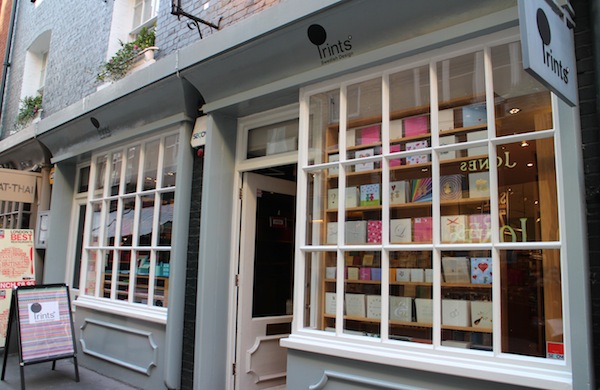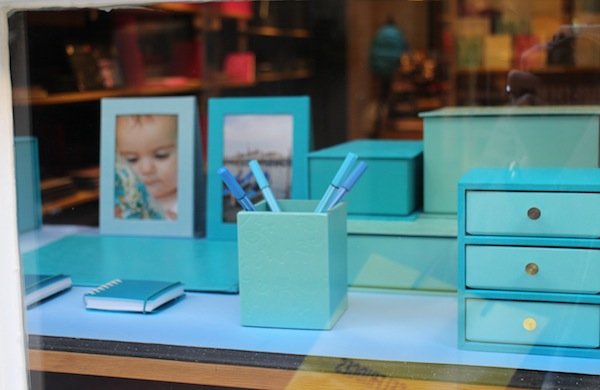 St Christopher's Place is filled with shopping options for all tastes. If you're shopping for children then check our Marimekko - a store from Finland that specialises in fabrics and prints. They have a dedicated kid's store which lures even the biggest kids (or adults) in with it's bright and cosy-looking beanbags that are placed outside the store. Anyone who can walk by without wanting to just flop down on one is a more grown up person than me, that's for sure.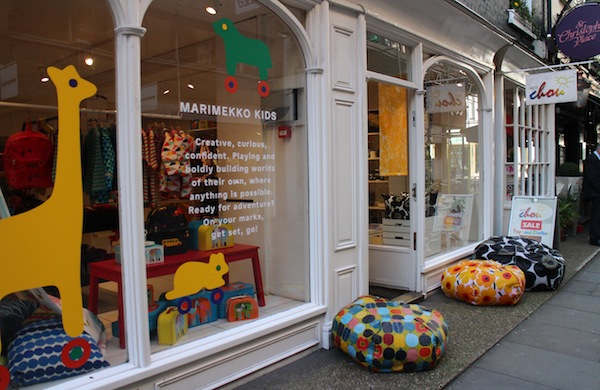 For those moments of maturity, there's also Whistles - the store many a woman should just hand their entire bank account over to each month. It's filled with simple pieces that manage to be both stylish, look expensive and yet be comfortable (not an easy balance to strike). This Whistles store feels like a bit of a secret, as it's rarely busy but is large enough to hold a good amount of the range. So if you're in London on a fashion spree, head here because it's a bit of a hidden gem.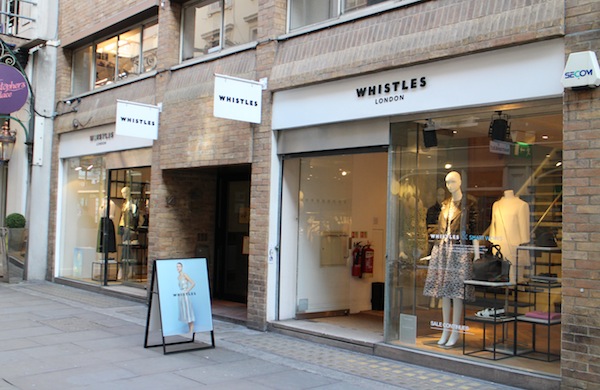 Speaking of gems, the other store that caught my eye in St Christopher's place is The Amber Centre. It's a bit of an unusual one, as it's quite a small store with a busy window that perpetually seems to have a sale on. The whole store is filled with amber products - mostly jewelry - with some lovely items and always-decent prices. It's great if you're after a gift for someone - might just be me, but my Mum adores amber so this is my 'if in doubt' destination for presents.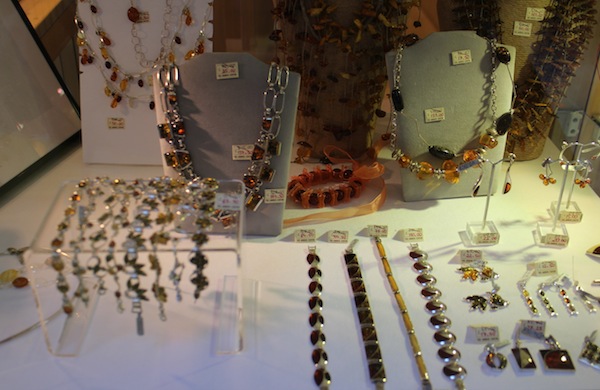 There we have a little visual tour of St Christopher's Place. Hopefully I've given you a few reasons and temptations to take a little detour next time you're on Oxford Street. Trust me, if only for the feeling of peace away from the madness of the city's main shopping street, it's worth it. Well, that and a bag of pear drops from Mrs Kibbles! What are your favourite shopping spots in London? Join the conversation 
@Groupon_UK
#GrouponGuide
____ Check out our deals for
shopping in London
.
BY: Jen Riley
Jen is the writer behind the London-based beauty blog, A Beauty Junkie in London. The blog was started back in 2009 and is exactly what it says - all about a beauty junkie who can't get enough of all things girly...and lives and works in London. Jen is equally as enthusiastic about many other things in life - including macaroni cheese, her two house rabbits, finding the perfect striped top or pair of ankle boots...and other slightly less shallow pursuits. Jen can also be found on Twitter and Instagram @beautyjunkieldn where she mainly shares insightful tweets or photos about lipgloss or what she had for lunch.