Gourmet on the Go! - London's Best Street Food Burgers
BY: Nick Andrews |
23 Jun 2014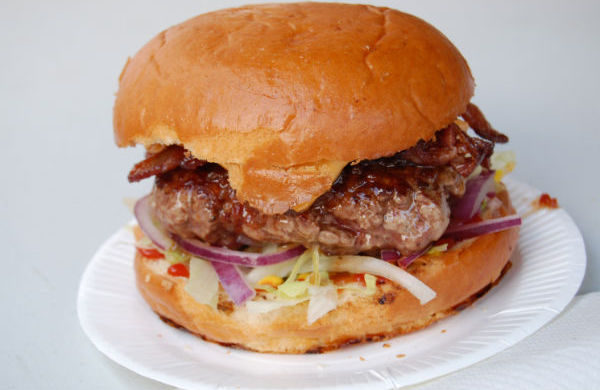 You might think street food in the UK consists of dodgy mobile sausage carts hanging around Charing Cross at 1am, or glazed almonds out of a kettle on Westminster Bridge. Well think again. Street food in London is at fever pitch with lunchtime markets and evening meet-ups taking place daily across the capital, attracting a wide selection of niche providers of fantastic street food. Burgers, of course, are no exception to this and London has spawned a host of great options for the discerning burger lover.
Bleecker St Burger
Bleeker St Burger is run by former corporate lawyer Zan who traded grilling her clients' detractors in New York for grilling burgers in her custom black and chrome burger van. She's been on the street food scene in London for a couple of years and serves up some of the juiciest burgers available in London today. The Bleecker St. cheeseburger is a glorious combination of 35-day aged rare breed beef, American cheese, onions, and special sauce, wrapped in a toasted bun. The beef is always served medium-rare, unless you ask otherwise, and it really suits the great beef she uses.
Top Tip: Ask for bacon - Zan, Bleecker's New York founder, always has some reserved for special requests, and for me it tips the scales on this burger from awesome to super-awesome… everything's better with bacon!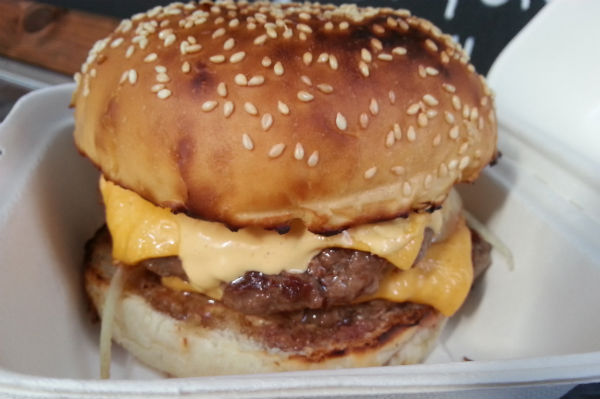 Burger Bear
Burger Bear first came out of hibernation in the summer of 2012 as a street food stand at Red market in Old Street. His philosophy is to keep the food miles for his burgers as low as possible, and so he sources almost all his burger ingredients from inside the M25. The Burger Bear signature burger is the Grizzly Bear – a combination of aged beef (70:30 chuck to sirloin), double smoked bacon, and his homemade bacon bourbon jam. It gives a seriously bacon-y hit. It's a cracking example of how a burger can be redesigned to give a completely different experience.
Top Tip: You can buy jars of Tom's homemade bacon jam – just make sure you get hold of him in advance as they go quickly.
Lucky Chip
Lucky Chip started life as a food truck, launching in Netil Market in 2011. It quickly shot to burger fame when people realised that some of the best burgers in the capital were being served through the hatch of Lucky Chip's mobile kitchen, along with pumping music from the sound system, and truffle oil chips. Since then, Lucky Chip has moved on to take up residency in The Seabright Arms on Hackney Road, but still slings some of London's best burgers out at Netil Market on a weekend.
The Bacon Cheeseburger is one of the best you'll try in London, and for £6.50 it's also one of the cheapest.
Top Tip: If the Danny Trejo burger is on the menu, don't miss out. It's a brilliant combination of tequila onions, jalapeños, guacamole and the same great beef.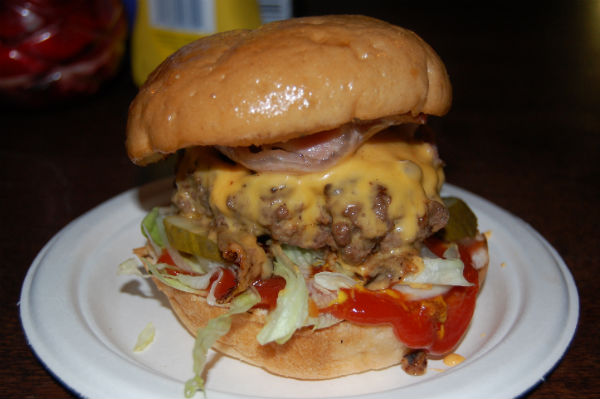 Where are your favourite street food haunts in London? Tweet us! @Groupon_UK #grouponguide
____
Check out our deals for restaurants in London.
BY: Nick Andrews
Nick is Hamburger Me and he likes burgers. Actually, it goes a bit deeper than that. Nick is, in fact, London's pre-eminent burger blogger, and the author of www.hamburger-me.com where, since 2010, he's been posting about and reviewing London's best burgers. He's a keen collector of burger memorabilia (check out his burger phone!) and he even has his own line in burger cufflinks...