Swings and roundabouts at an Italian eatery
BY: John Ferris |
30 Jan 2015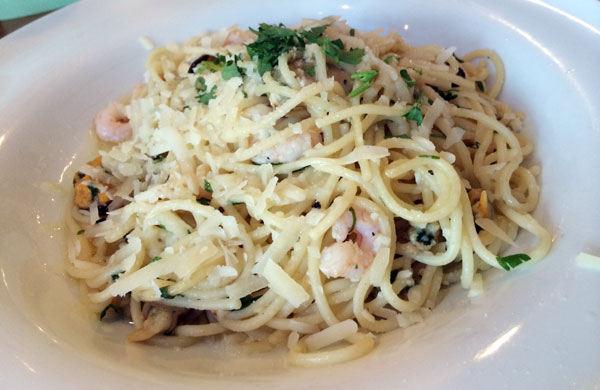 It used to be that Italian restaurants only needed to tick a handful of boxes to survive in Belfast. Freezer, tick. Crap, store-bought lasagna, tick. Mediocre pizza, tick.
Then came a new breed, bringing a proper slice of Italy to Belfast. Small plates and rustic Italian cooking made the cuisine exciting again.
Italian has always been my favourite cuisine, and not just because I got married out there. There's something that hits straight to the heart of everything wonderful about eating out. The Italians know how to do it. It's about family, large tables, sharing and, above all else, about the star of the show - the ingredients - being treated with simplicity and honour.
With this in mind and with a squad of relations back from Australia for a short time, we took a trip to Amici on the Lisburn Road. It's a building that used to house Legends, a place that used to be fun to go for a slice of pizza.
I'll not lie to you, we only choose Amici because I'd forgotten to book anywhere and, well, all the aforementioned Italian new guard were fully booked on a Friday night, especially for a table of 12.
The antipasti comes in either £2.75 shareable sized portions or £4.50 starter sized portions. With no one else in the mood to share (family, eh?) I tried the zucchini fritters. They were nearly out so I settled for the smaller sized portion and was pretty glad I had. It was mushy, under seasoned and as disrespectful to the humble courgette as it's possible to be.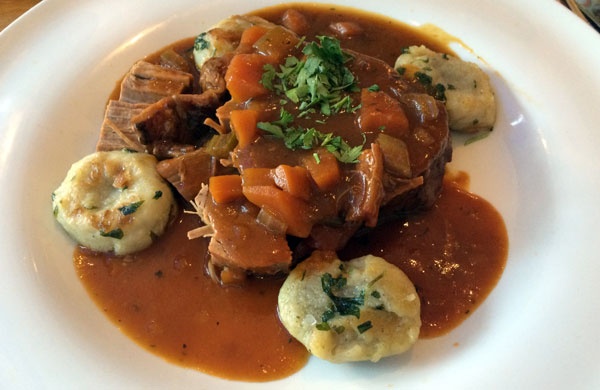 I wrestled some arancini from the end of the table - the rice wasn't too dry and it was well fried - not a bad little mouthful.
There were a few reasonably okay pizzas on the table that wouldn't strike fear into the heart of Naples, but on the other hand were by no means the worst I've had.
The words slow, braised, gnocchi and beef when uttered by an Italian are a thing to behold. What could showcase the country better than a soft piece of beef with a rich winter's sauce?
Sadly, it wasn't to be the case in Amici. The beef was dry and stringy, a handful of chopped carrots did nothing to rectify the situation. The sauce had a bit of taste to it, but nothing that could rescue the poor beef and under seasoned gnocchi.
The 'Spaghetti ai frutti di mare' - another Italian classic had a reasonable amount of seafood but it lacked the kind punch that it's renowned for.
It must be said that the staff were phenomenally good. Attentive, friendly and great at their jobs. It is genuinely the first time I've had a waitress follow me to tell me we've left too much of a tip (it definitely would have been had we been tipping the chefs, but was worth it for the staff).
There were highlights though. Both seafood specials - in particular a bit of monkfish - were beautifully cooked and great examples of simple, excellent cooking.
With desserts on the go, the tiramisu was so-so, not boozy enough to excite but an affogato was everything it should be when you combine ice cream, espresso and liqueur.
For old time's sake I had a glass of homemade Limoncello - a drink that's available to buy in nearly every shop on the Amalfi Coast. Fair play to Amici for making their own, it's admirable. Sadly, like the rest of the meal it lacked punch - the boozy and lemon elements nearly undetectable because it was over sweetened.
It's a shame Amici doesn't take a step back and look at what makes Italian cuisine so great because those specials would shine on any menu in the city. If only the dishes that are regularly on the menu were even half as good…
Amici, 133 Lisburn Road, Belfast BT9 7AG
____
Find a deal for an Italian restaurant in Belfast.
BY: John Ferris
John was a journalist for over 15 years and previously the editor of a Belfast-based newspaper. Co-founder of one of Ireland's most influential food and drinks websites, Forked.ie, he's a long-time judge of various food and drink awards in Ireland and writes primarily for Forked.ie. He also occasionally writes about food for Hospitality Review NI, Belfast Telegraph, the Guardian and makes the odd appearance on u105's Lunchtime Bistro show with Carolyn Stewart. You'll find him on Twitter @foodbelfast