Table for One? Five Best London Restaurants for Eating Solo
BY: Edward Smith |
21 Jul 2014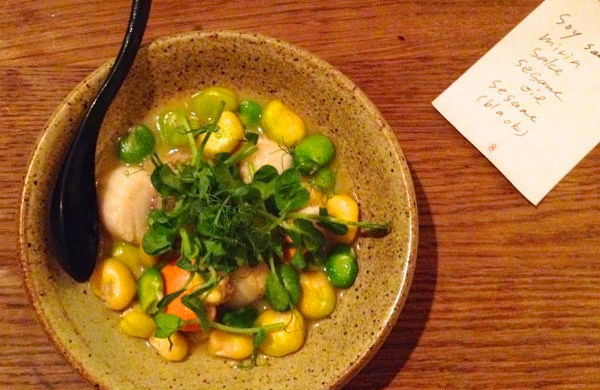 I once lived for six months in Toulouse, France. My weekends were mostly full of visitors from the UK. But during the week I was pretty unsociable. I wasn't a hermit though – and found myself eating out on my own quite a lot. Since then, I've had no problem eating on my lonesome. In fact, I really quite like it - in my view, there is nothing wrong with walking yourself to a restaurant, taking some 'me' time, maybe with a book or a notepad for your thoughts. Personally, I take the time to think about the food, take in the immediate surrounds and forget what's out on the street.
Some restaurants are better than others for this. You don't want to find yourself ignored by a suspicious waiter (is this a critic? Why haven't they got any friends?), nor would you want to be given a bad seat or sat next to a large group. I reckon the best restaurants, therefore, are ones that allow reflection, without being awkwardly quiet (i.e. empty). It's good to be able to blend effortlessly in.
Other positive attributes are bar seats – which mean you've got things to watch, chefs to interact with (if you want), and can have your back to all others (so you're blissfully unaware of the pointing).
Koya / Koya Bar
This is one of my favourite restaurants in London. The original Koya serves beautiful, seasonal British ingredients, cooked with Japanese technique and flavour profiles. It's inventive and unique. Next door, Koya Bar serves the original Koya udon menu, which is brilliant. Have one of the pork and miso udon options (noodles in hot broth, cold noodles on the side of hot broth, cold noodles, cold sauce.). See if you can get a seat at the kitchen in Koya. Koya Bar is all, er, bar seating, so no choice there.
Koya, 49 Frith Street, W1D 4SG
Barrafina
Contemporary Spanish tapas in the centre of Soho. Permanently popular. Always quality. Nuff said.
Barrafina, 54 Frith Street, W1D 4SL
Saint John Bread and Wine
This is a super place to eat with others – convivial, relaxed, quality. But you won't feel out of place if you go as a solo diner either. You'd fit right in with a novel, though I like to just think about the deceptively simple, delicious food.
Always have pig cheek if it's on the menu. Game birds are perfect too – and seem fitting as a one man feast. Finish with an Eccles cake and Lancashire cheese, unless there's a rhubarb or quince option.
Oh, also - their bacon butty wins the prize for best solo breakfast in London.
Saint John Bread and Wine, 94-96 Commercial St, London E1 6LZ
Patty and Bun
Sorry, I totally forgot to ask why you're on your own? Have you just broken up? Had an argument? Basically, are you in need of some comfort food? Yeah? Then I reckon a sloppy, dirty, 10 napkin burger is what's called for. Patty and Bun do that really well – and you'll squeeze right in as a single person. If you're feeling really miserable, a side of naughty chicken wings will perk you up.
Patty and Bun, 54 James St, W1U 1HE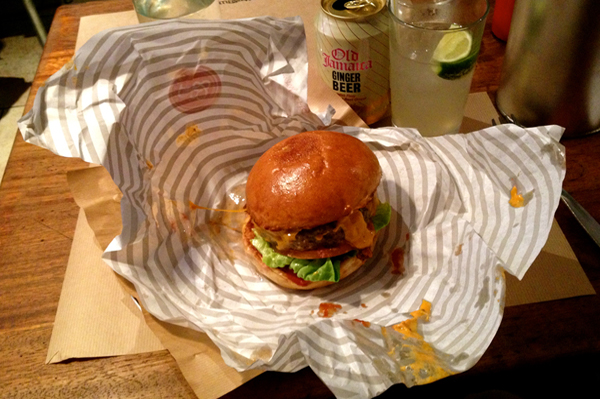 Kitchen Table at Bubbledogs
We ought to have a bit of fine dining on this list. Kitchen Table at Bubbledogs is the ideal top end, one-person-eating option. Up to 19 guests sit in a u-shape around the kitchen, watching each dish from the ever changing 12-14 course menu be cooked and plated. Those dishes are stunning and wine and service are on the money too.
Interact with everyone or no one – it's up to you. Kitchen Table is not cheap, but worth every penny. It's one of the best dining experiences in London.
Kitchen Table, through the curtain at Bubbledogs, 70 Charlotte Street, W1T 4QG
Where are you best spots for eating solo in London? Tweet us! @Groupon_UK #grouponguide
Related Reads
London's Best Ramen and Udon - Get Your Noodle Around This
Best Burgers in London for under £7.50
Check out our deals for restaurants in London.
BY: Edward Smith
Click here to see more articles by Ed...Ed Smith used to be a lawyer but retrained as a chef and now cooks and writes for a living. Based in London, Ed writes for various publications, including his blog, Rocket and Squash, and was shortlisted in the 'Best Online Food Writer' category of the 2013 Fortnum and Mason food awards. Ed eats too much. Click here to see more articles by Ed...