The Best Greek Restaurants in Town - By Greek Food Lovers
BY: Rejina Sabur-Cross |
18 May 2015
We all know where to head for our favourite tandoori lamb chops or sea spiced aubergine in the capital, but when it comes to the ubiquitous Greek restaurant, London can be slightly more elusive.
Maria Elia author of a few cookbooks including the award winning "Smashing Plates" (a celebration of her Greek culinary background) is a chef who's put in cooker time at El Bulli, Arzak, and head cheffed at Delfina and The Whitechapel Gallery Dining Room. Dino Joannides also has a Greek father and together they form a veritable powerhouse of knowledge on the Greek food scene in London.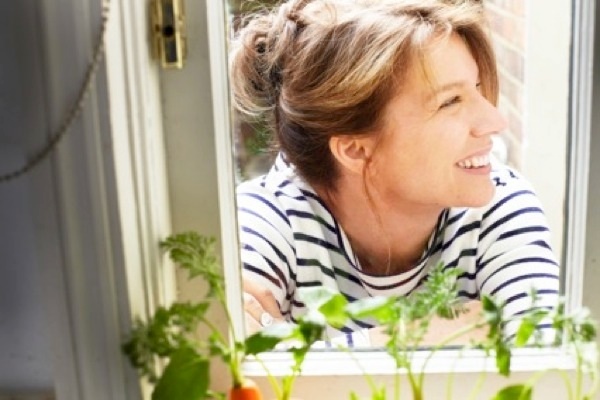 Maria Elia
Tsiakkos and Charcoal
They both agree that Tsiakkos and Charcoal in Maida Vale is the place to get your souvlaki fix. "There are a few London restaurants where I like to eat Greek food" says Maria, "mainly because they cook over a traditional charcoal grill, transforming something as simple as souvlaki to flavour heights. Tsiakkos and Charcoal is a small, no thrills 'rustic' restaurant run by two Greek Cypriot brothers. Some of the most authentic Greek cuisine you'll find in London!" Dino agrees "The owner is very eccentric and does everything; cook, waiter and entertainer . It is a very simple place with a few covers but the mezze and food is generally very good. (the food is a mixture of Cypriot and Greek mezze and grills."
Tsiakos and Charcoal, 5 Marylands Road, London, W9 2DU
Ergon and Ottoman Cuisine
According to Dino, Ergon has some of the best authentic Greek Food and you can also pick up good ingredients from the deli. Also Mazi in Notting Hill is representative of "new Greek" cooking but can be a bit hit and miss in his opinion.
"What is very rare is to find the excellent cuisine of Greeks from Asia Minor, known as Politiki Kuzina. Probably the only place you will find this done properly is at Peckham Bazaar, not specifically Greek - it bills itself as Pan Balkan but John Giolenka chef patron who has worked in Michelin stared kitchens in London is not only an outstanding chef but a great student and exponent of what can be broadly called Ottoman Cuisine.
Best for Greek Ingredients
I buy top quality ingredients from Maltby and Greek as well as Carpo" he continues. "For an old school grocers there is Athenian Stores in Bayswater."
"Lemonia is a much loved stalwart in Primrose Hill serving Greek Cypriot classics with a fantastic atmosphere" adds Maria. "Elysee in Fitrovia is an institution, a great place to hang out in the summer with a glorious roof terrace and live Jazz and Greek music.
Greek cuisine is made to share" explains Maria "it brings communities together through good and bad times; it's sunshine food that makes you smile. It's more than a cuisine it's a story book of culture and one that I love and respect."
Related Reads
Lebanese Restaurants London - Where Are the Best?
5 of the Best Korean Restaurants in London
Top Japanese Restaurants in London - By a Sushi Expert
____
Find a deal for Greek restaurants in London.
BY: Rejina Sabur-Cross
Click here to read more articles by Rejina..Rejina Sabur-Cross is a blogger and freelance food writer. She started Gastrogeek back in 2009 and has written for various publications including The Guardian, Fork Magazine, Eat Me Magazine, Le Cool, Blogosphere Magazine, Channel 4 Food, Fire and Knives and BBC Good Food. She's been featured in Red Magazine, the Evening Standard, The Independent, Olive Magazine, Waitrose Kitchen and more recently in the Sunday Times Magazine as one of the UK's top food bloggers. She's judged the Brick Lane curry competition, dined on bull's pizzle pie on Jimmy and Jamie's Food Fight and judged dishes for "The Perfect" on the Good Food Channel. Her first book "Gastrogeek" is out now. Click here to read more articles by Rejina..