The Elliot's Cafe Burger - Understated and Underestimated
BY: Nick Andrews |
29 Sep 2014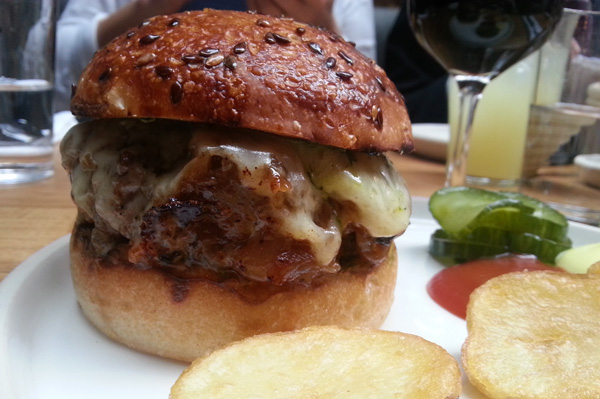 At London's Elliot's Café, the burger is seemingly a low key affair. It sits on the menu under the 'Large Plates' section, labelled simply as cheeseburger & fried potatoes. Never has a menu description done as little justice to a dish as this does to the Elliot's burger.
The beef patty weighs in at around 8oz, and is made up from beef from The Ginger Pig butchers – it's not a coincidence that Elliot's are situated across the street from them in Borough Market. The burger itself is composed of a 70:30 ratio of 40-day aged top rib cap, giving a high fat content (the foundation to any good burger) and huge beefy flavour to 30 day-aged rump. The burger is cooked medium-rare, like a great steak, to show of the quality of the beef - although you can request for it to be cooked more.
The burger has three main toppings. The first is beer-braised onions, which are added to the patty while it's still on the grill. On top of the onions is heaped a pile of grated, aged Comté cheese that is then melted by placing a cloche over the burger while it's still on the grill. The third, and frankly genius, topping is a buttering of the toasted bun with an 'acidulated dill pickle butter' - a brilliant mash-up of pickle liquor, blitzed in an industrial blender with butter, chopped dill and olive oil. This gives a great hit of acidity and vinegar, with a light, sweet dill overtone. The combination of the mellow onions, the smooth Comté, and the sharp bite of the pickle make for a glorious symphony of flavours working in harmony with the aged beef.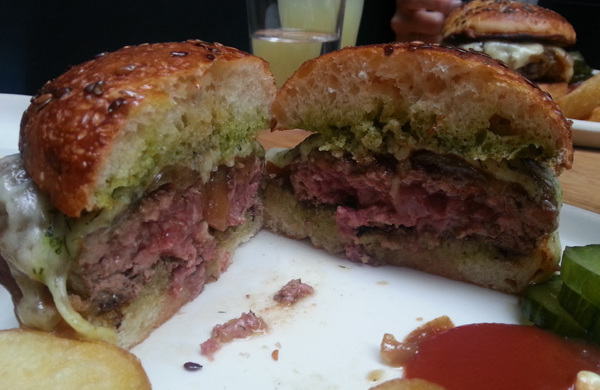 With everything that's going on with the burger, you'll find yourself almost forgetting what else is on the plate - the fried potatoes - and they're pretty good too. The sliced, boiled, then fried segments of maris piper potato are very much like thick, lightly salted crisps, but with a soft centre. They come accompanied by a very good house ketchup and mustard mayonnaise.
Overall it's a super duper burger that will have you sighing in satisfaction.
More Information
Elliot's Café is tucked away on Market Porter Street in the heart of Borough Market. It only serves its burger at lunchtimes, but keep an eye on their website for their burger bar, which pops up at events over the summer.
Elliot's Café, 12 Stoney St, Borough Market, SE1 9AD.
Related Reads
Five Places to Get Awesome American Barbecue in London
Introducing Nick Andrews - Our Resident Burger Expert
Where to Bring a Big-Burger-Lover
____
Find a deal for restaurants in London.