The Oldest Pubs in London
BY: Chris Pople |
25 Feb 2015
The problem with the search to find London's "oldest" pub is not just that it depends which criteria you use (oldest licensed premises, oldest building, oldest time being a pub) but also whose story to believe. The White Hart in Covent Garden, for example, has "The oldest licensed premises in London" above its front door, but offers no date, no evidence to support this claim and the building itself doesn't look any older than Victorian. So for this list, I've tended to lean towards places that look and feel comfortably ancient over and above any grand claims about heritage.
Ye Olde Mitre, Chancery Lane
You'll never feel more like you're part of Samuel Pepys' London than when you duck down the discreet alleyway entrance of this quaint old alehouse. A specialist in mild ales, the Mitre has won awards from CAMRA on more than one occasion, and has a cute snack menu of pub favourites (cheese toasties for £2, pickled eggs for 85p, that kind of thing), but what you really come her for is the atmosphere – all dark and cozy, steeped in five hundred years of history.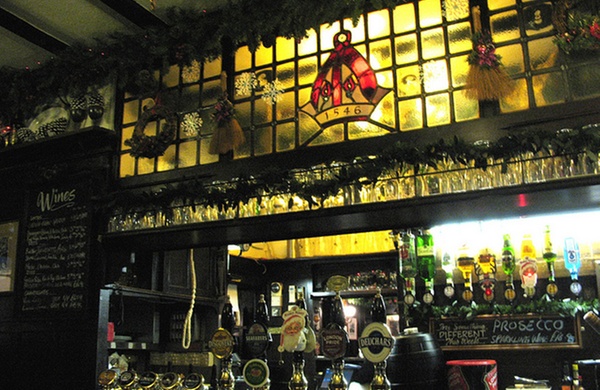 Image Credit: Ye Olde Mitre Tavern, rchappo 2002, flickr
The George Inn, Borough
London's last remaining galleried coaching inn, the George is of such architectural and historical importance that it's owned and leased by the National Trust. It's beautiful, inside and out, being a superb place for a drink in the courtyard and downstairs bar, and also as host to several oak-panelled function rooms. There may be better beer selections elsewhere, and there's certainly better food, but for sheer spectacle nothing beats the first time you set eyes upon this wonderful building.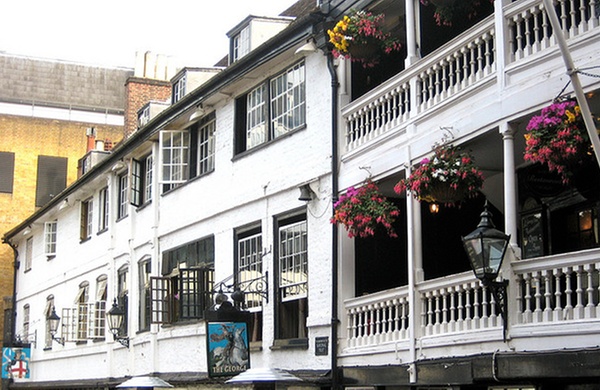 Image Credit: The George Inn, Nigel Paine, flickr
The Olde Wine Shades, Monument
Sat in the shade of towering modern office blocks, the Shades looks rather out of place, a lump of antique furniture matched with a selection of IKEA flat-pack. But once inside it's easy to forget the last few hundred years happened at all. Murky and mysterious, it's one of the few buildings in town to predate the Great Fire, and given its proximity to the Monument it's a wonder it survived intact. Now run by the El Vino wine merchants, it has been a licensed premises for the whole of its history.
The Prospect of Whitby, Wapping
What it lacks in century-spanning age, this handsome building makes up for with spades of charm. Overhanging the river Thames, its gabled windows are the perfect spot to enjoy a pint of Sharp's Doom Bar and watch the sun go down, and their Sunday roasts draw crowds from the whole of Wapping. The vast stone flags may be the only original Tudor feature, but the ghosts of pirates, smugglers and ne'er-do-wells that have frequented this spot over the years are almost as much of a fixture… www.taylor-walker.co.uk/pub/prospect-of-whitby-wapping
Cover Image Credit: Prospect of Whitby, Ewan Munro, flickr
Related Reads
Best Burgers in London - Pub Edition
Quirky Bars in London - The 5 Best Pubs
____
Find a deal for London bars.
BY: Chris Pople
Over the seven years Chris Pople has been writing the Cheese and Biscuits blog, he has written about nearly 500 different restaurants, which is far too many by anyone's standards. During that time he has been lucky enough to be picked as one of the top food blogs in the Times, New Statesman and Esquire magazine, and for the last three years running has been named as one of London's 1000 Most Influential people. He's probably in a restaurant right now, scouring the menu for spelling mistakes and waiting for a martini.