The Overlee - Glasgow's Southside Gastro-Pub
BY: Laura Pearson Smith |
5 Jan 2015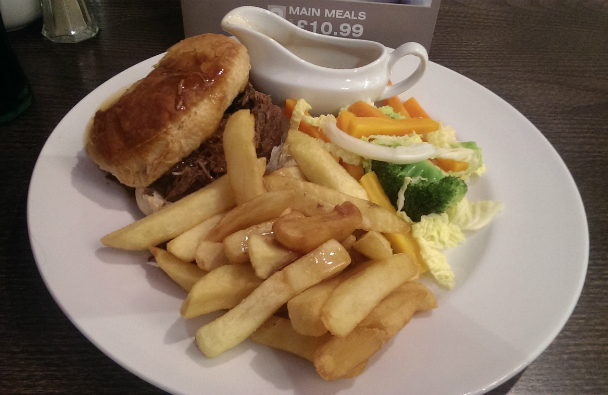 The Overlee (formally Clark & Sons) is a smart and family-friendly gastro-pub in Clarkston in Glasgow's Southside. Its first floor location allows for commanding views over the bustling Clarkston Toll shopping area. This area is an upmarket residential one, so it's very popular with locals - being one of only two drinking holes in the near vicinity.
Excellent Pub Grub
It is owned by Belhaven Breweries who have a selection of similar pubs across Scotland. The food is standard pub fayre, but it's excellent quality. A lot of thought has been put into the presentation, and everything is fresh. I had steak & ale pie With chips £8.49 (see cover pic), and the meat was tender and juicy throughout. It came with a small jug of additional gravy, which was a nice touch, and a selection of fresh vegetables.
Meal Deals
They also run a superb value meal deal from Sunday to Thursday, where select main courses are 2 for £10.99, saving you around £6. Choices include macaroni cheese with garlic bread, gammon steak with chips and lasagne.
Along with full meals, they also serve lighter sandwiches and soups to cater for the lunchtime crowds, along with steaks and various burgers (including black pudding or chorizo) for the meat lovers.
The dessert choice is large and varied also, containing favourites such as lemon meringue pie and sticky toffee pudding.
The atmosphere inside is relaxed and friendly. There is plenty of room for wheelchairs (and lift access if you can't manage the stairs). During the day, children are more than welcome; but it turns into a traditional pub with security at night.
It's a popular night-time drinking location for locals, as the drinks are cheap and varied. They have US beers such as Samuel Adams, and cocktail pitchers for sharing for just £7.99.
Quirky Decor Makes it Stand Out
It is the decor that is the real selling point with this place. They've gone for a colourful shabby chic and mis-matched look with bright painted woods, gilt mirrors, bird-print wallpaper and pretty butterfly decals. The toilets are just as pretty, with antique French-themed tiling and soap dispensers. The care that's gone into the decor turns it from being a Wetherspoon's copycat into an interesting and vibrant establishment in its own right.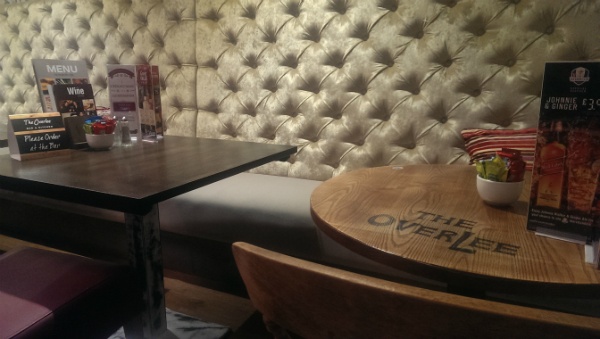 The Overlee doesn't allow booking, so it's worth bearing in mind that it gets very busy at traditional meal times. There are a lot of tables however, ranging from booths for four, to quiet window tables for two. Even at its busiest, service is quick, so there will be no waiting around for your meal here.
The staff are also great - very friendly, enthusiastic and knowledgeable about the menu and drinks choices.
The Overlee is a great addition to Clarkson Toll, as it lacked a casual dining option, or a place to go for just for post/pre dinner drinks. There are TV screens for showing major football matches too; making it a real community hub.
It opens at 10am, 7 days a week, and closes at 11pm Monday to Thursday, with at later 12am closing time at weekends.
The Overlee, 10-14 Busby Road, Clarkston, G76 7XL.
Related Reads
Pubs in Glasgow - Best for Craft Beers
Best Pubs in Glasgow for a Traditional Scottish Welcome
Glasgow Restaurants - NY American Grill
Hungry? Browse our deals for restaurants in Glasgow
BY: Laura Pearson Smith
Laura Pearson-Smith is from Glasgow's Southside. She is a lover of luxury, yummy food and all things pretty. She founded, and is editor of luxury travel online magazine Stylecation, and blogs at her own lifestyle blog A Life With Frills. She has written countless fashion, beauty and travel articles for various publications including The Huffington Post. If you want to know the best Chinese restaurant in Glasgow, where to get a vintage Chanel handbag or the city's best facial, she's your girl.