The Vineyard – The Perfect Wine & Spirit Merchant
BY: Laura Bradley |
2 Jul 2015
Hands up who has a favourite off licence? An important part of a weekend off work, can be selecting that evenings refreshment! Looking to find something new and exciting to try – something we've not seen or heard off. Or hoping for some guidance or recommendations for a pairing with our planned meals. The Vineyard never disappoints! Their staff are as passionate as one can be about their products – full of tales and tastes of beers and wines you may not have heard of before. And of course if you have a request they will always try their best to fulfil it.
The extensive range of craft beers, wines, spirits, liqueurs and even cigars never ceases to impress me. I can wander around this Aladdin's cave, hunting out my next tipple for longer than I care to admit - with the craft beers being a particular favourite of mine. The tall shelves heaving with varieties from all corners of the map. Currently including some local gems – such as The IPA from Farmegedon, Comber, Co.Down and Massey Red Ale from Hillstown Brewery, Co Antrim. Along side some from much further afield, like Day of The Dead Beer from Mexico and Left Hand Brewery from Longmont, Colorado.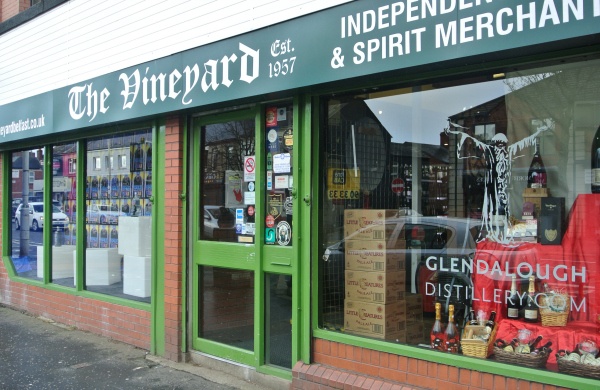 But you cant forget about the spirits and liqueurs – if you buy only one it would have to be Shortcross Gin. Distilled just outside Crossgar, Co.Down, by husband and wife team David and Fiona – it is a labour of love, being distilled slowly, hand bottled, wax dip and signed by themselves. Uplifting floral notes and smooth sweet flavours accompany fresh, lively apple notes to set this Gin apart. Particularly good with a hearty slice of orange, and a good measure of high quality tonic. Trust me – Ive had a couple!
And if gin and beers arent your thing – there is also a wide ranging selection of wine. Red, white, sparking, still, sweet, fortified... the choice is yours! Displayed amongst barrels and long shelves the array of grape varieties and locations is superb. You wont be long hunting before you find your desired bottle. Or perhaps a new favourite!
Whatever it is you are looking to swig this weekend – Im confident you will find it at The Vineyard!
375-377 Ormeau Road, Belfast
Related Reads
Culinary Cuddles - The Best Comfort Food in Belfast
Where to Get Your Hot Chocolate Fix in Belfast!
____
Browse our deals for beers, wines and spirits in Belfast.
BY: Laura Bradley
Laura Anne Bradley is an excitable food addict, who is lucky enough to work in the wine trade. She has written her food & lifestyle blog for over four years – and is continually looking for new experiences and flavours. On the rare occasion she isn't eating or cooking, you can find Laura enjoying country life – likely feeding her hens or walking her dogs. You can find Laura on Twitter @daydreamfoodie.