The World's Most Expensive Burger is in London
BY: Nick Andrews |
8 Oct 2014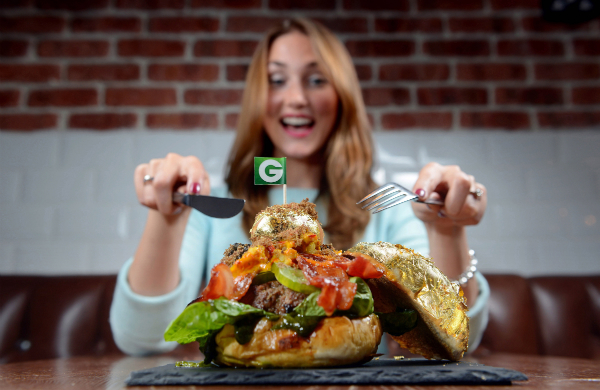 The World's Most Expensive Burger is in London
Honky Tonk, an American/London diner in Clapham and Mayfair, have created the most expensive burger in the world, certified by Record Setters on 2 October 2014. The burger, created in conjunction with Groupon to celebrate their five millionth food and drink voucher being sold, is made up of the following list of eye-wateringly expensive ingredients: Kobe Wagyu beef; New Zealand venison; Canadian lobster; Black truffle brie; Iranian saffron; Maple syrup coated streaky bacon; Beluga Caviar; Brioche bun; Hickory smoked duck egg; Edible gold leaf; Japanese matcha and cream mayonnaise; mango and champagne jus; and grated white truffle. How much does this beauty cost? Only a whopping £1,100!
Can you guess what the most expensive ingredient in the glamburger is? Try our quiz - Can You Name the Most Expensive Ingredient in the #Glamburger?
Head chef at Honky Tonk, Chris Large, said, "Creating The World's Most Expensive Burger for one lucky Groupon winner has been a great experience and I know, after sourcing the best possible ingredients to create this masterpiece, the winner will certainly have a dinner to remember."
The burger has been specially created for a Groupon deal with only one lucky winner getting the chance to taste the exclusive dish for free – drawn after the 12 October 2014.
I'm heading down to Honky Tonk soon, so I'll be posting an update for you on how their normal burgers match up on the London burger scene. Now, seeing as none of us will probably get the chance to taste this burger, and even if it was on general sale, you'd probably be unlikely to want to fork out the equivalent of a month's rent on a studio flat in Clapham, here are a couple of alternative burgers in Clapham to try out: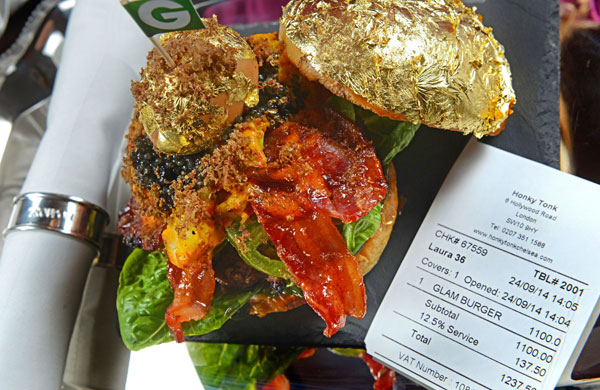 Ben's Canteen
Situated on St. John's Hill, Ben's Canteen is an all day, neighbourhood diner. They do brunch, lunch, dinner and drinks, 7 days a week, and there are very few restaurants that have make you feel as relaxed and welcome. They also have a secret weapon (apart from their frankly marvellous bloody marys) in the form of some of Clapham's juiciest burgers. The one that stands out for me is the K-Town burger – a brilliantly balanced beef burger with a Korean kick that includes kimchi, spicy bean paste, ginger and pickled cucumber. It goes off in your mouth with a bang, but somehow it all works brilliantly. Well worth a trip for the burger, but you may find you stay for the evening.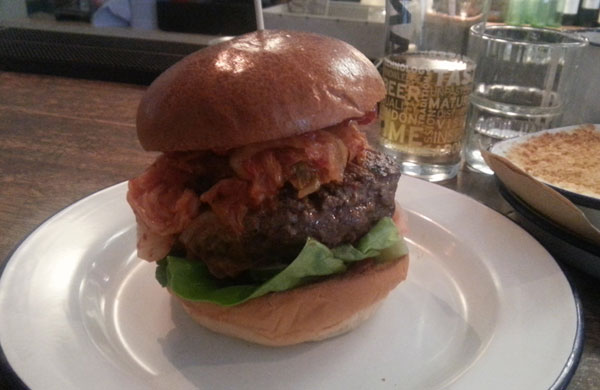 Dip & Flip
On the corner of Battersea Rise and Northcote Road, sits Dip & Flip, one of my favourite off-the-beaten track burger joints in London. Not only do you get great beef in a classic demi brioche bun, but you're also provided with a bowl of dipping gravy. What's not to love, especially when you can get a patty melt on the side (yes, I have done this.)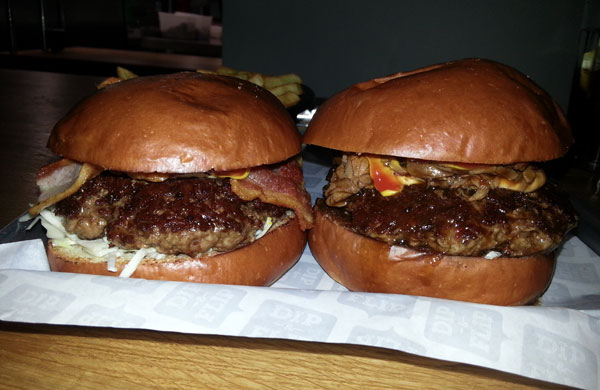 Related Reads
Honesty is the Best (Burger) Policy - Review of Honest Burgers
Best Burgers in London for under £7.50
Review of Burger & Lobster in London
____
Find a deal for restaurants in London.
BY: Nick Andrews
Nick is Hamburger Me and he likes burgers. Actually, it goes a bit deeper than that. Nick is, in fact, London's pre-eminent burger blogger, and the author of www.hamburger-me.com where, since 2010, he's been posting about and reviewing London's best burgers. He's a keen collector of burger memorabilia (check out his burger phone!) and he even has his own line in burger cufflinks...