Top 5 Bánh Mì in London
BY: Helen Graves |
13 Nov 2014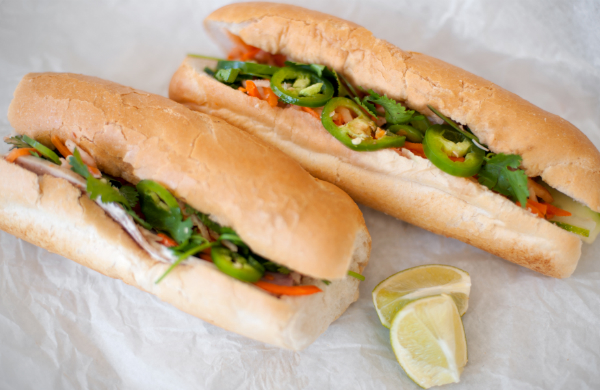 The bánh mì is one of the world's greatest sandwiches, an incredibly successful fusion of two cuisines. French wheat-flour baguettes are re-worked with 50% rice flour for an incredibly light, crisp result. Inside, rich pâté and mayonnaise meet sweet Vietnamese pickled vegetables (carrot and daikon), plus coriander, cucumber, red chilli and various protein fillings. A classic bánh mì will contain steamed pork roll and sometimes other types of pork, or grilled meats, often marinated in caramel and lemongrass. It is now common to find other meat variations, plus fish or tofu. The bánh mì is a lesson in the importance of contrasts in a sandwich. Here are five of the best to be found in London.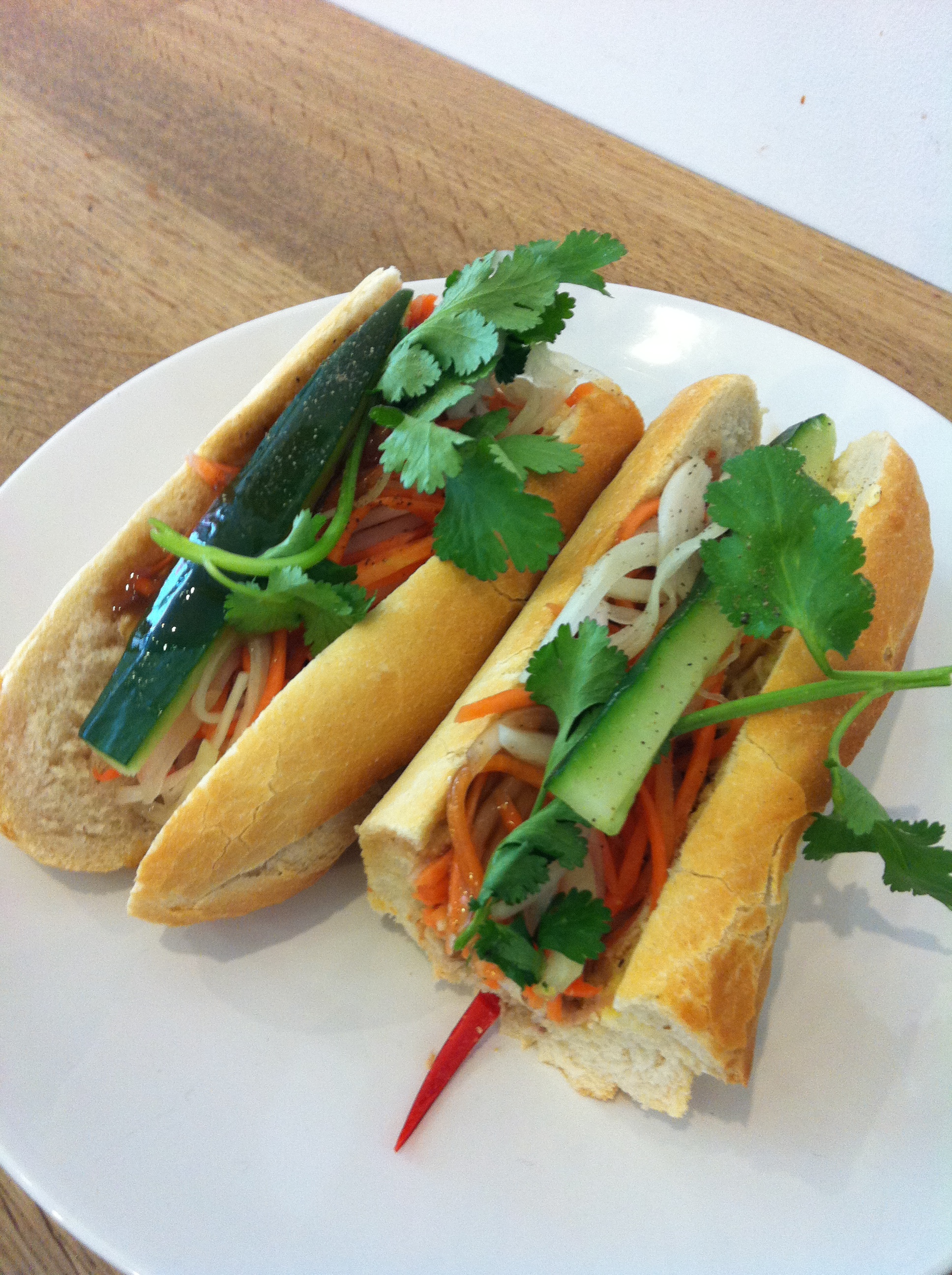 Catfish Bánh Mì at Bánh Mì Hoi An
To be honest, any bánh mì from this place is worth your money, but I have a particular soft spot for the catfish filling. The grilled fish is slightly sweet and perfumed with turmeric; the baguette is light but still has some chew; the vegetables are never less than perfectly fresh and they're generous with all the fillings. These bánh mì are massive, actually. They're also probably the best bánh mì in London right now. www.banhmihoian.co.uk
Roast Duck Bánh Mì at Kêu!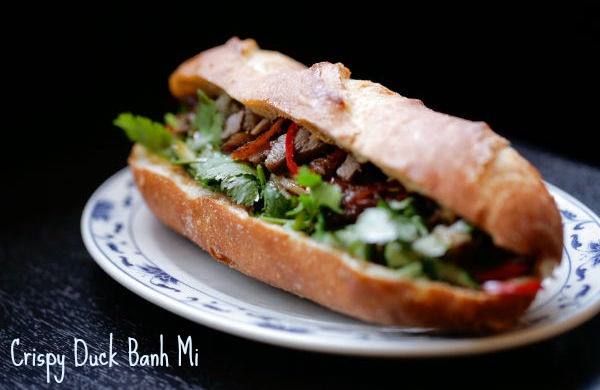 In general, the bánh mì at Kêu! vary in quality, but the roast duck version is consistently good, and particularly satisfying. Crisp pieces of skin, plenty of fat and tender, succulent meat covered in hoi-sin gravy. It may be far from traditional, but it is very tasty and that's good enough for me. If people had always stuck rigidly to the original, then we'd never even have the bánh mì in the first place. So there.
(Read more about this bánh mì in 10 Dishes in London You Have to Try)
Crispy Pork Bánh Mì at Viet Van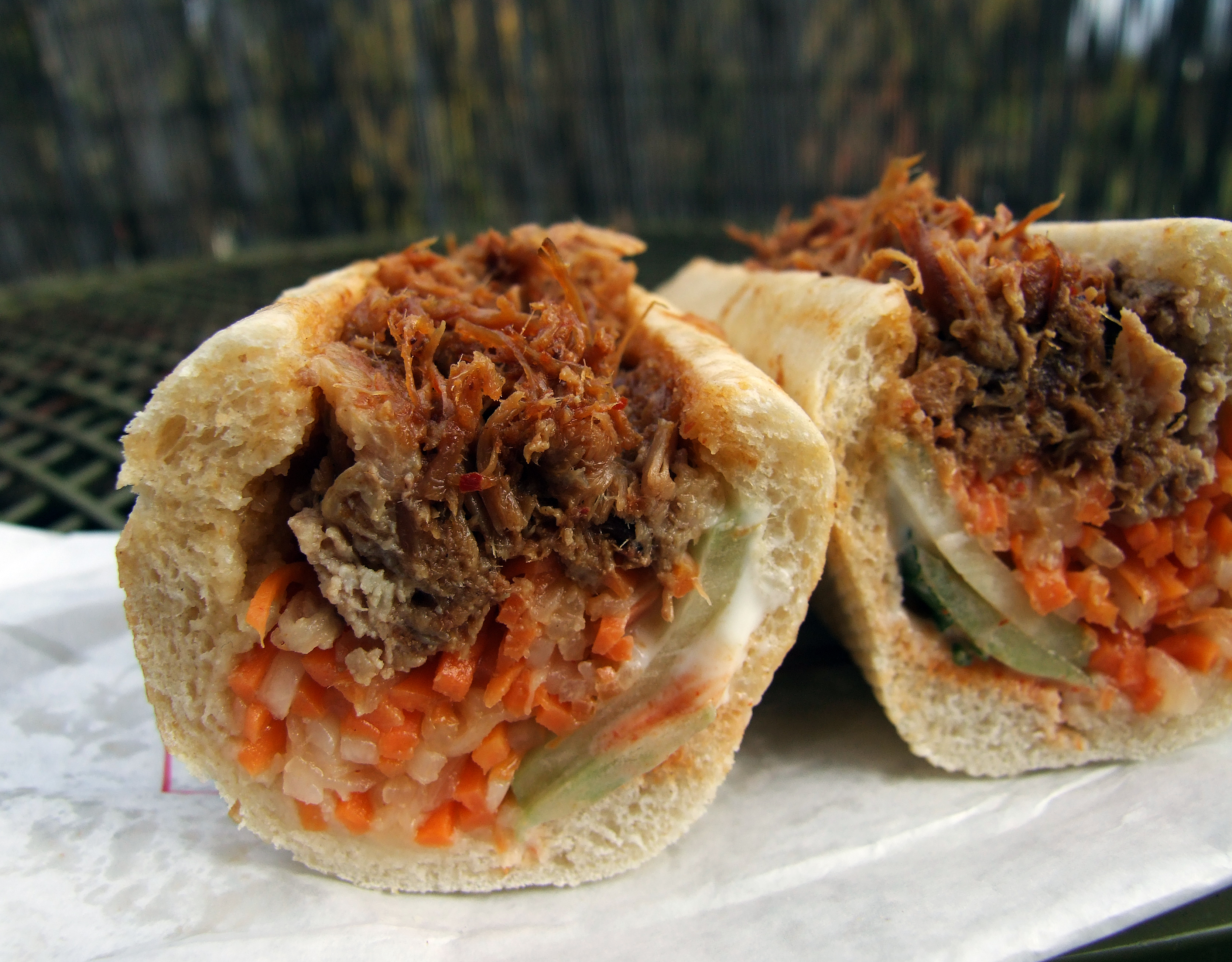 This East Dulwich regular rocks up in his tiny bright yellow van once a week at North Cross Road Market and it's popular, so get there early to avoid a wait. The every so slighty crisp 'Vietnamese style pulled pork' carries just the right amount of gingered sauce and there's a huge amount of it crammed into this sandwich. Add to that a slick of pâté, some of the best pickles around, mayonnaise, Sriracha, and cucumber sliced so it actually fits into the sandwich properly, and you've got one of London's finest. No rice flour baguettes, but none the worse for it. Always ask for extra chilli.
Imperial BBQ Bánh Mì at Bánh Mì 11
Some say that the sandwiches at Bánh Mì 11 are not what they once were. I say that when they're on form, it's hard to find better in London than their 'Imperial BBQ' - pork marinated in caramel and lemongrass, then cooked on the grill. The baguette is light but not too likely to shatter crust all over your top, and most importantly everything packs a real wallop of flavour, be it in the pickles, chilli or spicing.
Chargrilled Pork Bánh Mì at City Càphê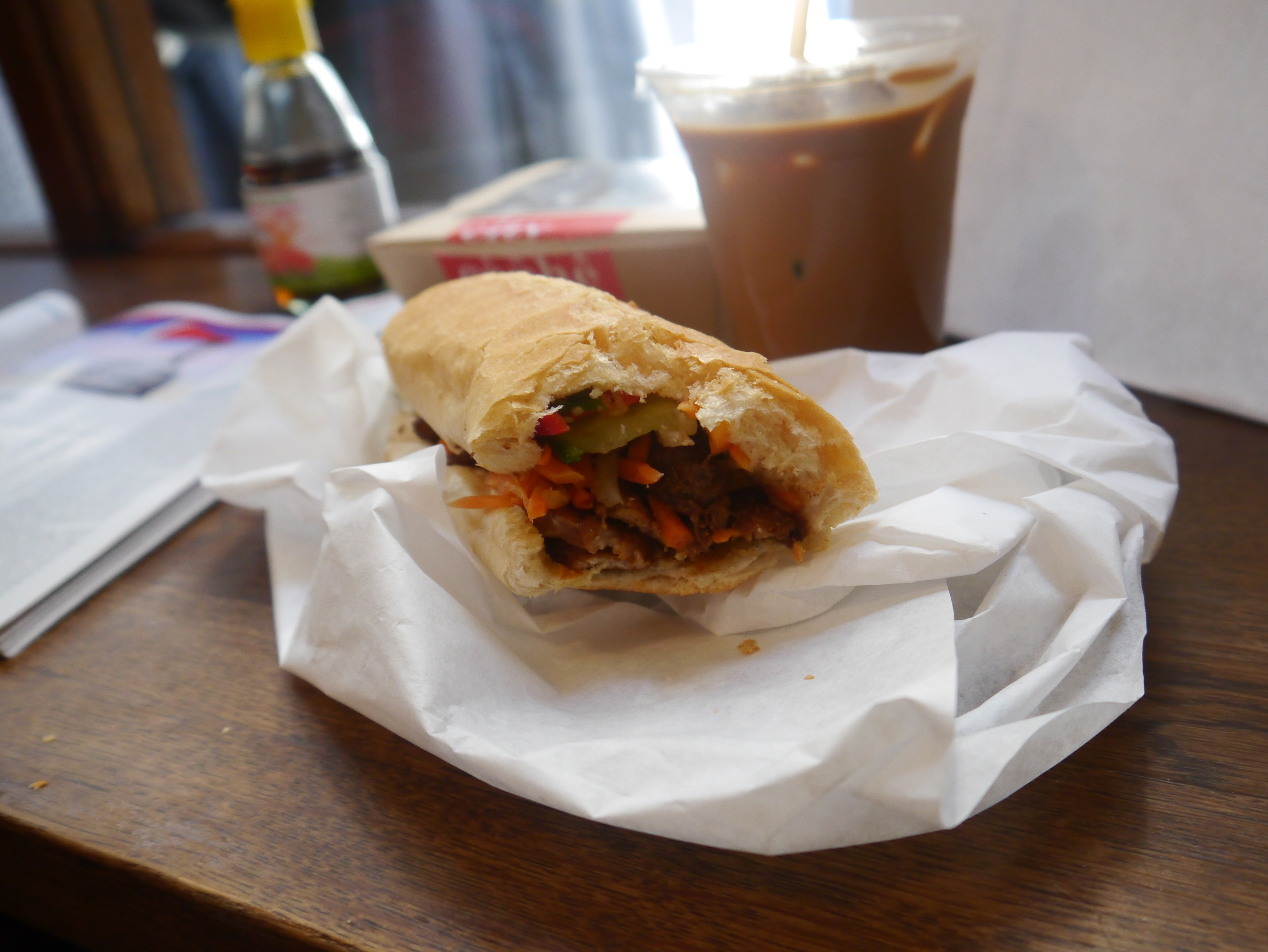 The chargrilled pork bánh mì at City Càphê comes stuffed with a hefty amount of caramel pork and pâté, plus the usual pickled carrot, daikon, coriander and chilli. There's also a squirt of Sriracha for good measure; this is definitely one of London's spicier bánh mi and it has had me sucking air through my teeth. The one let down here is the baguettes, which miss the essential crackle.
Related Reads
London's Best Ramen & Udon - Get Your Noodle Around This
10 Dishes in London You Have to Try
London's Top 5 Toasted Cheese Sandwiches
____
Hungry? Find a deal for restaurants in London.
BY: Helen Graves
Helen is a food and travel writer based in Peckham, South East London. She is the author of the book 101 Sandwiches and the blogs Food Stories, and The London Review of Sandwiches. She has written for The Guardian, The Times, The Evening Standard, Sainsbury's Magazine and various other publications. Her writing and recipes are inspired by the diversity of London and her travels and she is a sandwich and jerk chicken addict. She spent six years perfecting her recipe for jerk marinade, which is available to buy via her blog and in various shops in London. She won the fresh faces in food writing award at the Young British Foodie Awards in 2013 where judge Ottolenghi praised her 'jaw droppingly foul mouth'. She is also studying for a PhD in psychological medicine. Follow Helen on Twitter @FoodStories.'