Top Beauty Treatments in London
BY: Paula Holmes |
29 Jun 2015
Across London you will find some of the UK's top salons and beauty therapists, with handfuls of new and exciting beauty treatments to try out. Everything from Brazilian blow-dries to black diamond facials. Here are some of the very best to choose from. Which will you go for?
Colornation Brazilian Blow Dry
The Brazilian blow dry treatment at Colornation will eliminate frizz, strengthen and add shine to your hair. Making hair much easier to manage, plus you are still able to curl or add waves as it won't leave it perfectly straight which is often a misconception of the Brazilian blow dry. The treatment will last 3-4 months and then slowly fade out. The Colornation salon was one of the first places in London to offer the service.
Colournation, 5 Winsley Street, London, W1W 8HG
Black Diamond Facial
The Germaine de Capuccini Black Diamond Facial at the Chuan Spa at The Langham Hotel will leave your skin feeling soft and revitalized. The anti-ageing therapy is based on the skincare benefits offered by precious stones, crystals and minerals. Rich in zinc and iron the treatment will restore skins youthfulness and increase the skins luminosity. The treatment lasts for 60 minutes and includes full use of the Chuan Spa.
Chuan Spa, 1C Portland Place, London W1B 1JA
Strip Waxing
Strip as the name suggests is half a waxing salon and half a lingerie shop, the perfect combination. The branch in Soho has themed treatment rooms and offers all waxing services. An eyebrow wax will set you back £16, to a full Brazilian wax at £49. They also offer men's waxing too, a chest wax £26 to um cheeks at £32. Or try the Showgirl wax, which removes everything and is a full body wax for women, from £175.
Strip, 102 Fulham Road, London, SW3 6HS
Blink Brows
Don't leave out your brows! Treat them to a session at Blink Brows brow bar. The Blink bar offers threading, tinting and special treatments. Have you over plucked your brows over the years? Opt for a Blink 'Brow-Hab' £38 which will bring your brows back. The process involves a brow shape with one of Blink's talented technicians, the right shade of Brow pencil and the essential nourishing brow oil to ensure healthy brows and get them back on track.
Various locations across London, Blink Brow Bar.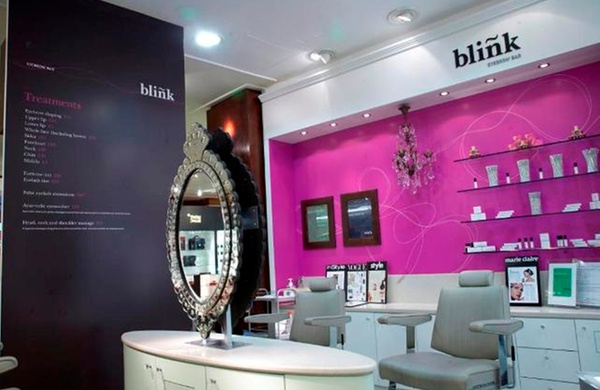 St Tropez Tan
A St Tropez tan is not new to the beauty treatment world, but it is still one of the best tans around. The Charles Worthington salon now offers a St Tropez tan in classic or dark shades, it dries in 15 minutes and costs £25. Leaving you bronzed and looking like you have had a week or two in the Maldives.
The Beauty Parlour, The House of Charles Worthington, 28 Great Queen Street, WC2
____
Browse beauty treatments in London.
BY: Paula Holmes
Paula is the author of The LDN Diaries and for over two years has been writing about fashion, beauty and lifestyle in London. If you are wondering what to wear each season or what the latest must-have beauty product is, Paula will share this in her style guides and beauty reviews. Originally from Glasgow, she now lives in North London where she works as a freelance writer and social media professional. Paula is currently writing her first novel and can normally be found online shopping and enjoying a good cupcake...