Vegan Food in London - Eight Great Places to Try
BY: Helen Graves |
13 Jul 2015
There are now many more choices for the vegan diner when it comes to eating out. Fear no longer the menu where the only appealing options are pasta bake or stuffed peppers. Sure, established restaurants, such as Mildred's, are still going strong, but what follows is a round up of places you might not necessarily know about already. It's always good to have options.
The Vegan Menu at SushiSamba
No one would blame you for thinking that a sushi restaurant bar might be a poor choice for the vegan diner. At this hugely popular restaurant with a view however (it's in East London's Heron Tower) there's a whole separate vegan menu. You'll find a selection of nigiri and maki, plus a limited but interesting menu of large and small plates to share. The aubergine with mustard miso is excellent. Order two to avoid arguments. sushisamba.com
Vegan Afternoon Tea at Bake-a-boo
To find vegan cakes is one thing, but a whole afternoon tea? There can't be many of these knocking about. Scones come with coconut cream and jam, there's a selection of dairy and egg free finger sandwiches, chocolate cupcakes, muffins (obviously all vegan), plus chocolate dipped strawberries. Tea comes with soya milk. www.bake-a-boo.com
Vegan Options at Leon
For vegans on the go, the Leon chain has a few great options. The 'Leon Gobi Lunchbox' for example contains spiced sweet potatoes and cauliflower, with chilli, ginger and coconut milk. There's also a quinoa salad with semi-dried tomatoes, peas, cucumber, herbs and pomegranate. They do a few salads, plus fries and spiced corn. It's not a massive range, but it is interesting. leonrestaurants.co.uk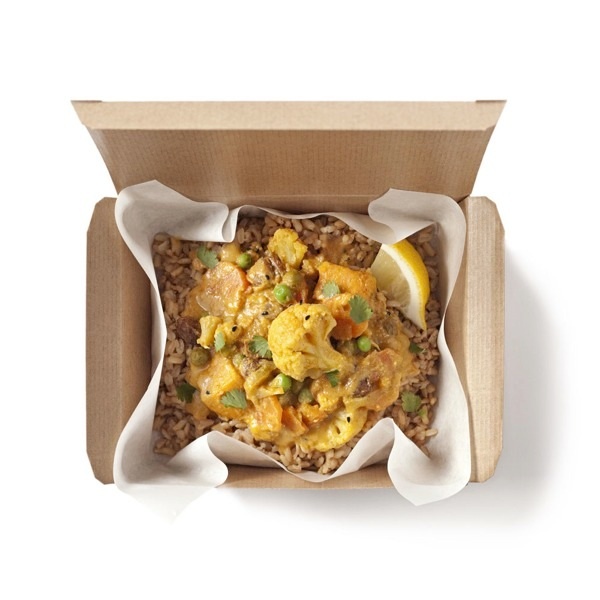 Image Credit: Leon
Sagar
South Indian food is an excellent choice for the vegan diner, and Sagar have a huge range of suitable dishes on the menu. There are gently spiced, steamed idli (rice dumplings) with coconut chutney and tomato ketchup, pani puri that burst in your mouth, magnificent, papery dosa and super satisfying uthappams (flat rounds made from lentils) which come with various toppings, sambar and chutney.
Oli Baba's Meat Free Levantine Cuisine
This street food stall serves some of the best Levantine food in London. Expect dishes such as roasted cauliflower with citrus tahini and garlic lentil salad, plus some truly excellent hummus. They also make excellent falafel, soups, and veggie additions like date-glazed carrots. They're super-friendly and will probably tweak their existing salad boxes to make them vegan - if you ask very nicely, of course. olibabas.com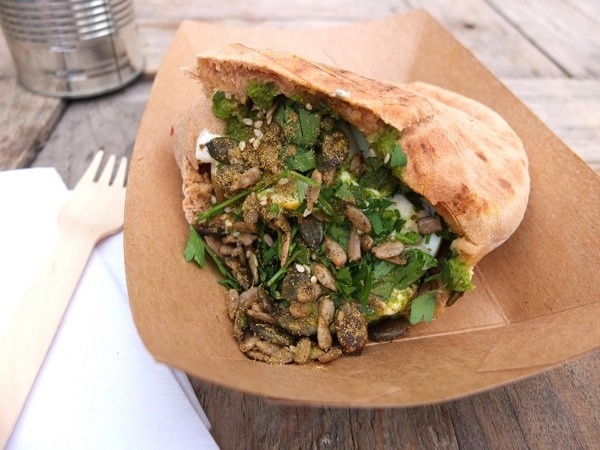 Wholefood Heaven
These guys serve their signature, award-winning 'Buddha bowls' from a stall at Whitecross Market. In each bowl you'll get massaman curry with potatoes, pineapple and soya, steamed seasonal greens, kimchi and carrot pickle, organic rice and organic seeds. It's also gluten free. Eat it and feel Zen. www.wholefoodheaven.co.uk
The Everybody Love Love Jhal Muri Express
Angus Denoon travels the country making dishing out jhal muri from his gorgeously festooned van, so splashed with colour it makes you happy just to set eyes on it. Inspired by his travels in Kolkata, Angus now recreates the food of the streets on UK soil, and he describes his jhal muri as 'the great leveler'. It consists of roasted rice, channa dal, peanut and sev. There is tomato, cucumber, ginger, coriander, chilli for freshness and there is spicing and sourness in the form of chaat masala, garam masala, yellow lime and tamarind sauce. It's an explosion of textures and flavours, and it just happens to be vegan. www.streetfoodkolkata.com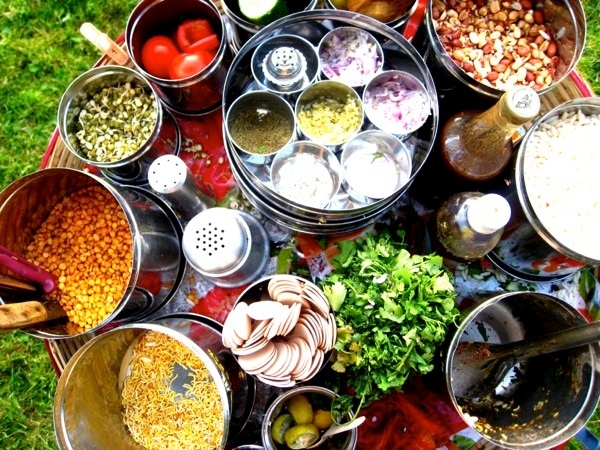 Image Credit: The Everybody Love Love Jhal Muri Express
Horn OK Please
The bhel puri at this street food stall on Brick Lane is very popular. It's made using sev (small pieces of crunchy noodles), potatoes, tomatoes, to types of chutney (green and tamarind), red onions, and fresh coriander. You'll also find a modern twist in the form of juicy pomegranate seeds. It's a really satisfying pot full of interesting textures. www.hop.st
Related Reads
8 Great Vegetarian Restaurants in London
Veggie Burger Recipe: Aubergine and Halloumi Burger
Vegetarian Food London - Best Veggie Burgers!
____
Browse our deals for vegetarian restaurants in London.
BY: Helen Graves
Helen is a food and travel writer based in Peckham, South East London. She is the author of the book 101 Sandwiches and the blogs Food Stories, and The London Review of Sandwiches. She has written for The Guardian, The Times, The Evening Standard, Sainsbury's Magazine and various other publications. Her writing and recipes are inspired by the diversity of London and her travels and she is a sandwich and jerk chicken addict. She spent six years perfecting her recipe for jerk marinade, which is available to buy via her blog and in various shops in London. She won the fresh faces in food writing award at the Young British Foodie Awards in 2013 where judge Ottolenghi praised her 'jaw droppingly foul mouth'. She is also studying for a PhD in psychological medicine. Follow Helen on Twitter @FoodStories.'