GROUPON GUIDE TO MANCHESTER
Burgers Are for Veggies Too!
BY: Sarah Tarmaster |
21 Feb 2014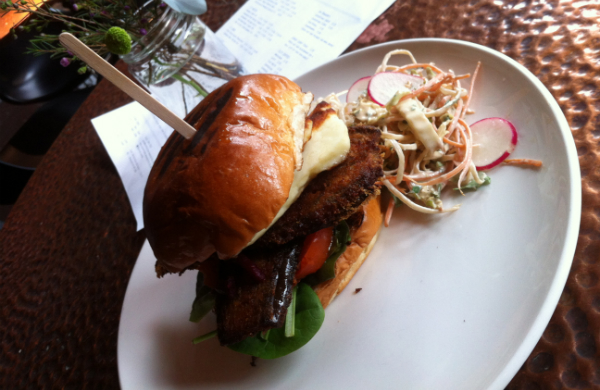 Manchester was hot on the heels of London when falling in love with the burger and it's a love that still burns brightly in this city, with specialist burger restaurants, street food vendors and every other eatery getting in on the act. In my opinion, the perfect burger should be served plump, pink and be made of such unquestionably high quality beef that it leaves you licking your lips and contemplating your next meaty fix. But, even I appreciate that not everyone is such a gluttonous carnivore and even I like to have days off from destroying my body/the planet. Don't fear veggies, it's not all portobello mushrooms and halloumi (though there's a lot of that out there…) here's my rundown of the best veggie burgers Manchester has to offer.
The 'we've put a lot of work into this one' burger– Superstore NQ
Not scared of challenging convention,
Superstore NQ
have taken the done-to-death soggy portobello mushroom/halloumi veggie burger found on every other menu in the city and ramped it up a gear. A fluffy brioche is filled to the brim with marinated, curried aubergine, which has been given a crispy panko coating to add a good crunchy texture, topped with halloumi and smothered in a homemade beetroot relish. The resulting dish is spicy, sweet and delish, even to ardent meat eaters like me.
The 'it's almost healthy' burger – Common
Riffing on the ubiquitous bean burger, but doing it much better,
Common
has come up with the falafel burger – homemade falafel, hummus, tzatziki and a good slice of fried halloumi between a brioche (yes everybody's using them) bun. The burger is filling, garlicky and chock full of flavour showing us that a) legume based burgers can be tasty and b) you don't need meat to have a good time.
The 'wow I've found one without halloumi' burger – Odd Bar
Ask any Manchester veggie what the bane of their life is and coming in closely behind 'annoying questions about my lifestyle choice,' is 'the portobello/halloumi burger.' After everyone discovered their taste buds back in the late '90s and realised that bean burgers were actually about as tasty as fried sofa stuffing, these were quickly replaced by the mushroom/halloumi incarnation. Great if one place does it, not so great if that's all you can find.
Odd
rings the changes by swapping out the halloumi for goats' cheese, the good old marmite of the cheese world. They've also thrown in a load of sweet red peppers, some smoked garlic/saffron mayo and, you guessed it, a portobello mushroom. The final result is actually very tasty – a great mix of sweet, sharp, tangy and smoky, which makes even a portobello mushroom taste pretty damn sexy.

The 'oh, so veggies can eat in a burger restaurant too' burger – Almost Famous
Almost Famous
was the first proper pop-up restaurant in Manchester and the first to specialise in burgers alone. Since their initial popping-up last year, Almost Famous has risen to meteoric success through their crazy kitchen creations, tongue-in-cheek menu (slut sauce anyone?) and bad boy attitude – including their mean stance towards veggies, doubters and anyone else who questions anything they do, ever. But what to do if all your friends want to go to a bad-ass burger joint and eat crazy/messy burgers with amazing toppings like pizza slices and Krispy Kreme doughnuts ? Get down to Almost Famous and ask for the 'Secret Special Alicia Silverstone, puh-lease' – the veggie burger isn't on the menu, it's a portobello/halloumi hybrid, but at least you'll feel like you're fitting it. Are you a veggie burger aficionado? Tweet us your favourites!
@Groupon_UK
#grouponguide
____ Check out our deals for
restaurants in Manchester
.
BY: Sarah Tarmaster
Sarah Tarmaster has been eating and drinking her way round Manchester for the past 12 years and has been writing about it for the past four. Sarah started the blog North West Nosh to shout about what's great in the North West and because she suffers from that common British phobia, complaining in restaurants. When's she's not planning where to eat, eating, cooking or recovering from overeating, Sarah can be found putting on street food events, yomping round the countryside or crafting something; she rarely sits still, which is good considering how much she consumes.