Venison Burger Recipe
BY: Nick Andrews |
10 Dec 2014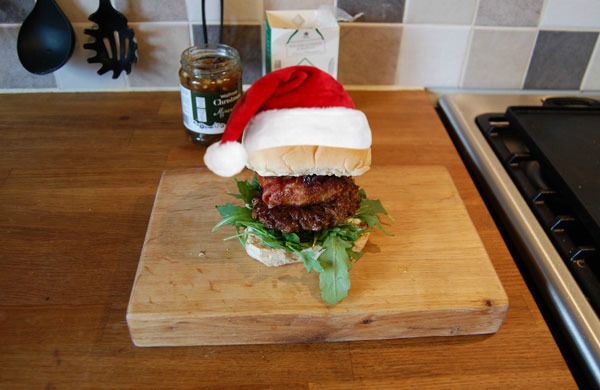 This Christmas, with all the turkey, smoked salmon, and champagne being thrown around, not to mention ham, mince pies and roast spuds, I thought I'd pull together something for burger lovers to get their chops around as a counterpoint to the usual festive fayre. My Christmas venison burger pulls together the gamey flavours of venison and pairs them with mincemeat, sausage and bacon, and rocket – I hope you enjoy!
This recipe makes 4 burgers.
Ingredients:
4 x soft white buns
400g minced venison
200g sausage meat
8 rashers streaky bacon
1 white onion
Glass of red wine
Jar of sweet mincemeat
Rocket
Mayonnaise
Good quality sea salt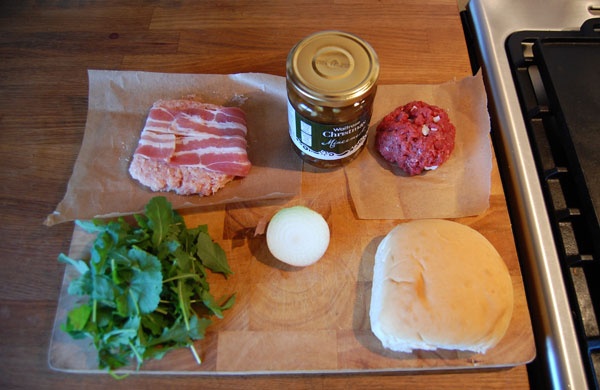 Method
Slice your onions into rings and add to a pan with oil on low heat. Once they're soft and turning translucent add salt, red wine and a splash of water and continue to cook until the red wine has reduced and the onions are sticky. Set to one side.
Split your venison mince into four equal portions. Keep each quarter in a loosely packed ball – don't overwork it with your hands.
Split your sausage meat into four equal portions. Roll out between two pieces of greaseproof paper into wide, flat patties. These should be slightly bigger than the bun, as they will shrink during cooking. Wrap each sausage meat patty in two slices of streaky bacon and secure with toothpick.
Grill your sausage patties until cooked through and the bacon is crispy.
Heat a cast iron pan, or griddle, until it just begins to smoke, season the venison ball and then press firmly into the pan from above with a spatula (a sheet of greaseproof paper over the top helps distribute the meat evenly and stops it sticking to the spatula). Sprinkle a pinch of good quality sea salt over each patty and leave to cook for several minutes before flipping. Once cooked to your liking, set the venison on a plate to rest.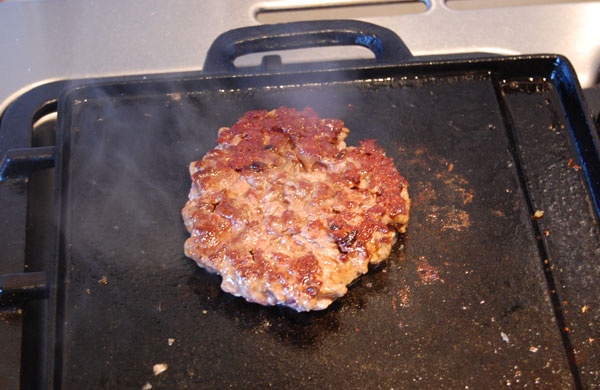 While the venison is resting, split your buns, and lightly toast them. Dress with mayo and rocket, then spread ½ teaspoon mincemeat on top of the rocket.
Place the venison on top of the mincemeat, then place the sausage and bacon on top of the venison. Add a dollop of your braised red wine onions and top with the bun.
A very happy Christmas to all our burger loving readers, and please let us know how you get on!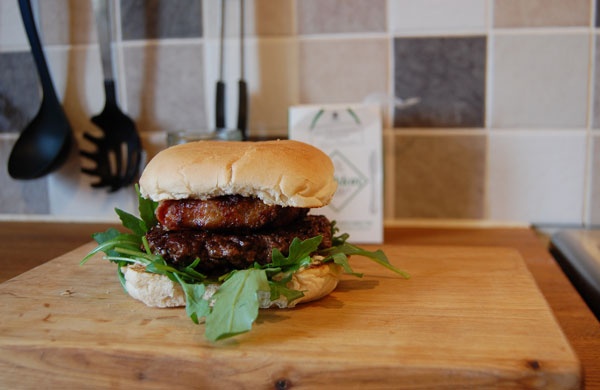 Related Reads
Christmas Shopping Pit Stops in London
Top 5 Christmas Sandwiches in London
____
Find inspiration in our Christmas shop.
BY: Nick Andrews
Nick is Hamburger Me and he likes burgers. Actually, it goes a bit deeper than that. Nick is, in fact, London's pre-eminent burger blogger, and the author of www.hamburger-me.com where, since 2010, he's been posting about and reviewing London's best burgers. He's a keen collector of burger memorabilia (check out his burger phone!) and he even has his own line in burger cufflinks...