GROUPON GUIDE TO MANCHESTER
Vintage Shops: The Best of the Fairs in Manchester
BY: Jess Hardiman |
12 May 2014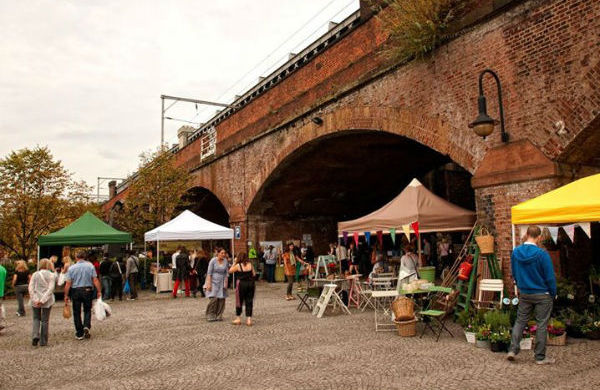 Manchester is well known for its thriving vintage shopping scene, with specialist vintage shops tucked into every nook and cranny of the city and its suburbs. However, a great way to tap into the style is to actually shop around. Style is always on the move, so be sure to move with it by visiting the many temporary vintage stalls and fairs that travel around to follow trade potential. In return for keeping up, you'll be rewarded with a unique environment in which to find some exceptional hidden gems.
The Whim Wham Cafe Vintage Market
Perhaps the most appropriate of venues for a vintage market is The Whim Wham Café, the interior of which looks like it has been stripped straight from the better days. Think opulent tasselled lamp shades, ornate gold mirrors and decorative wallpaper, all brought together with lashings of wooden fixtures and furniture. The Whim Wham Café hosts a vintage fair every last Saturday of the month, turning the already antiquated backdrop into an exciting vintage emporium. Here you'll find stock that caters for men and women, as well as collectables and home ware. It's a particularly good haunt for finding 40s style dresses and colourful vintage scarves, but the rails, shelves and tables are piled high with all manner of goods. Punters are also often lured in by the food and drink offers for guests of the vintage fair, sating both hunger and thirst with tea, cake and their very own Gin Saloon cocktails.
Gin and Tonic Vintage Mobile Market
Speaking of that favourite juniper-based tipple, Gin and Tonic Vintage, is also well worth a mention – not least because it is named after one of the most glorious marriages ever to have slipped past my lips. You'll find Gin and Tonic Vintage around the city at various times, but most often they reside in the Northern Quarter's Terrace bar. Here, visitors are given that perfect environment that caters for both vintage shopping and boozing, meaning that you can spend an afternoon trawling rail upon rail of vintage stock before taking a pew at the bar and ordering a well-deserved G&T.( Read our interview with Gin and Tonic Vintage here)
Alternative and Travelling Vintage Shops
Of course, these vintage fairs and stalls don't always laze around in bars and cafés. There are many that also move with the city's markets – of which Manchester has a very healthy abundance. One of the best is Castlefield Market, which takes place every third Sunday and houses some of the best and most stylish second-hand styles. The market in general takes a strong focus on the traditional trading ethos of artisans, making it the perfect setting for vintage finds. It's clear that Manchester's vintage scene is one that is anything but stagnant, for its various vintage shops, fairs, stalls and collectives keep the city especially buoyant with one-of-a-kind pieces. Entry to most of these fairs and markets is also free, so it won't cost a penny to have a leisurely perusal, working out the places that suit your style best and may deserve another visit.
Join the conversation! Do you love vintage shopping in #Manchester? @Groupon_UK #grouponguide
For further info on vintage in Manchester, try this website.
Related Reads
Interview with Gin and Tonic Vintage
Pre-loved and Upcycled - Interiors with a Difference
Surburban Style - Focus on Chorlton, Manchester
____
Check out our deals for shopping in Manchester.
BY: Jess Hardiman
A strong believer in both a flick of liquid eyeliner and a sturdy beehive, Jess Hardiman loves to find her style inspiration from unlikely places – whether it's classic French cinema of the 60s or just anyone who can resuscitate lifeless hair. In 2013 she was awarded 'Magazine Journalist of the Year' at the Manchester Student Media Awards, and these days you'll find her over at listings website Manchester Wire or her own blog, where she also enthuses about anything from Woody Allen to a glass of sherry.