Wedding Makeup - Do it Yourself With These Tips!
BY: Laura Pearson Smith |
4 Jun 2015
More and more brides are opting to do their own wedding makeup as opposed to hiring a professional makeup artist to do the job for them. I spoke to bareMinerals International Makeup Artist Sarah-Jane Froom on how to achieve a radiant and long-lasting bridal look yourself. It can be done, and you can save hundreds of pounds in the process too.
Why do you think so many more brides now are opting to do their own makeup rather than hiring a professional?
With beauty channels being some of the biggest watched on YouTube and with so many fantastic beauty blogs out there, it's becoming easier for women to seek out inspiration and learn tips and tricks from the comfort of their own homes. I think brides are now able to source ideas and practice different styles and looks; which is giving them confidence when doing their own make-up. Hiring a professional make-up artist can be expensive, so it's great if you know exactly what look you want to achieve and can practice it in the run up to the big day.
What Bare Minerals products would you recommend to create that flawless radiant skin that all brides want?
I always use a primer to smooth and even skin – I like the bareMinerals® Brightening Primer as this has a dewy apricot glow to it and will help to brighten the skin. Make sure you have been shade matched to the right foundation, especially if you will be wearing any fake tan on the day. For a natural, dewy look then the new bareMinerals bareSkin Pure Brightening Serum Foundation SPF20 is great and can be mattified throughout the day with the new bareSkin Perfecting Veil.
Do you have any tips for making your makeup stay put longer?
Using a good primer is so essential for helping make-up stay put. I love the bareMinerals Brightening Foundation Primer as it helps to combat dry patches, fine lines, excess oil and large pores, whilst also leaving skin looking brighter and more even. Throughout the day you can also pat down any oily areas with a mattifying powder, such as the bareMinerals bareSkin Perfecting Veil. I also recommend waterproof mascara for the bride, bridesmaids and mother of the bride as it can be an emotional day! I always use the bareMinerals Locked & Coated Waterproof Lash Topcoat as it creates an invisible, protective veil over lashes.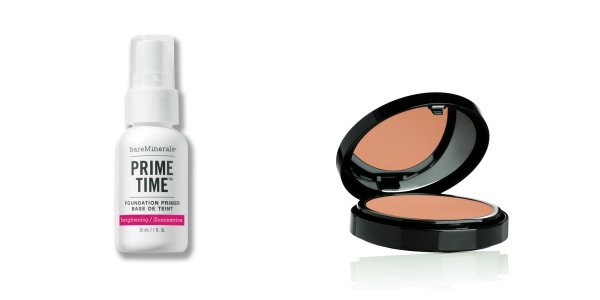 What colourways and trends have you been noticing in bridal makeup?
Most brides prefer a natural look on their wedding day, with clear, fresh, soft-focus skin. This was a big trend on the SS15 catwalks such as Marc Jacobs and Christopher Kane. The key to the trend is creating dewiness both in the centre of the face and along the cheekbones whilst keeping the rest of the face matte.
Start with a brightening foundation and then buff a loose mattifying powder on the chin, around the corners of the nose and on centre of forehead. Finish by highlighting the highs of cheekbones, the centre of the nose and the bow of the lip for extra illumination. I like to use the bareMinerals Well Rested Face and Eye Brightener, an easy-to-use pen with pearlescent, light-reflecting minerals.
Do you have any tips on how brides can prep their skin and keep it healthy in the run-up to the big day?
Depending on your age, your skin cells turnover every 28-42 days. This means that your skin won't just change overnight, and in order to get your skin looking it's best for your big day, you need to start thinking about your skincare regime around 3 months beforehand. At bareMinerals we recommend a 3 step regime of Cleanse, Treat and Moisturise daily morning and evening.
How can brides easily transform their daytime ceremony look to something for the evening reception and party
The easiest way is to create a bolder eye or lip look. A smoky eye is a classic, timeless look and can be easily achieved by applying a deep eyeshadow across the crease of the eyelid and in the outer corners of the eyes. For Winter weddings, running a sparkly gold across the lash line also looks really effective.
Related Reads
Best Wedding Dress Shops In Glasgow
Alternative Wedding Venues in Glasgow
Wedding To-Do List - Meet Your 4 Bridal BFF's Glasgow
____
Find a deal for beauty and spas in Glasgow today.
BY: Laura Pearson Smith
Laura Pearson-Smith is from Glasgow's Southside. She is a lover of luxury, yummy food and all things pretty. She founded, and is editor of luxury travel online magazine Stylecation, and blogs at her own lifestyle blog A Life With Frills. She has written countless fashion, beauty and travel articles for various publications including The Huffington Post. If you want to know the best Chinese restaurant in Glasgow, where to get a vintage Chanel handbag or the city's best facial, she's your girl.