Highlights
Enter this prize draw for the chance to eat the Glamburger, filled with succulent Kobe Wagyu beef, lobster, truffle and Beluga caviar
About This Deal
The Deal
Ever sat down to a greasy takeaway and rallied, "There must be more to fast food than this"? Now there most definitely is, in the form of the record-breaking, jaw-dropping Glamburger. Created by Groupon in partnership with Honky Tonk restaurant to celebrate the sale of our five millionth food and drink voucher, the £1,100 burger has been verified as the world's most expensive by RecordSetter. Anyone brave enough to rise to this monstrous challenge can enter this prize draw for a chance to travel to Honky Tonk and taste this burger for free. Let us know when you've entered by tweeting us @Groupon_UK using #Glamburger.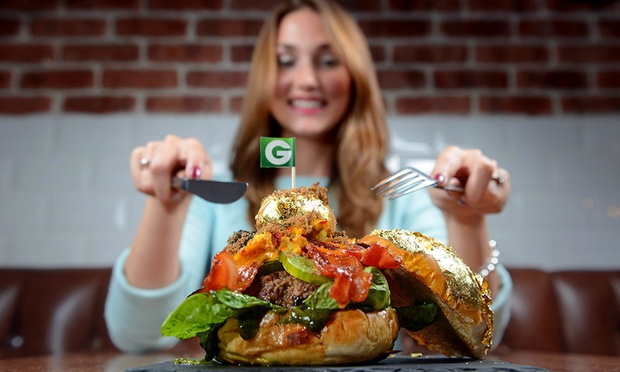 The Glamburger
The burger patty is made from 220 grams of Kobe Wagyu beef minced with 60 grams of New Zealand venison to perfectly balance the fat content, and a rich center of black truffle brie to create a liquid pocket once the meat has cooked. The burger patty is then seasoned with smoked Himalayan salt and served with a Canadian lobster poached in Iranian saffron. Atop the lobster, creator of the burger, chef Chris Large, has added maple syrup-coated streaky bacon, Beluga caviar and a hickory-smoked duck egg intricately covered in edible gold leaf. The bun is seasoned with a Japanese matcha and cream mayonnaise and coated in gold leaf. Finishing touches come in the form of a mango and champagne jus and grated white truffle.
Winners of the prize draw get to indulge in this one-off burger, with travel costs of the round-trip to Chelsea's Honky Tonk included. Alternatively, if you're really hungry, you could bypass the prize draw altogether and head straight to Honky Tonk via this live deal.
Ingredients
Kobe Wagyu beef
New Zealand venison
Canadian lobster
Black truffle brie
Iranian saffron
Maple syrup-coated bacon
Hickory-smoked duck egg
Gold leaf coated brioche bun
Japanese matcha and cream mayonnaise
Mango and Champagne jus
Grated white truffle
About Honky Tonk
An American-inspired dining concept, Honky Tonk brings homespun grub, craft beer and music to venues in Chelsea and Clapham. Menus feature wings, chilli dogs and waffles in their array of classics. The bar stocks a wide selection of bourbons, to be taken neat or as a cocktail.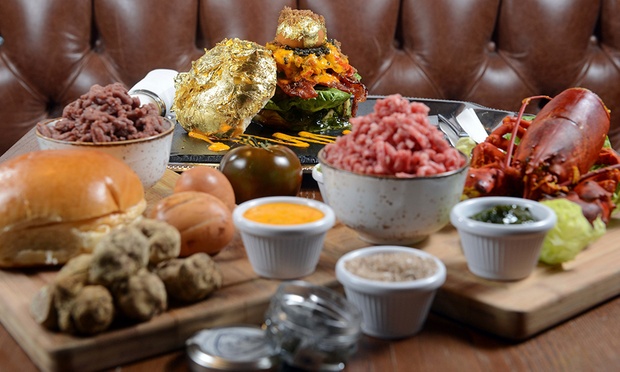 Fine Print
Validity: Valid 13-31 October 2014.
Purchase: Max 1 entry per person; 1 voucher purchased is equal to 1 entry into the prize draw.
Booking: One winner will be selected at random and contacted by 6pm (BST) on 13 Oct 2014. They must respond within 24 hours. Failure to do so will result in the prize being offered to another entrant.
Restrictions: Winner must be available to travel to one of two Honky Tonk locations on a date between 14 and 31 October 2014.

Full terms and conditions of the prize draw are available here.
About Glamburger