Chocolate Cupcake Recipe: Easter Egg Surprises
BY: Laura Pearson Smith |
26 Mar 2015
Who doesn't love a good cupcake?! They look good, taste good, and baking them is really fun too as you get to experiment. I baked some rich and utterly delicious chocolate cupcakes with a famous Easter sweet surprise inside them. I'm going to take you through the recipe step-by-step so you can recreate them at home. Warning- they are ridiculously moreish.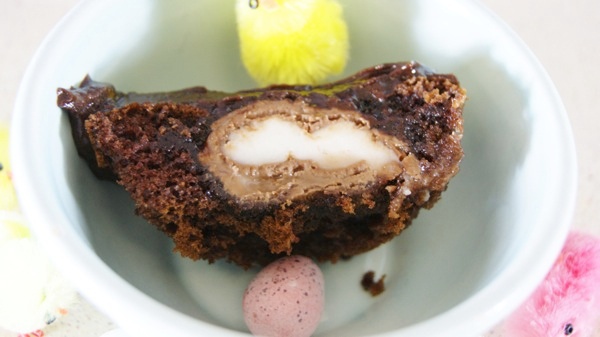 First you need to prepare all the ingredients you will need. It is much easier if you weigh these out in advance, so that they are ready for when you start. For the cupcake sponge mixture, you will need:
Cupcake Ingredients
170g Unsalted Butter
115g Plain Flour
1tsp Baking Powder
170g Caster Sugar
60g Cocoa Powder
12 Cadbury Creme Eggs
Method
Switch your oven on to Gas Mark 5 (170C) so that it heats up while you are mixing the ingredients.
You then need to cream the butter and the sugar together, and once that's done, add your three eggs. Beat these with the butter and sugar mixture before slowly adding your flour and baking powder; stirring as you go. You want to keep mixing until there are no lumps. You can do this with a baking spoon; but for quicker results, use an electric mixer.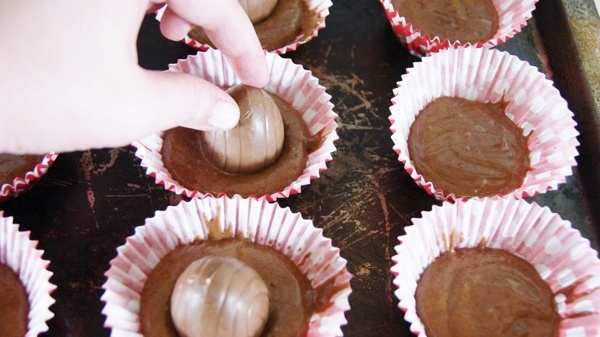 Divide your mixture equally into twelve cupcake cases. Once you have done this, it's time to add your sweet surprise to the middle of each - the Cadbury Creme Eggs. Place one into the cake mixture in the centre of each cupcake case.
As your oven is already hot, the mixture will immediately start to cook and rise around the Creme Egg so that it remains intact in the middle of the cupcake. Bake these for 15 minutes. Check that when you press the top of the cakes, they are springy to the touch. If not, put them back in the oven for a few more minutes.
While your cupcakes are cooling, it's time to make the chocolate frosting for the top of each. For this you will need: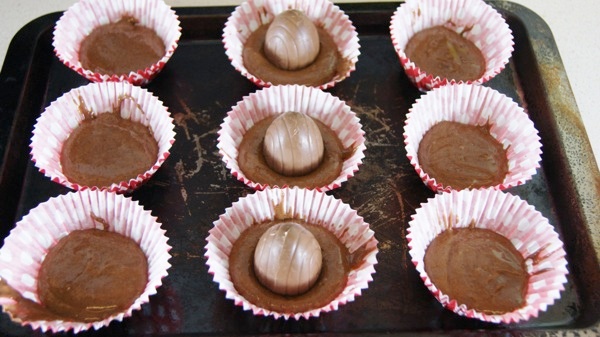 Chocolate Frosting Ingredients
55g Icing Sugar
55g Unsalted Butter
2tbsp Cocoa Powder
2drops Vanilla Extract
This is the easiest, and most fun (as you get to taste), part of the recipe. Put all the frosting ingredients in a bowl and cream them together using a fork. The quantities above are just a rough guide- you can adapt the frosting to your own taste. If it's two chocolate-y, add more icing sugar and vice versa.
Now it's time to decorate your cupcakes. I used some Cadbury Mini Eggs and little Easter chicks, but you can do any design you want. When you slice into one, you should have an intact creme egg with its sweet fondant for you to enjoy.
____
Find a deal for coffee and treats in Glasgow.
BY: Laura Pearson Smith
Laura Pearson-Smith is from Glasgow's Southside. She is a lover of luxury, yummy food and all things pretty. She founded, and is editor of luxury travel online magazine Stylecation, and blogs at her own lifestyle blog A Life With Frills. She has written countless fashion, beauty and travel articles for various publications including The Huffington Post. If you want to know the best Chinese restaurant in Glasgow, where to get a vintage Chanel handbag or the city's best facial, she's your girl.