Cook Your Own Steak at Stix and Stones Belfast
BY: John Ferris |
29 Sep 2014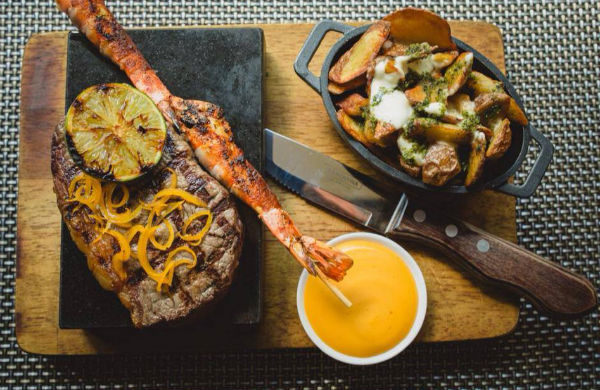 Steak on the stone. Image copyright of Stix and Stones.
It may not be original, but brothers Daniel and Martin Courtney's entry into the Belfast restaurant scene at least brings some theatre to dinnertime.
The pair, whose restaurant Stix and Stones officially opened in May 2014, have a heavy focus on the customer cooking their own dinner on a hot stone. It's gimmicky and had McHugh's not been doing it for many years in Belfast already, it'd probably have got them a lot more publicity than it did.
"It's not a new idea – Botanic Inns were doing it years ago and I've seen it in Portugal and lots of other places," chef Martin Courtney told me.
"But in Rustic Stone I learned how to do it right. I just thought it had a great sharing element and interactivity between people. Then this opportunity arose when I was talking to a member of the family. He was thinking about opening a restaurant and asked would I be interested in doing it for him."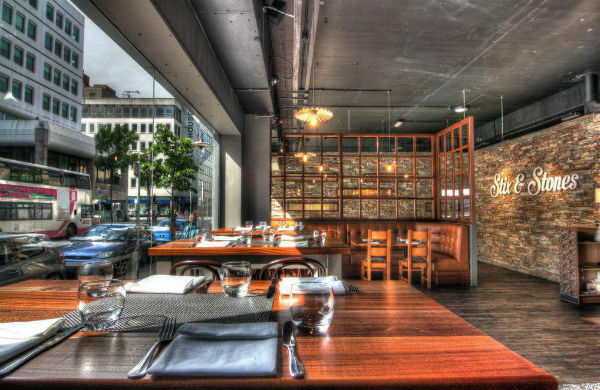 Inside Stix and Stones restaurant. Image copyright of Stix and Stones.
That being said, I'm a sucker for getting involved. It's a big site, which sits just a stone's throw from two Belfast goliaths in Michael Dean and Niall McKenna whose nearby offerings also have a heavy focus on meat.
Sat down in what the designer called 'modern rustic', we're immediately met with a server who is pretty knowledgeable on the process. When we order a steak apiece we're walked through the process. In case we're the type that prefer not to have to sing for our supper, we're also told about the more traditional option of the kitchen cooking the steak for you.
We start with some hot and sticky chicken wings, which do what they say on the tin. The pickled veg that accompanies it is a nice addition.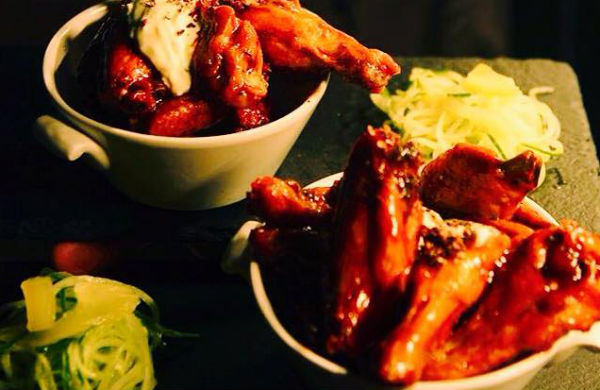 Hot and sticky chicken wings from Stix and Stones. Image copyright of Stix and Stones.
On to the main event and we both order the 8oz rump which gets partially cooked by the chefs before arriving at the table alongside a pointless red onion jam, a roasted tomato and a sauce of your choice.
The béarnaise is well made – the right consistency but could have done with a touch more punch in it. The addition of a sauce with each steak really does render the jam with it unnecessary and I left most of mine for the bin gods.
Our rump steak has a reasonably good taste to it and I like the fact that cooking it yourself means you can cut a slice off and fry it a little making each mouthful feel fresh.
Side orders of chips are well cooked and bacon croquettes would be welcome on my table any day of the week.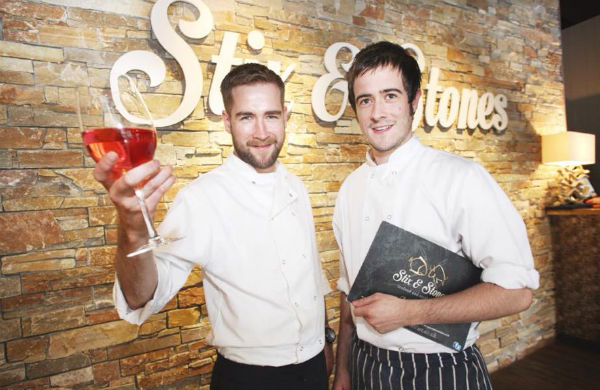 Daniel and Martin Courtney - owners of Stix and Stones. Image copyright of Stix and Stones.
A restaurant like Stix and Stones will always provide a talking point for its diners, but there's always the risk of an overcooked steak… and as customers, if it does happen, there's no one else to blame other than ourselves!
Stix and Stones, 44 Upper Queen Street, Belfast. Tel: 028 9031 9418
Related Articles
Wings and Things: A Guide to the Greatest Chicken Wings Belfast has to Offer
Coppi This - A Review of Coppi Restaurant in Belfast
Fighting Like Cat and Dog Over the Perfect Burger
____
Find a deal for a Belfast steak restaurant.
BY: John Ferris
John was a journalist for over 15 years and previously the editor of a Belfast-based newspaper. Co-founder of one of Ireland's most influential food and drinks websites, Forked.ie, he's a long-time judge of various food and drink awards in Ireland and writes primarily for Forked.ie. He also occasionally writes about food for Hospitality Review NI, Belfast Telegraph, the Guardian and makes the odd appearance on u105's Lunchtime Bistro show with Carolyn Stewart. You'll find him on Twitter @foodbelfast