Fighting Like Cat and Dog Over the Perfect Burger
BY: John Ferris |
18 Apr 2014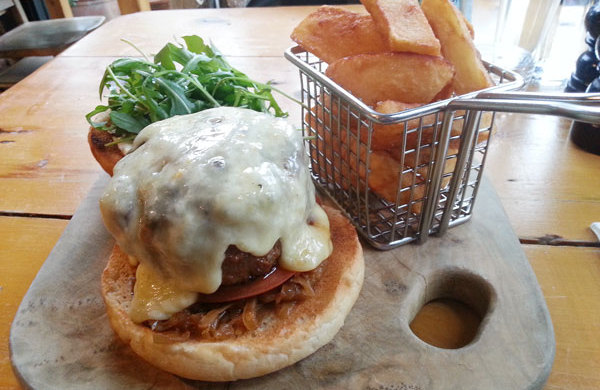 There's something magnificent about the humble burger. Maybe it's the ability for it to be a deeply personal experience or the fact that it's just a primeval urge for a big lump of meat - who knows? It just works whether you like it kitted out with all the foodie mod cons or just a simple burger with lettuce, tomato and cheese. Who doesn't love a good burger? In our humble city the burger comes topped with everything from jelly babies to foie gras and everything in between. If you can eat it, it's more than likely found its way atop of a burger. I'm not sure if either of those combinations work, but each to their own when it comes to burger toppings. Whilst we don't have the kind of invasion that London has seen - being hit with a whole host of pretenders claiming the throne of burger king (no pun intended) - we are beginning to see a small burger revolution here. Whether it's the wonderfully old school children's burger that's a staple on the menu at
Deane's at Queen's
or the slightly more leftfield venison burger on offer at the opulent
Saphyre
on the Lisburn Road, there are plenty of places turning the humble burger into something well worth making the trip for. For me, however, there are two 'go-to' places when I'm craving a burger – Alley Cat and the Barking Dog. Whilst both are casual, they couldn't be further from each other in looks. Alley Cat is over-the-top funkiness whereas the Barking Dog exudes a kind of simplicity that makes it just as welcoming.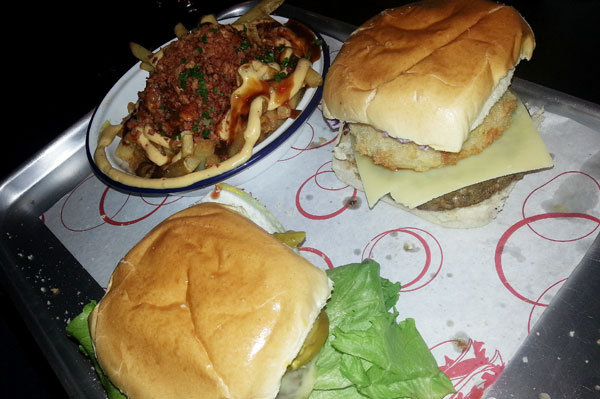 Alley Cat's menu is primarily made up of burgers and dogs and if you stay away from the headline grabbing and stomach busting Piginator, you'll have the best burger in the city. The Piginator is more Man vs Food with enough meat to make even Adam Richman break into a sweat. Its little brother, the Pig Out (priced at £8 without sides), is a ripping example of how the Cat stands above most offerings in the city. The burger is made in a similar fashion to Heston Blumenthal's complicated version* and the recommendation is that it's cooked to medium. There are no airs or graces however, and if you're not a fan of that kind of thing, you can get it burnt to a crisp if you prefer. The Pig Out comes with melt-in-your mouth pulled pork, onion rings and their own slaw. Expect to get messy. Pig Out messy. Up at the Barking Dog, the burger (priced at £14 including side of chips) is a heavyweight contender – soft and well cooked around the outside. In the middle there's rich beef shin that's high on flavour. Caramelised onions, a rich slathering of melted cheddar and some horseradish mayo accompany as well as a side of chunky chips. It's so tall you'd need some scaffolding to tackle it properly. Everyone has his or her own favourite burger, but whether you're a Dog or a Cat person, get yourself down and feast on Belfast's ultimate burgers.
Barking Dog
, 33-35 Malone Road. Tel: (028) 9066 1885
Alley Cat
, Church Lane. Tel: (028) 9023 3282
More Information
* Heston Blumenthal's Beef Burger Recipe: http://www.channel4.com/4food/recipes/chefs/heston-blumenthal/beef-burgers-recip
Do you agree with this list? Where do you think is #Belfast's best burger? 
@Groupon_UK
#grouponguide
____ Check out our deals for
restaurants in Belfast
.
BY: John Ferris
John was a journalist for over 15 years and previously the editor of a Belfast-based newspaper. Co-founder of one of Ireland's most influential food and drinks websites, Forked.ie, he's a long-time judge of various food and drink awards in Ireland and writes primarily for Forked.ie. He also occasionally writes about food for Hospitality Review NI, Belfast Telegraph, the Guardian and makes the odd appearance on u105's Lunchtime Bistro show with Carolyn Stewart. You'll find him on Twitter @foodbelfast