What's the Best Sushi Restaurant London has to Offer?
BY: Edward Smith |
7 Jul 2014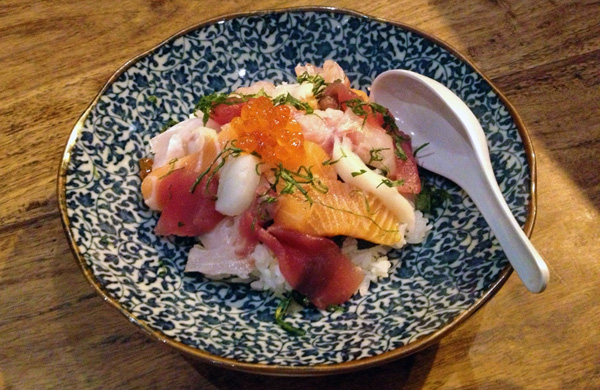 For me, a great sushi experience is all about fresh, flavourful fish, and warm, slightly sweetened, silky and just ever so slightly sticky rice. It's usually served in pared-back rooms, unaffected by modern British restaurant trends. These things evoke memories of finding all of those things in the most unlikely places in Japan.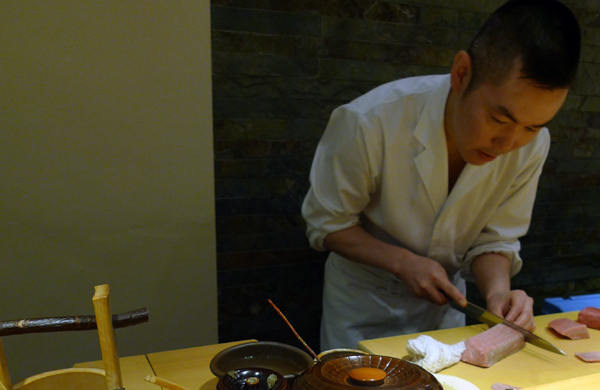 The way I sate my sushi addiction in London is by mixing the occasional incredible experience, with more regular 'every day' style sushi from unassuming independent places, which are often filled with Japanese businessmen or families. I dislike the middle to upper middle ground, where flash surroundings always equate to small portions of just OK fish. These always feel like style over substance.
When it comes to picking the capital's best sushi restaurant, London doesn't allow me to pick just one, so here are my top five:
Sushi Tetsu
Let's start with the best. Tetsu is, hands down, the top sushi experience in London. A small counter separates you and six other diners from Toru Takahashi and his spellbinding sushi skills. The fish, the rice, the moment, are all on another level to what lies elsewhere in the city. Plump for the £80 omakase (chef's choice) menu, sit back and enjoy. That's if you can get a seat – booking is difficult but keep your eye on Twitter for cancellations.
The sushi at Tetsu is brilliant on account of its simplicity.
12 Jerusalem Passage, EC1V 4JP - 020 3217 0090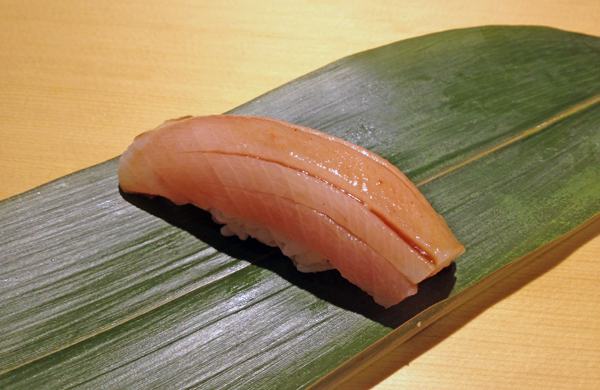 Yashin Sushi Restaurant
Yashin may be the next best option for sushi-bar style eating. The offering in this Kensington restaurant is slightly different to Tetsu – there are more bells, whistles, flames and fancy toppings, but all these things are done well, and the fish is undoubtedly top quality. It's not cheap (unsurprisingly) but if you can get there for lunch, there are a few reasonably priced sushi sets.
1A Argyll Road, W8 7DB – 02079381536
Now to the more every day options.
Tajeima Tei
Tajeima Tei is a cracking example of an extremely authentic sushi restaurant, tucked away in the city. I'm sure there are others of similar quality dotted around the square mile.
I've never been here when Europeans outnumbered Japanese men in suits, and I've never had anything less than an enjoyable meal. To sum it up: well constructed rolls, decent fish, almost always busy. There's seating downstairs, including some cute little cubicles.
Unit 1, Doorington House, 9-15 Leather Lane, EC1N 7ST - 020 7404 9665
Akari Sushi Restaurant
This is my local and most regular sushi haunt. Situated in an old London pub, the atmosphere is always superb and the sushi never less than good. Their hand rolls are particularly good value, and I'm kind of in love with the bara chirashi bowls – sushi rice topped with offcuts of everything, seasoned by salmon roe shiso herbs and a balanced dipping sauce.
Akari's bara chirashi - the thinking (and hungry) man's sushi choice.
196 Essex Road, Islington, N1 8LZ - 020 7226 9943
Kulu Kulu
Conveyor belt or Kaiten sushi is the fast food option that many Londoners first experienced through the Yo Sushi chain. I prefer Kulu Kulu to the aforementioned, for its simplicity, value and reliability. Pick what looks good. Ideally, you'll be in one of the busier restaurants – Brewer Street in Soho and Thurloe Place in South Kensington are probably their two best sites.
Kulu Kulu, Various locations (Brewer Street, Thurloe Place, Shelton Street)
Related Articles
The Best (Sort of) Russian Restaurants in London
Food Markets in London - Recommended by Top Chefs
What you would choose as the best sushi restaurant London has to offer? Tell us what you think @GrouponGuide_UK #grouponguide
Want to try make it yourself? Sushi recipes can be found at www.sushifaq.com.
____
Check out our deals for sushi restaurants in London.
BY: Edward Smith
Click here to see more articles by Ed...Ed Smith used to be a lawyer but retrained as a chef and now cooks and writes for a living. Based in London, Ed writes for various publications, including his blog, Rocket and Squash, and was shortlisted in the 'Best Online Food Writer' category of the 2013 Fortnum and Mason food awards. Ed eats too much. Click here to see more articles by Ed...