GROUPON GUIDE TO MANCHESTER
Focus On: The Marble Brewery
BY: Sarah Tarmaster |
26 Jan 2015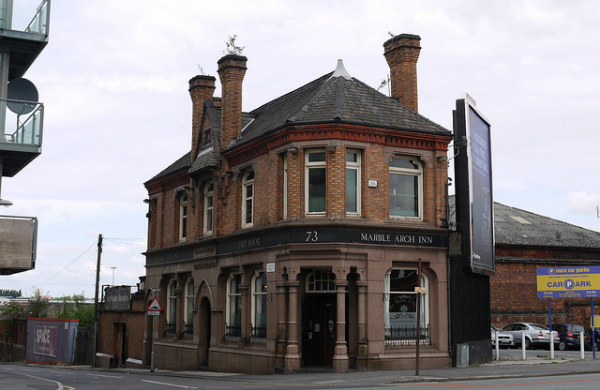 The Marble Brewery started life in 1997 as an idea to revive the long-standing Marble Arch pub. It was a toss-up between a micro-brewery and a karaoke room. I think I can single handily state, for all the beer drinkers in the whole of Manchester and beyond: I'm glad the beer won out.
The original premises was built in 1888 as The Marble Arch pub, when Ancoats was a thriving industrial area. The pub still occupies the same site and if it wasn't for the preponderance of smart phones/lack of physical violence, then you'd be hard pressed to notice much of a difference. The building is a beautiful, high ceilinged, richly tiled room with a slopping wooden floor – pointing down to the bar, so great when you've had a few.
Serving Great Food
The back room of the pub used to house the microbrewery, but has now been converted into semi-open kitchen/dedicated restaurant area. For the last few years Marble has been turning out some pretty decent pub food, but in the last year they've upped the bar (pun intended) and are now producing some of the best food you can get in a pub on this side of the city.
There's a big emphasis on local/seasonal produce. hearty pub style dishes have been given a bit of spit and polish to deliver food that's tasty, well executed and surprisingly complex for a pub kitchen. For example, fish dishes at Marble always surprise in their tender delicacy. If you're a pudding lover, it has to be the malt milkshake (hot chocolate sauce, malt ice cream, dry caramel), a fun concept, without going over the top or substituting style for taste. Portions are on the larger size, so I'd suggest just two courses if you're not a full on Northern – I'd suggest sharing plates, but you'll be fighting it out. This is one place that you want to keep the food all to yourself.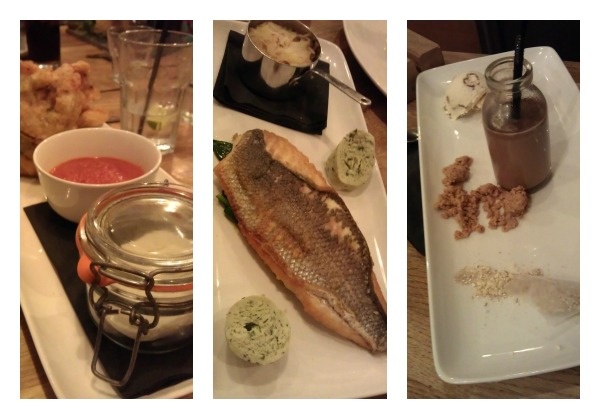 57 Thomas Street
If you can't be bothered with slogging up to the Arch, the canny lads have opened up 57 Thomas Street in the Northern Quarter, located (can you guess?) at number 57 on Thomas Street. Small and specialised is the best way to describe 57. Not much bigger than your Mum's kitchen, Marble have stocked the bar with all their own micro-brewed ales, plus a selection of stunning beers from around the UK/continent/world. The staff are amazingly well versed, even responding well to statements from cretins like me, 'I don't really like beer, but larger is ok, but not sweet larger and nothing too bitter and I like it a bit creamy, but it has to be refreshing and taste of peaches.' If they can find me a beer I'll drink, just think what they can do for you.
57 isn't just a den of drinking, there's a great selection of meats, cheeses and sandwiches to line your stomach and keep your taste-buds happy. Like their beer selection, Marble has concentrated on picking the best local and continental examples – there aren't many places where you can get Stinking Bishop and Epoisse alongside a pint.
Marble Beerhouse
If you're a little bit grown up and have managed the move to Chorlton, never fear, there's the Marble Beerhouse, CAMRA's Pub of the Year 2011. It's a great place to sample Marble's wonderful beers, but this place also has an amazing selection of single malts – great for a night cap or the start of rambling story involving bears, tweed and a siren.
Just in case you can't get to any of those places; most pubs worth their salt in Manchester will at some time serve a Marble beer and if they don't, why not ask them to?
Cover image credit: Smabs Sputzer, flickr
Related Reads
Fancy a Pub Quiz? Manchester has the Best (and Weirdest)
____
Find a deal for bars in Manchester.
BY: Sarah Tarmaster
Sarah Tarmaster has been eating and drinking her way round Manchester for the past 12 years and has been writing about it for the past four. Sarah started the blog North West Nosh to shout about what's great in the North West and because she suffers from that common British phobia, complaining in restaurants. When's she's not planning where to eat, eating, cooking or recovering from overeating, Sarah can be found putting on street food events, yomping round the countryside or crafting something; she rarely sits still, which is good considering how much she consumes.