A Rhubarb Twist to Classic James Street South
BY: John Ferris |
9 Jul 2014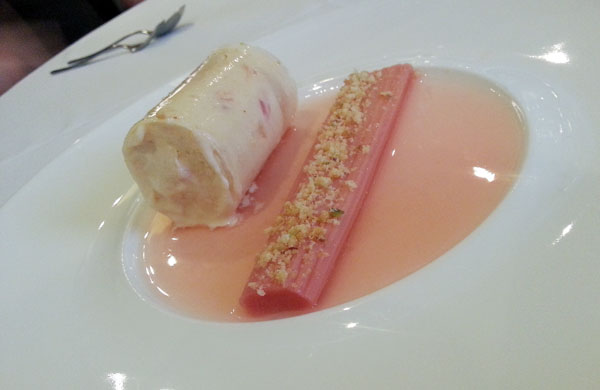 As Niall and Joanne McKenna's empire in Belfast has grown, their original baby - James Street South - is often overlooked. The pair have done a great job opening the Bar+Grill, a cookery school and Hadski's over the past few years and they're all good restaurants that deserve their plaudits. Their older brother James Street South, however, was voted best restaurant in Antrim in the 2013 Restaurant Association of Ireland awards for a reason - because it's stonkingly good.
The restaurant is clean, elegant and a touch on the minimalist side and on first glance has the look of a place that could be too formal, but thankfully that doesn't translate to the atmosphere.
My fellow diner and I started with well-cooked scallops and a soft well-cured salmon with apple and langoustine. Then there were the real winners with the first course that included a sweet ragu of rabbit that was tucked underneath sheets of silky pasta.
Then there was the JSS take on a tartare - small, soft pieces of beef were mixed with tiny onions and pickled walnuts and stunning charred leek on top. The vegetable provided an ash-laden bang that helped bring the dish together perfectly.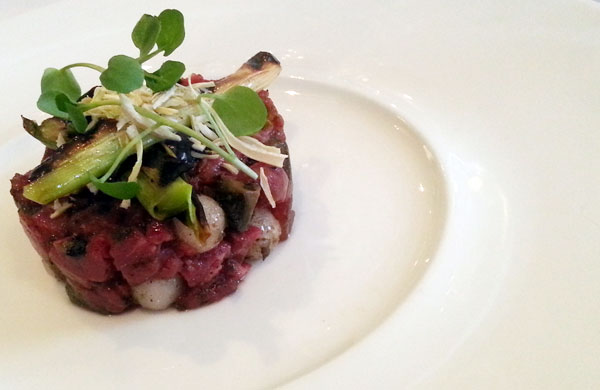 Our only disappointment on the day was a slow-cooked venison dish that was a little dry and could have done with more of the excellent sauce and beetroot that came with it.
But that was a minor blip. There was a great monkfish with wilted gem and a piece of beef that was so perfectly cooked it seemed a shame to eat it.
The dish of the day was the hake, which sat on top of creamed, spiced mussels. The creamy broth was seasoned perfectly and the sweetness of the mussels weren't at all overpowered by the balanced spicing.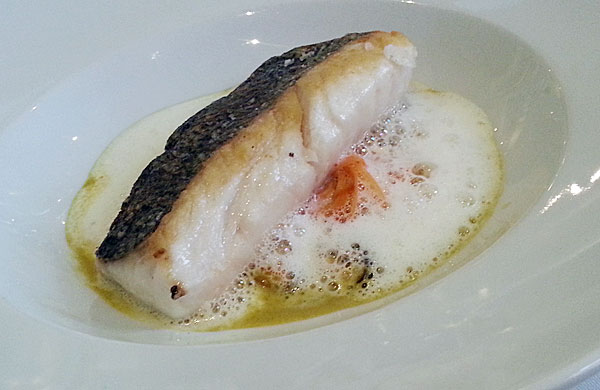 A great little Spumante Prosecco helped wash it down and, as is always the case with a McKenna restaurant,the desserts were superb. Pear delice came with a pear sorbet and amaretto and was as pretty as a picture on the plate. A pineapple tarte tatin came in a cute little copper pan and the sweet juice of the fruit was matched amazingly by sticky, caramel goodness that was just the right side of burnt.
James Street South is the scene of probably the best dessert I've ever had - a jelly and ice cream dish that won McKenna a place on the Great British Menu finals* and once I noticed the wittily titled 'rhubarb, rhubarb, rhubarb' on the menu there was only going to be one winner.
The dish had the same kind of circular tuile covering a rhubarb parfait that was on the original GBM dish. It was sweet and balanced well against rhubarb liqueur and two crumbed lengths of the fruit/vegetable (have your own argument as to what its classification is).
James Street South always delivers and if you haven't been there in a while, I strongly suggest you get down to remember why it's been consistently one of Belfast's best for more than a decade.
James Street South, 21 James Street South Belfast (028 90434310)
More Information
* James Street South dessert won a place on the Great British Menu finals
____
Click here for restaurant deals in Belfast.
BY: John Ferris
John was a journalist for over 15 years and previously the editor of a Belfast-based newspaper. Co-founder of one of Ireland's most influential food and drinks websites, Forked.ie, he's a long-time judge of various food and drink awards in Ireland and writes primarily for Forked.ie. He also occasionally writes about food for Hospitality Review NI, Belfast Telegraph, the Guardian and makes the odd appearance on u105's Lunchtime Bistro show with Carolyn Stewart. You'll find him on Twitter @foodbelfast